Pahalgan, Kashmiri Valley Photo Courtesy Olga Novikova
When the leaders of India and Pakistan met recently in New Delhi over a cricket match, the discussion between them appeared as exciting as the game itself between the two countries' teams.
Although, Indian Prime Minister Manmohan Singh said there could be no change in boundaries between the two nations, and Pakistan President Pervez Musharraf felt that the Line of Control now dividing the two could not be converted into an international border, they agreed the current peace process was "irreversible." This has led to the happy conclusion that a settlement over disputed Kashmir is no longer unimaginable. Rarely has such a hope been seen, at least not in a very long time. General Musharraf recently paid a visit to India, his first ever since the disastrous Agra summit in 2001. This time, a cricket series between Indian and Pakistan gave a chance for what was initially touted as an informal meeting between Singh and Musharraf. The Pakistani President said that he was keen on watching at least one match. New Delhi decided it could be the one at New Delhi.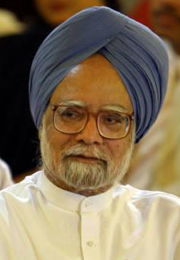 Premier Manmohan Singh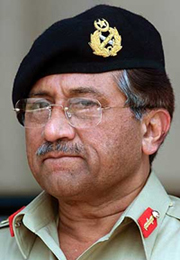 President Pervez Musharraf
The visit had all the makings of a summit, and it did turn out to be one. Admittedly, no breakthrough came, but Singh's statement that that the "peace process can no longer be reversed" was very positive. Musharraf indicated to the media that he had come with "a new heart." India and Pakistan, both with nuclear weapons today, have fought several wars over Kashmir since 1947, when the British quit the subcontinent after dividing it. The cricket diplomacy followed the inauguration of a bus service between India and Pakistan on April 7 2005. This was history. And when Islamic militants set fire to the bus depot in Srinagar just a day before the service was to begin, Islamabad also condemned this. Later in New Delhi, Singh and Musharraf agreed to increase the frequency of the bus service and also let trucks ply on the route in an effort to boost trade. Kashmiri families on either side of the border were thrilled at these developments.
A lake in Kashmir region
Has, then, a conducive climate for peace been established? Maybe, but with riders that Musharraf imposed. He said that the path to a settlement of the Kashmir question must run along three guidelines: "India's insistence that no boundaries can be redrawn; Pakistan's refusal to accept the Line of
Control; and the two countries' agreement that borders must become less important." Unfortunately, the first two conditions are mutually incompatible, and Musharraf's harp on the "final settlement" seems to take a bit of shine out of the positive notes that were struck at New Delhi. Yet, there was one hundred percent consensus between Singh and Musharraf that terrorism would not be allowed to hamper the peace process. Analysts point out that this may well mean that Musharraf is distancing himself from the militants, and Singh may not look upon every act of terrorism in India as one supported by Pakistan. So, a war may no longer be just one atrocity away.
Rugged and barren Kashmir mountains
Ultimately it must be said that Musharraf heads a reversionary Pakistan, and Singh a status quo nation. It is for the reversionary State to come up with proposals which will be acceptable to India. One way Musharraf can hope to achieve this is by encouraging an every increasing number of confidence-building measures. The bus service, the cricket series and fledgling trade between India and Pakistan must all be boosted to a point of no return. Musharraf must also understand that his little doctrine that he is the best person for any peace to succeed may not convince New Delhi. It may convince Washington a little. Nonetheless, one significant outcome of the cricket diplomacy is the fact that the Line of Control now looks like a soft border across which trade and dreams will travel. More and more so in the coming days.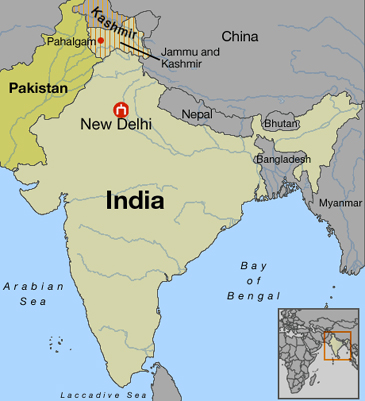 Courtesy CNN