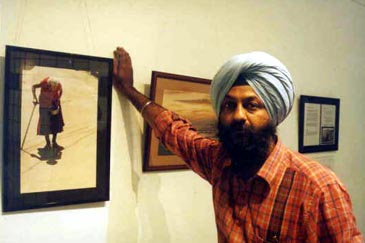 Manpreet Singh with his works on "Pilgrimage" at Alliance Francaise, Sector 36, in Chandigarh on Tuesday. — A Tribune photograph
A photo exhibition "Pilgrimage" by city-born renowned photojournalist Manpreet Singh was inaugurated by Padam Shri Nek Chand, creator of Rock Garden at the Alliance Francaise institute here today. "Pilgrimage" showcases a selection of 37 photos taken by Manpreet Singh in India and abroad. In his over a decade's journeys at the holy places in India and abroad Manpreet captures the faith, spirit, colours and moods of pilgrims and the sacred places. The pictures are an interesting mix of people and places, a myriad of pilgrim's faces and sacred ambience. Varanasi, Sarnath, Golden Temple, Haridwar, Rajasthan, Dharamshala, Ladakh, Bodhgaya, Madurai, Kanyakumari are some of places where the artist has focused his lens. The foreign photo collection includes Wat Phra Kew (Thailand), Tin Hau Temple (Hong Kong) and Angkor Wat (Cambodia). "Some of the pictures are specifically chosen to reflect the belief in everyday life in the face of human struggle for survival and repetitive humdrum of life," says Manpreet.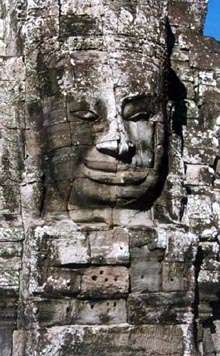 Immortality
When asked what inspired him to choose this somber theme in today's market-oriented photography, Manpreet reflects, "Actually, I took these pictures to find myself. These images were taken in the fast-forward phase of my life when I traveled around 300 miles a day, almost everyday, nonstop.
The world was a fleeting screen of chaos and completeness. I tried to capture my response to the expansive movement of life through the lens, while seeking to hold my focus on everyday life. And my journey has kept me moving."
Manpreet has over 12 years of experience in print journalism. He started his career as an intern of the Panjab University's Mass Communication Department with Hindustan Times in Delhi in 1992. He later took regular full time jobs with Delhi Mid-Day and The Times of India in Delhi. Manpreet's graduation from writing to photography was gradual but not accidental. He recalls, "As freelance journalism placed me in spheres beyond the routine job's limitations, I started shooting around as a freelancer, necessity to enhance my monetary returns. The lens took over me. To express with eye became a greater creative involvement than expressing with the pen."
Dedication
He further muses, "While I freelanced for newspapers and magazines abroad to keep the bachelor's kitchen fire burning, I also pursued my research for Doctorate degree (got my Ph. D in English Literature last year) from the Panjab University." Manpreet's recent major international assignment was in Nagapattinam in Tamil Nadu where he captured in words and pictures the human agony caused by Tsunami. Manpreet's works have been published in the major Indian newspapers and magazines like The Times of India, Hindustan Times, The Tribune, The Pioneer, Deccan Herald, The Statesman, Swagat, Discover India, News Hour, The Evening News, The Week, Sun, Woman's Era and Alive. International publications Mandala (USA), Christian Herald (Britain), Southern Cross (South Africa), The Seoul Times (South Korea), British Philatelic Bulletin (Britain), Scott Stamp Monthly (USA) and The NewsLink (New Zealand) have also carried his works.
Analysis of Manpreet Singh's "Pilgrimage"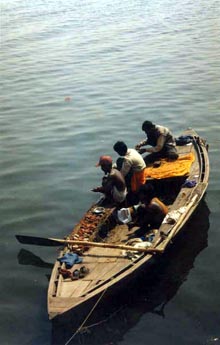 Occupation
Photo montage "Pilgrimage" is quite a departure from norm. Put up by Manpreet Singh, a photojournalist with roots in Chandigarh, it offers absorbing insights into the religious faces of India. Far from the anathema of fundamentalism, the frames of Manpreet inspire awe and affection at the same time. No wonder the gallery of Alliance Francaise in Sector 36 wears a rather serene look these days. The best part of the 37-work strong show which opened in the city yesterday, is its direct, conversational approach. The frames pass off as rich, provocative tell tale pictures.Here Manpreet's background in journalism comes handy, and though there are no conscious attempts to trap facts, they creep in nevertheless.This makes the pictures rich in expression and detail, much like a piece of news which has the power to transform an objective reader to the spot of occurrence. The photographs are located in the religious milieu of India. Set in the holiest of cities — from Varanasi, Sarnath, Amritsar and Hardwar to Dharamsala, Ladakh, Bodhgaya and Madurai — they take you places until you touch the core of India. Here mythology lives not only in scriptures by also in the faces of people who swear by them.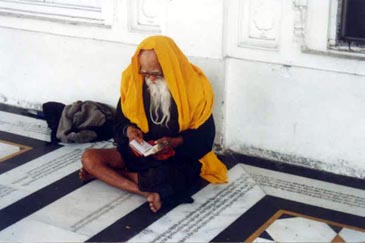 Devotion
Manpreet captures this, and much more. Most of all he captures the chaste "spiritual" expressions on the faces of men and women, who have little to do with "bigotry" but everything to do with peace. Only their ways of getting peace are varied. The show went on till April 14, 2005.
A Pilgrim's Progress
Nonika Singh
"Words are life…and life a pilgrimage." But when photojournalist Manpreet Singh encapsulates the story of life, he chooses to tell his tales through visuals. And in his photo exhibition The Pilgrimage, inaugurated on Monday at Alliance Francaise art gallery, words (photo captions) are telling, crisp and succinct.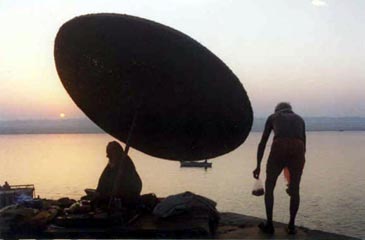 Eternity
But it's the pictures that recount stories, reveal the whole truth. Often scraping beyond the surface, conveying more than obvious. Symbolic yes. Hence his pilgrimage begins with Dawn, the birth of new day, seen though varied perspectives against darkness, hope, light.Exhibition moves on to embracing various acts of faith, everyday living, power of physical labour. Above all joy of wandering is writ large on enigmatic face of Indianised American he encountered in Varanasi.'Wanderer' framed in gold, he insists "is central point of pilgrimage.' If he makes a distinction between wayfarer (simple traveller) and wanderer (seeker), according to him "journey and pilgrimage are markedly different. Faith is what defines pilgrimage."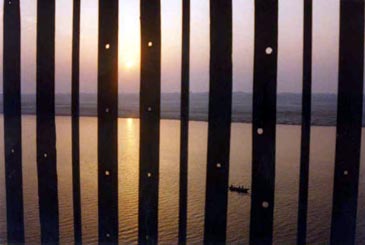 The Dawn
Hence large number of pictures underline faith. A dip in the Ganges suitably titled Plunge and many others emphasise how beliefs keep us going.Of course for him very act of living simply amidst struggles too is testimony of faith. Capturing harmony, serenity, conviction he is hinting at their absence in our frenzied, materialism driven lives. While many a picture like Mirage are self-explanatory. In a few untitled ones he tickles the imagination of the viewer.On whether picture is capturing the moment, anticipating it or doctoring, he quips, "No one knows what a good photograph is except that it moves your heart."Needless to say large number of his works are stirring. Watch Meditation soothe you within. Or serenity in which stones too, reflect an inner stillness. Whether black and white is more romantic medium he shoots back, "I am not seeking romance."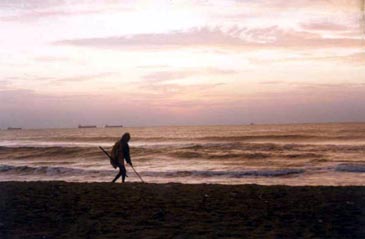 The Journey
Rather reality of life, higher purpose of existence that passes through varied phases from intensity of passions is what engages him. Through shrivelled frame of an old woman, he alludes to final stage when experience is the most prized possession.But adds, "In life there are no absolute truths only a quest." So the final picture Journey, an old man walking by the infinite expanse of sea says it all. Thus Pilgrimage that freezes shots of Varanasi, Amritsar, Rajasthan, Cambodia doesn't remain a travel document but translates into an inner voyage. On till April 14.