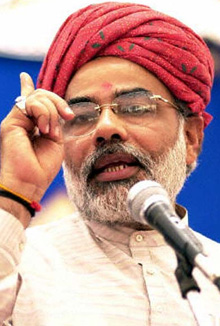 Narendra Modi, the chief minister of India's western State of Gujarat
They say that a man's past catches with him, sooner or later. For Narendra Modi, the chief minister of India's western State of Gujarat, this prophecy could not have come too soon. In 2002, Modi, who was the chief minister of Gujarat, is suspected to have spearheaded a campaign to kill Muslims in retaliation to an incident in which some Islamic militants murdered Hindu monks in a train. For days, Gujarat burned while the police and the local administration passively witnessed Muslims being butchered and burnt alive. There was even a case of a pregnant woman's stomach being ripped open and her foetus being burnt. It was widely suspected – and worse, some of it was even documented by television cameras – that the Modi administration even provoked the rioting against Muslims. At that point of time, Modi escaped because he was heading the Hindu nationalist Bharatiya Janata Party Government in Gujarat, a party which then held power in New Delhi as well. While the world cried shame and the rest of India hung its head in shame, Modi survived, and, to one's horror, flourished. He continues to be the Chief Minister of Gujarat.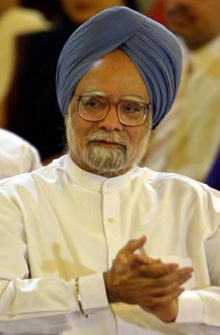 Indian Premier Manmohan Singh
However, Modi has been, of late, trying to project himself as a "development man" rather than the diehard fanatic he is known to be. But, to George Bush's credit, the U.S. refused to be taken in by this. It has just denied him a visa, because it feels that he violated religious freedom. One could not agree more with this. Modi was to have been the chief guest at the Asian American Hotel Owners' Association – which has a large Gujarati presence – in Florida. When India's prime minister, Manmohan Singh – though from a party which is different from Modi's – requested Washington to reconsider the decision, it was turned down. David Mulford, U.S. ambassador to India, told a Press conference in New Delhi that there could be no rethink. He said: "The U.S. Department of State denied a visa to Mr Modi because he was not coming for a purpose that qualified for a diplomatic visa. Modi's existing tourist/business visa was also revoked under Section 212 (a) (2) (g) of the Immigration and Nationality Act that makes any foreign government official who was responsible for or directly carried out, at any time, particularly severe violations of religious freedom, ineligible for a visa to the U.S." Washington's decision came after a sustained campaign by Modi's detractors in America. This gained momentum after two Congressmen, one a Democrat and the other a Republican, introduced a resolution in the House: "Mr Modi has attacked Muslims and Christians with vile venom, and according to India's highest court and many international human rights groups, has condoned terrible, violent, religious hate crimes…"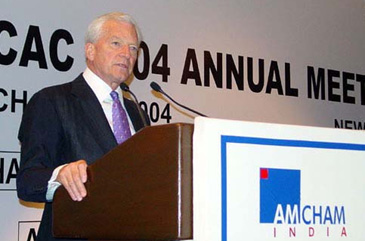 U.S. Ambassador Dr. David Mulford Addressing the Delegates at The Asia Pacific Conference of American Chambers (APCAC) Annual Meeting in New Delhi on March 19, 2004.
Any Indian with the slightest degree of tolerance and rationality in him would applaud America's move to punish Modi. The same Indian would also wonder why at all Manmohan Singh had to intervene here, and, well, face the humiliation of his request being turned down by Washington. Somewhere, Manmohan Singh's stature as a great statesman of modern times appears to have crumbled. New Delhi must understand that although India is not under the jurisdiction of the International Criminal Court, it does not imply that it is beyond accountability. This is an era of globalisation, where no country can hope to escape being put on the mat when it commits crime against humanity. Modi and his administration are singularly guilty of a terrible bloodbath, which some have even chosen to call genocide. Hundreds of Muslim men, women and children died during those weeks of carnage in 2002, and the picture of a weeping man begging for his life – widely published in the media – moved and angered the world. It is this picture that should haunt every India who may be tempted to push religious bigotry, is intolerant of another opinion or view and feels little remorse in supporting men such as Modi.