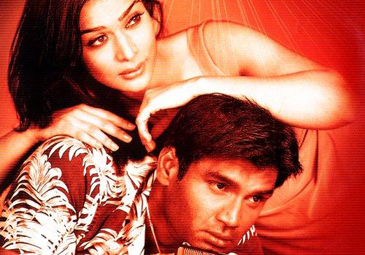 Shakti Kapoor in a movie
India's Bollywood has been hit by a seedy scandal. The actors here are an aging out-of-reckoning villain and an aspiring film star. The man asked for a sexual favor in return for pushing her into moviedom. The woman may have gone to bed with him. The man may have helped her professionally. But we would never know. For, an Indian television channel caught the actor asking the lady for sex. This expose blew the lid off a well-known feature in the Indian cinema industry, the existence of the casting couch. Or, so we were told by the channel. But the truth turned out to be quite different. The villain, Shakti Kapoor, who has raped and killed many on the screen, was caught completely unawares. The television channel had planted an undercover woman journalist to pose as one wanting to get into films.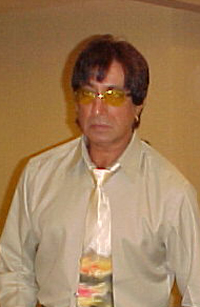 Shakti Kapoor
Now, this is how the channel went about its so-called scoop. The journalist makes innumerable telephone calls to Kapoor, and when he finally relents to meet her, she flirts with him, and says that they can massage each other. She serves him vodka in a hotel room that she has hired to meet Kapoor, a room where the television channel had set up cameras as part of an elaborate plan to trap Kapoor with wine, woman and seduction. And all this, for a mere story. One movie writer wonders whether this is "journalism of challenge or journalism of sensationalism." Certainly, this is no reporting. How can it be when it turns out to be salacious rather than investigative? Unfortunately, the television channel's total irresponsibility and utter lack of ethics have messed up a good chance of probing the casting couch syndrome in India. There are many who have no qualms about climbing the ladder of success after a little cooing on the couch. And, there are many who do feel any remorse or guilt in demanding hours of physical intimacy from a woman keen on a good role or entering the show business. Shakti Kapoor, who has been debarred from the Cine Artistes Association, could not really care, because he is really not in the race any more. He is a spent force.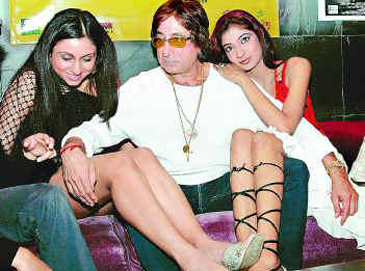 Shakti Kapoor armed with wannabe bombs.
Photo Courtesy Sampath Kumar G.P.
It is a pity that the television channel should have chosen him for building up a story. If this was not bad journalism, it made even worse sense for the channel to have written the script for the scandal.Surely, this is no journalism. It is highly unethical to trap a man with this kind of irresistible temptation, and then except him to play saint. What did the woman journalist think would happen after the man had been sozzled up and sexually tempted? That he would indulge in a spiritual discourse! Kapoor told the Press meet that he was being framed up and victimized, and that the television channel had edited out the overtures made by the woman.
There is a general feeling here that Kapoor is saying the truth. Yet, it does not quite diminish the fact that Kapoor is part of a terrible malaise in Indian cinema. The couch appears to be a vital link between dream and fulfillment.