More than a century ago, Swedish scientist Svante Arrhenius warned that burning oil and coal could lead to an atmospheric buildup of carbon dioxide that would eventually warm the planet. It was a radical idea back in those horse-and-buggy days.
Most experts now believe that to be true, and this week a group of nations took an important if modest step in addressing the concern that motor vehicles, factories, and other development are changing Earth's climate in ways that could be dangerous.The Kyoto Protocol, which goes into effect Wednesday, commits 35 industrialized countries to reducing by 2012 their emissions of six "greenhouse gases" that trap heat in the earth's atmosphere - principally carbon dioxide - by 5 percent less than 1990 levels.Seven years in the making and ratified by 141 countries, the agreement - formulated in Kyoto, Japan, in 1997 - has been controversial from the start. Advocates see it as a baby step along the necessary road to reducing human impact on climate before the oceans rise and prairie songbirds emigrate to the Arctic. Of opponents who accept the notion of global warming at all, some say the accord is based on sketchy science and in any case would damage the economic growth most people demand.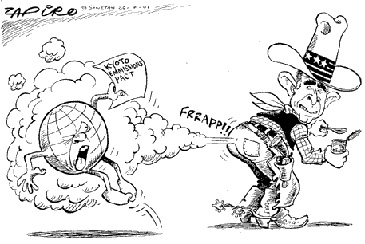 Courtesy Jonathan Shapiro
Since the beginning of the Industrial Revolution, scientists have established, the concentration of atmospheric CO2 has increased 35 percent. While debates have raged over the extent and causes, and even the reality, of global warming, the evidence of climate change keeps mounting. This has included record annual temperature levels, retreating glaciers, shrinking Arctic ice, and shifting global rainfall patterns.Last week, NASA said a combination of weather conditions and greenhouse gases could make this year the warmest on record. Earlier this month, experts at a government-sponsored conference in England reported "greater clarity and reduced uncertainty about the impacts of climate change."Countries will use a variety of means to comply with Kyoto. The European Union, for example, just launched a program in which some 12,000 power plants and factories can buy and sell carbon dioxide allowances on the way to meeting their carbon-reduction goals by 2012. They can also earn credits against their targets by financing clean-energy technology in developing countries.While the US government declines to join the international Kyoto effort, businesses around the country already are moving in that direction.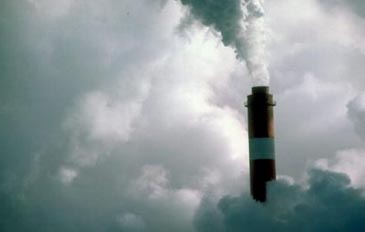 The Kyoto Protocol applies to industrialized nations only. Developing countries including India and China were not required to commit to reductions because their per-capita greenhouse gas emissions are much lower than those of developed nations.
A group of major companies (including DuPont, International Paper, and IBM), have formed the Chicago Climate Exchange to trade carbon dioxide emission reductions on a spot market basis. Member companies have agreed to reduce their greenhouse emissions by 4 percent by 2006.Another group of major corporations has joined the Pew Center on Global Climate Change's Business Environmental Leadership Council. They agree that "enough is known about the science and environmental impacts of climate change for us to take actions to address its consequences." Businesses, they say, "can and should take concrete steps now in the US and abroad to assess opportunities for emission reductions; establish and meet emission reduction objectives; and invest in new, more efficient products, practices and technologies."Members of this high-powered group include Boeing, CH2M Hill, United Technologies, and Hewlett-Packard. Some CEOs believe strongly that global warming is a threat that must be addressed; others - especially those with overseas operations - accept the inevitability of international controls on carbon emissions, and they don't want to be caught behind the competition.

"Whether you still believe that Kyoto is based on fuzzy science or is a stealth campaign by other countries to damage US companies, it's time to face reality," Industry Week editor in chief Patricia Panchak wrote recently. "Kyoto likely will affect how you do business no matter where your company is."
Meanwhile, nine eastern states (the six New England states plus Delaware, New Jersey, and New York) have formed the Regional Greenhouse Gas Initiative requiring large power plants to reduce carbon emissions through a cap-and-trade system. Auto-clogged California is even trying to force automakers to limit emissions.The Bush administration refused, along with 95 US senators, to sign on to Kyoto for two principal reasons: That it would harm the US economy by requiring very costly changes to manufacturing, transportation, and other aspects of business; and because the agreement did not initially cover the most rapidly developing countries - India and China - where economic advancement is valued over smokestack issues.But the president has begun to feel some political heat from his friends on global warming. British Prime Minister Tony Blair, while not a big fan of Kyoto, is raising alarms. "What is now plain is that the emission of greenhouse gases, associated with industrialization and strong economic growth from a world population that has increased sixfold in 200 years, is causing global warming at a rate that began as significant, has become alarming and is simply unsustainable in the long-term," Mr. Blair said in a speech to Parliament last fall.Sen. John McCain warns of the "devastating consequences of climate change." The Arizona Republican has joined with Sen. Joe Lieberman (D) of Connecticut in sponsoring the Climate Stewardship Act. The bill would require mandatory reductions in greenhouse gas emissions from the electricity generation, transportation, industrial, and commercial sectors of the economy, which represent 85 percent of overall US greenhouse gas emissions.Sen. Chuck Hagel, the Nebraska Republican who led the Senate fight to reject Kyoto, now says, "Achieving reductions in greenhouse gas emissions is one of the important challenges of our time."As everyone acknowledges, the job won't be done even if all Kyoto goals are met by 2012. Discussions about how to lower greenhouse gas emissions beyond that already are under way.
The above article is from CSM.