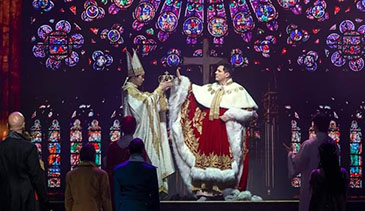 Coronation scene of musical Napoleon
The musical "Napoleon," the story of the French emperor, performed by French actors and actresses, which kicked off on May 5, 2023, runs through May 21, 2023, at the Grand Peace Palace of Kyunghee University in Seoul. For the first-ever performance of the original French-language musical, scores of French cast and staff had been invited to Seoul for the first time in 20 years since it was first introduced to Korea. Thousands of local Korean musical fans now visit Asia's most prominent performing art hall with 4,500 seats in its palatial church-style building on the most beautiful university campus in the nation. Napoleon is a musical by Timothy Williams and Andrew Sabiston. It premiered at the Elgin Theatre in Toronto in early 1994. As one of the greatest successes in the nation's musical history, its Seoul performance draws big accolades from large audiences.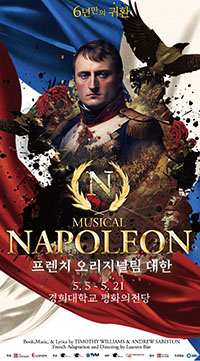 Musical Napoleon
Behind the huge success of its first original French-language debut in South Korea were the efforts of a Korean man who gave his whole life to musicals. He is Chairman Park Young-Seok of Show Media Group and C&E Innovation Corp. The Seoul Times recently met him to listen to the Musical Napoleon and how he dedicated himself to musicals for nearly two decades.The following is the full text of the questions and answers with him.
Q1: Could explain to us about the ongoing Musical Napoleon? What is it? Why and how did you come to introduce Musical Napoleon to Korea?
A1:
The Musical Napoleon was a performance that began in 1994 in Toronto, Canada and was later performed in English versions in London, the Netherlands, and the United States until 2014. In 2017, the first Korean production was re-produced in the Korean version of the Grand Theater, and despite its premiere, it was a box office hit with sales of more than 6 billion won. The main reason for the success was that Koreans were curious about the character Napoleon, and Timothy Williams' music and Andrew Sabiston's lyrics were very good. Based on this basic foundation, it was created as a mammoth masterpiece, including high-quality stages, costumes, lighting, and videos. On this basis, the story of the French emperor, the musical "Napoleon," was natural to produce an original version of French and French actors. In 2023, the world's first French original team musical was born in Korea.
Q2: It is staged at Grand Peace Palace of Kyunghee University. Could you elaborate on its schedule, performance time, prices, and how to arrive at the hall?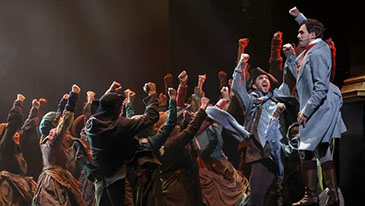 A scene of musical Napoleon
A2:
From May 5 through May 21, 2023. It is 8 p.m. on weekdays, 2 p.m. and 7 p.m. on weekends respectively. The performance time is three hours including the 20 minutes' intermission time. Prices range from 50,000 won to 170,000 won, but discounts are available through multiple internet sites. Audiences can take the subway to Hoegi Station on Subway Line No. 1 and come by bus for about 15 minutes.
Q3: Some of Musical Napoleon cast and staff have ties with Korea over 20 years. They seem to like Koreans and its culture. Who are they? When and how did you form ties with them?
A3:
Laurent Ban (played as Napoleon) and Chiara Di Bari (played as Josephine), who are starring in the Musical "Napoleon," fell in love with each other at the musical "Notre Dame de Paris" in Korea eight years ago and now they have two children. Since then, they have fallen in love with Korea, and despite their many schedules, they come to Korea as a top priority when they have a Korean performance schedule.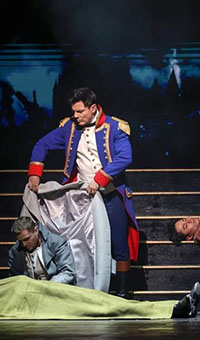 A scene of musical Napoleon
Also, John Eyzen (played as Napoleon and Lucien) is a well-known actor in Korea for Romeo & Juliet, and Notre Dame de Paris. In addition, his love for Korea is different, and now he will perform in Korea, attend a Korean-language school, and work in Korea as a front pro. We respect each other like a brother for three years with Lauren Ban and succeeded in emotional communication between Korea and France. After that, we were able to have a deep conversation about musical production with each other, and we are not only acting, but also acting as directors and French adaptation for the show. This means a lot. Not only in France but also in Korea, a very famous top actor fully trusted the Korean producer and provided him with the most important artistic time. Laurent location is very high not only in France but also in Asian countries such as China, so there are many demands for him, but I feel very grateful that Laurent Ban has chosen me. I'm very grateful that not only Lauren Ban, but also many French actors follow me as a producer. I think the reason is that I work my role as a producer with sincerity. And I think I should know the emotions of the French well, and I think it was based on sufficient understanding and communication with them.
Q4: Could you tell us who you are? Would you give us job description of you? What role have you been playing to promote musicals and other parts of culture in Korea?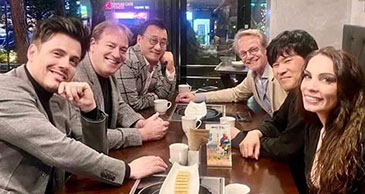 Original Creative Members made French Musical "Napoleon" Laurent Ban (Director& French Adaptation), Timothy Williams (Composer), Greg Park (Producer), Andrew Sabiston (Writer), Kim Sung-Soo (Music Director & Arrangement, Squid Game Composer), Chiara Di Bari (Josephine)


A4:
I'm Park Young-Seok. Also, my English name is Greg Park. In the past, I first started my social life as a financial analyst at Samsung Group, and quit Samsung because I loved music so much that worked as a broadcasting PD for m.net, a cable network specializing in music. And I produced many performances and musicals at COEX as a general producer of performance events at COEX in Samseong-dong, Gangnam-gu, Seoul, Korea. Later, I founded the company in 2006 and produced the first musical "Jesus Christ Superstar."And musical "Seopyenonje" was nominated in 11 areas and won nine parts of the Korea Musical Awards. The musical "Oh! Carol" won the best foreign language in Yegreen Musical Awards. Another one "Gone with the Wind" was a mega-hit. Still I am producing many musical works including the musical "Adgar Allen Poe," grand musical "Emperor Chin," and many more.
Q5: What are some of the most important or famous musicals or works of art you have been involved in? Could you name them in detail?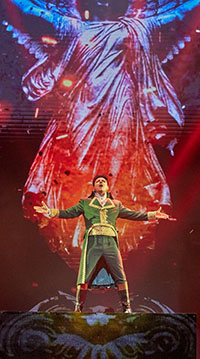 A scene of musical Napoleon
A5:
I love all the musical pieces I've produced. Among them, I recommend Napoleon which is currently doing it. The reason is that it recognizes my ability as a producer. It is a musical Napoleon based on world-class masters such as Timothy Williams and Andrew Saviston. The original authors praised the work that was repudiated for the Korean version of the Grand Theater in 2017. Based on full trust, they gave me the power to promote this work around the world. In addition, leading French musical stars such as Lauren Ban and John Eyzen and Jerome Collet, Christophe CERINO have also gained mutual unlimited trust while working with me for the past three years. The authority given to me by the original authors motivated me to upgrade to a better work, and in addition, the representative actors and staff of France were able to trust Koreans and create the original French musical "Napoleon."
Q6: Would you introduce your companies? What are the works and activities of Show Media Group & C&E Innovation Corp? What roles they play respectively?
A6:
C&E Innovation is a company that integrates the musical business division of the old show media group. The main business is the musical and performance production business and the carbon emission exchange platform business for global carbon neutrality. The Carbon Emissions Platform is the world's first exchange and currently has a partnership with the UN and Verra to conduct active global environmental protection projects ahead of the time when carbon neutral becomes mandatory in 2025. I am the chairman of these two business sectors and I also have activism.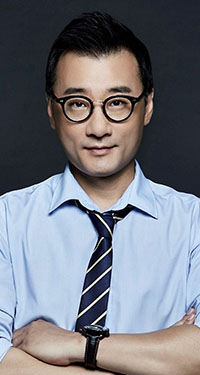 Chairman Park Young-Seok of Show Media Group & C&E Innovation Corp.
Q7: The French performers of Musical Napoleon sounded to hold high respect for the Korean culture in general. Could you comment on the level of Korea's musical and other sectors of its culture?
A7:
Like many foreigners, there are many foreigners who have not been to Korea, but not many foreigners who have only been to Korea once. Seventy percent of the French musical actors currently performing in Korea are actors who have performed in major musicals in Korea, including Notre Dame de Paris, Les Miserables, Romeo & Juliet, and Mozart's Opera Rock. Only selected actors in the masterpieces are participating in Napoleon. Lauren Ban says Korea is the second home. John Eyzen wants to continue working in Korea while attending a Korean-language school. And Chiara Di Bari as Josephine and Matilde Fontan as Clarice, Tatiana Matre as an another Josephine shed tears when they heard "Arirang" sung by a Korean master singer. Christophe Cerino as a Talleyrand blushed with tears as his heart was filled with the magnificent panoramic view of the temple and Daegwangsa Temple in Bundang area. Regarding their level of Korean musicals, he said, "I can see why K-Pop, K-Drama, and K-Movie have become world-class." It's called "bulldozer spirit." At first glance, Napoleon's dictum "There is no 'No' in my dictionary; nothing is impossible for me." In Korea, it is no longer surprising to discover something totally unimaginable in France. There are so many, that even in the production part of the musical, it is said that the spirit of seeking perfection gave birth to Napoleon.
Q8: Could you specify on your academic and professional career so far? What were you doing before you entered into musical area? Was there any occasion that led you into the musical area?
A8:
I graduated from Hankuk University of Foreign Studies with a degree in journalism and broadcasting. And I received a degree in financial economics from Korea University's Business School. I have studied music for a long time. The reason why I started to like music was because my father bought HiFi Amp and Turntable for me as a present when I was in middle school. The scent of plastic mixed with the strange oil from LP plate fascinated me. Since then, all my pocket money has fallen into the euphoria of collecting, and listening to LP records. I fell in love with the music that makes my ears happy regardless of all genres, including pop, jazz, classical, Russian folk songs, German folk songs, and acoustic. I went to college and composed songs, went to college music festivals, and did music DJs at nearby cafes. Music is the most important thing in musicals. The biggest criterion for choosing a musical is music. If you listen to all the music in the works I have produced, the reason will be fully explained.
Q9: What are your hobbies? What exercise do you do to maintain your health?
A9:
I watch a performance, watch a movie, and listen to music. And I read books, and when I have time, I travel. The basis of musicals is music, but humanities-oriented reading is the most important in storytelling, and for the beauty of the scene, the inspiration is drawn from movies or pictures. There's nothing different about health. No matter how difficult it is, living with a positive mind is the secret to my greatest health. The source of all diseases is stress from bad thoughts and negative thoughts of doubt.
Q10: Can you introduce your family? What do they do for a living? Is there any of your family who does art?
A10:
There is a happy family. I have a wife who is a teacher who teaches students at school and two pretty daughters. They are all college students. My first daughter majored in stage craft in Canada. When I was in trouble, it was a major that she chose to be a strong supporter for me. Stagecraft is related to art.I witnessed a lot of people crying after watching the French version of Napoleon. I feel happy because I moved their hearts through my work. I would like to express my gratitude to Timothy Williams, Andrew Sabiston, Laurent Ban and Director Kim Sung-Soo for giving me full faith in making this work. Of course, all the actors and staff dedicated to this work are also indispensable. Lastly, I would like to thank my family for giving me infinite trust despite many difficulties.