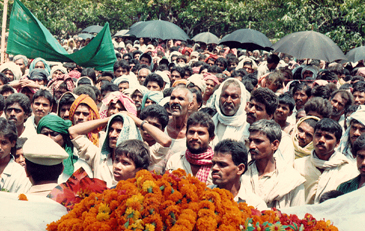 People clamor for democracy in Nepal
Recently, Nepa's King Gyanendra, dismissed his democratically elected Prime Minister Sher Bahadur Deuba and took over the Hindu kingdom's administration. This is being seen as a dictatorial, even primitive, move. In today's world and times, political parties serve as not just examples of pluralistic thought and action, but also as conduits of popular aspiration.
When a man exercises his franchise, he is, in effect, giving himself a choice to see his ideas fructify. Gyanendra's post-dismissal harsh criticism of Nepal's political parties seemed to demolish the pillars of free thinking, the very basis on which democratic ideals are built and sustained. The king's hostility towards political parties has never been hidden, but his latest act of completely sidelining them and taking over the reign and the rule of the kingdom can only mean that Gyanendra is now directly in the firing line of rebel Maoists, and he now stands fully exposed.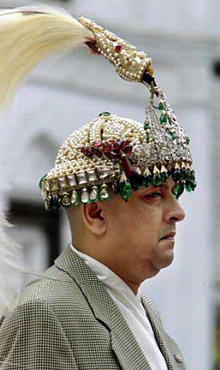 Nepal's King Gyanendra
The Maoists have been waging a class struggle for years now, urging the administration to address issues such as poverty and education in one of the world's most backward countries. The latest crisis in Nepal has thrown up two separate issues. One, will the king be able to restore peace? Two, do the Nepalis themselves want a solution to the wretched Maoist insurgency through unilateral, dictatorial means? Certainly, if Gyanendra can end turbulence and bring about a sense of tranquility in his kingdom, it will at once establish a modicum of respectability for the monarchy and the king as well. But will that happen, and if at all, how soon? The Nepalese institution of monarchy lost much of its credibility when a palace coup some years ago wiped out the then king and almost his entire family. The suspicion for this mass killing fell on Gyananedra, and it was under these terrifying conditions that he took over as king, being in line of succession. It is unclear where the rebels' sympathy lay at that juncture, but there did come a time subsequently when they said that they would not negotiate with anybody other than the king. Are they still in a mood to do so? Will they lay down arms and walk towards the negotiating table now that Gyanendra is in charge? The king has given himself three years time to tackle this menace, and he has been countering arguments against his recent action by highlighting the immense progress made during the earlier Shah dynasty. He reportedly added that the people of his kingdom wanted that he rule himself.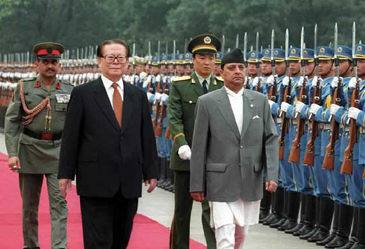 Former Chinese President Jiang Jemin (second from left)
greets King Gyanendra of Nepal with PLA's honor guard
ceremony during the Nepalese king's visit to China in 2002.
Photo Courtesy Chinese Embassy in Nepal.
Analysts point out that as much as this way of thinking appears terribly radical, exposing his personal prejudices especially towards democratic political system, Deuba's removal may well put the clock back in Nepal's experiment with a more moderate form of administration. In fact, there has been worldwide anger against Gyanendra's murder of democracy. He could have certainly used his power and position as the head of state to bring the bickering political parties together and try and forge a united stand against Maoist atrocities. And, as for the king's contention that this is what his "subjects" prefer, it is not borne out by facts. A survey was carried out late in 2003 by a team of Nepali political scientists, led by Prof. Krishna Hachhethu of the Centre for Nepal and Asian Studies, Tribhuvan University in Kathmandu. The results were published in October 2004. As high as 62 percent of those surveyed felt that democracy was the best system of government despite the behavior of politicians. And a mere 10 percent wanted monarchy/authoritarianism. Most respondents thought that democracy was perfectly workable in Nepal.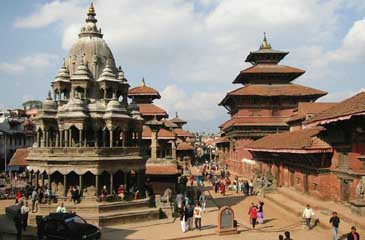 Royal Palace in Nepal
This survey and its outcome were widely discussed in Nepal, but unfortunately the world beyond took little note of it. It is amply clear that King Gyanendra is fooling himself into believing that monarchy is acceptable to his people. What can be a greater source of worry — especially for India — is the king's closeness to China, and there is one line of thinking that suggests that it is this rapport that Nepal's Maoists may try and use to their advantage. Nepal's radicals may have just found an opportunity in Gyanendra's latest action that they were waiting for. However, the moot point here is, will the Maoist ideology help the masses in the current global scenario, when even China is unsure about keeping capitalism at arms length?