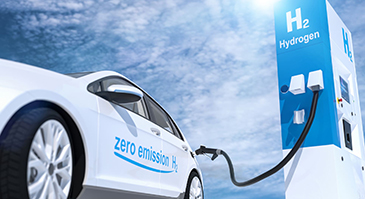 Hydrogen car in China
The Chinese government released the country's first-ever long-term plan for hydrogen, covering the period of 2021–2035. The plan laid out a phased approach to developing a domestic hydrogen industry and mastering technologies and manufacturing capabilities, while pointing to the country's carbon peaking and neutrality commitments as an overarching driver.The long-term plan builds on hydrogen-related visions and plans in several recent documents, including the 14th Five-Year Plan (2021–2025), where hydrogen is identified as a "frontier" area and one of the six industries for focused advancement. China is increasingly cultivating the production and consumption of lower-emission hydrogen to help meet energy needs while also decarbonizing its economy.China's push for clean hydrogen is an important step in the country's stride toward its climate goals. China is the largest producer of hydrogen today, at about 33 million tons (Mt), where most of the volume is produced from fossil fuels as feedstocks in refineries or chemical facilities. The China Hydrogen Alliance has suggested that China's hydrogen demand would reach 35 Mt in 2030 (at least 5 percent of the Chinese energy supply) and 60 Mt in 2050 (10 percent). Meanwhile, according to the latest government plan, China would produce 100,000 to 200,000 tons of renewable-based hydrogen annually and have a fleet of 50,000 hydrogen-fueled vehicles by 2025. Today, China is already the third-largest fuel cell electric vehicles (FCEV) market and the first for fuel cell trucks and buses in the world. Using low-carbon sources to produce hydrogen and using clean hydrogen in various industrial sectors would help mitigate China's carbon emissions. For example, the Chinese government estimates that its 2025 target for renewable-based hydrogen could reduce the country's carbon emissions by one to two million tons annually.
​​​​​
While China's latest hydrogen plan provided some details, it has also raised several questions. Despite a strong outlook for renewable capacity expansion, the 2025 target volume for renewable-based hydrogen in the range of 100,000–200,000 tons annually is notably modest. For example, China plans to expand its solar and wind generation capacity, aiming to double the capacity from nearly 600 gigawatts (GW) in 2020 to 1,200 GW by 2030. Also, the aforementioned China Hydrogen Alliance has projected that renewable-based hydrogen production could reach 100 Mt by 2060, accounting for 20 percent of China's final energy consumption. It is possible that China significantly expands the renewable-based hydrogen production between 2025 and 2060, but will the renewables expansion keep apace with the demand growth from both electricity generation and hydrogen production?Hydrogen-related technology research and innovation is a growing focus for the Chinese government, as noted by the latest plan. The focus reflects the country's desire to overcome the current deficit in expertise, experience, and infrastructure in producing low-carbon forms of hydrogen. For example, China's current competitiveness lies with alkaline electrolysis technology, which is well established and cheap but much less compatible with intermittent renewable energy sources than polymer electrolyte membrane (PEM) electrolyzers. PEM electrolyzers account for less than 10 percent of the Chinese market, which is otherwise dominated by alkaline electrolyzers. Will China acquire competence in advanced technologies to outcompete other economies in a hydrogen-related innovation race?Another focus of the Chinese long-term plan is manufacturing capacity. As of 2020, China accounted for 8 percent of the global stock of electrolyzers and for 35 percent of the global manufacturing capacity of electrolyzer equipment and components. Chinese companies seek to build out its electrolyzer manufacturing capacity to 1.5–2.5 GW in 2022, in order to supply both domestic and overseas markets. Will China emerge as a dominant, global manufacturer of electrolyzer equipment and components, particularly for more advanced technologies? Relatedly, will a global supply chain for hydrogen technologies become a geo-economic issue between China and the West the same way supply chains for other clean energy technologies have become in the recent years?Even in the absence of a national strategy, many state-owned enterprises (SOEs) have been investing in hydrogen projects while a number of subnational governments have identified hydrogen as a key economic priority or formulated hydrogen development plans. It is unclear how many of these SOE undertakings have a long-term commercial viability, or whether many of the subnational plans are aligned with how the national policymakers seek to shape the country's hydrogen economy. How does the long-term national hydrogen plan affect these numerous, uncoordinated subnational and business sector undertakings?The direction, pace, and scope of China's low-carbon hydrogen endeavors warrant close attention for multiple implications, not only for the Chinese economy but also for the course of global hydrogen industry development.
The above writer Jane Nakano is a senior fellow in the Energy Security and Climate Change Program at the Center for Strategic and International Studies in Washington, D.C.
Commentary
is produced by the Center for Strategic and International Studies (CSIS), a private, tax-exempt institution focusing on international public policy issues. Its research is nonpartisan and nonproprietary. CSIS does not take specific policy positions. Accordingly, all views, positions, and conclusions expressed in this publication should be understood to be solely those of the author(s).