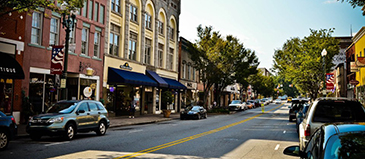 Mooresville, North Carolina
Editor's Note: Ghost sightings are prevalent around Mooresville, North Carolina, but their presence predates Lake Norman, one of the supposed causes of many modern ghost sightings when graves got disturbed as the lake was created.
I have never seen an actual ghost. It doesn't mean that I don't believe in them, but I have not been privy in this life to have experienced anything remotely paranormal. What is irritating about that factoid is that I am not afraid of spirits or the paranormal and I welcome a visit from some restless apparition. I have a good hundred questions that I would ask them about life in the other dimensions, the very nature of death and "passing on," or continuing with life in the afterlife, so to speak. Did they see heaven? Can they see what the past was truly like as opposed to the bunkum history books say? What did it feel like to move on from this world to the next? Was it peaceful, aside from the initial terror and pain that seems inevitable unless you die in your sleep like Sean Connery?When I was a younger man than I am today, I was determined to see a ghost. I traveled to the Battlefields of Gettysburg, toured the formerly blood-soaked earth, and wandered at night, not a soul in sight did I see. I played the Ouija board several times in the hopes of being contacted, nothing. I was born in Sleepy Hollow, New York, famous for a plethora of ghostly sightings, and often visited the Old Dutch Reformed Church where the supposed Legend of Sleepy Hollow took place and wandered the old graves, visited Bethel Chapel at midnight on a foggy and dark night and saw nothing. I have stood on the shoreline of Lake Norman at varying hours of the night and first blush and didn't see a thing that would spook so much as a kitten.As Halloween rapidly approaches, and the spectral displays begin adorning the homes of Lake Norman residents, witches and zombies, carved pumpkins with ghoulish faces and fluttering apparitions, we take a second look as we drive by the haunting efficacious ghostly images, they look so real, sitting in the branches of an old oak tree. Was that really just a display?Visitors to Lake Norman have talked about apparition sightings going back to the late 1960s after the lake was flooded. The circulating rumor, especially around this time of the year was that a significant number of graves were not moved before the lake was created and the souls of those disturbed have become agitated and restless.But in truth sightings were occurring long before that. It is not only the ghosts of former residents who set out on midnight walks in search of their peace of mind. The Lake Norman area is pockmarked with revolutionary war burial sites where it has been reported that apparitions of soldiers wandering through the cemeteries in their battle uniforms, viscid bloody bandages clinging to wounds, and despair on their young faces. It was at the Battle of Cowan's Ford in 1781 that General William Lee Davidson was famously slain. Taken from life so violently and so young, it is said that his soul continues to march, and lead his men in battle.Around the north end of Lake Norman leading out of Statesville, there is the tale of a couple who had been casually strolling along on the old railroad trestle when they were both somehow killed. The circumstances of their death are lost to history, whether it was an accident, a murder-suicide or something else, but we can surmise they may have plunged to their deaths as below the trestle some 150 yards, on dark, murky nights, when the air is calm, the ghostly image of the woman will appear on or near the anniversary date of their deaths.In more modern times, you have the Magnolia Gym, constructed in 1967, where, in the early 1970s, a young girl named Tina, a basketball standout, was killed in a car accident. It has been said that you can still hear Tina bouncing her basketball. One night a former coach was in the gym closing up when he heard a faint whisper, "Do you want to play a game?" As the story goes, he turned and ran out of the gym terrified and didn't bother to lock up the gym.The most convincing story I have ever heard regarding an apparition was from my neighbor Judy. My daughter and I were out one day walking the dog, and we stopped to talk to my neighbors, Dan and Judy, who were working out in their yard. We somehow got onto the topic of ghosts, and Judy said, "You know, I never believed in ghosts, at all, until one night, I was standing at the top of the stairs in my house, and I saw the ghost of a woman, dressed as if it was the 1800s come out of the room and go down the stairs. I just stood there in shock. I couldn't believe what I was seeing." I listened to her story with a combination of intrigue and envy. She had no reason to lie or make anything up. That isn't in her nature to create outrageous stories. She and her husband are successful, retired, and living their best life, enjoying their grandkids, traveling to Europe, and have no need to generate attention from falsities. It is stories like hers that I am after. I know there are people all over Mooresville and Statesville with legitimate stories waiting to be revealed.