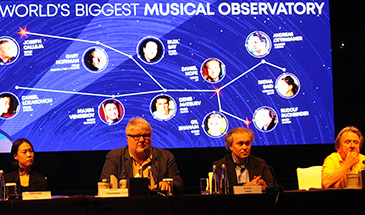 Alexey Shor (2nd from right), composer in residence for the InClassica music festival, attends the press conference at "InClassica 2021" Music Festival held in Dubai, UAE from Aug. 28, to Sept. 26, 2021. At left is South Korean pianist Son Yeul-Eum.
"I have been involved in InClassica now for six or seven years," said Alexey Shor, composer in residence of InClassica music festival. "They used lots of my music for the festival" The Kiev-born US master composer said in his recent interview with The Seoul Times. "It looks like the audience likes my music," he said. "A lot of my music gets played here at InClassica" Currently, Shor serves as composer in residence for the Malta Philharmonic Orchestra and the Armenian State Symphony Orchestra. He is dubbed "a late bloomer" in the world of classical music. It was very late and by accident that he became a professional composer.His longtime friend David Aaron Carpenter urged him to turn to a professional composer. Carpenter is world-class American violist.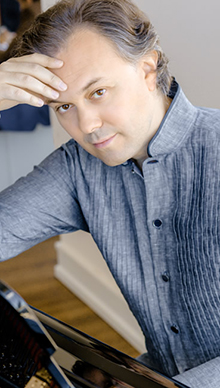 Mr. Alexey Shor serves as composer in residence for the InClassica International Music Festival.
"One day he spotted my musical notes on my desk and asked me who composed them," Shor recollected. "I answered they were composed by me" Surprised he urged me to enter into the world of professional music. Shor used to compose music only for friends and associates. "In the past I lived mostly as a scientist." He holds a PhD in mathematics. In actuality, he spent a couple of years as a researcher in geometry and dynamical systems, living on the campus of the University of Pennsylvania. He said he did his post-doctoral program on the campus. Born in Kiev in 1970 Shor escaped from the Ukrainian capital in 1986 as the Chernobyl nuke accident took place. Initially he went to Moscow. Afterwards he moved to Israel, and finally to New York City, where he became a US citizen. He was born to a Jewish mother and a Russian father. Regarding his musical world, he said he focuses on the 18th and 19th century music. "I am putting an emphasis on "traditional melody and tonal harmony," he explained. "I look back at the classical music of the 18th and 19th centuries through the eyes of a modern person" Shor said that in the past he visited Seoul a couple times "Seoul is a very beautiful city similar to NYC," he recalled. "It was a big city, full of energy"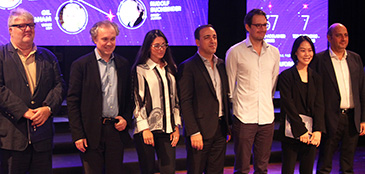 Alexey Shor (2nd from left), composer in residence for the Malta Philharmonic Orchestra Academy, poses with dignitary participants in press conference of "InClassica 2021" International Music Festival held in Dubai, UAE from Aug. 28, to Sept. 26, 2021. At center Artistic Director Alan Chircop of the EUFSC. At right is President Konstantin Ishkhanov of the EUFSC.
He said he liked visiting traditional palaces, and eating local Korean food characterized by tasty barbecues and a lot of side dishes. Shor praised pianist Son Yeol-Eum's performance as "amazing." "It was the best Prokofiev's performance I've ever heard live," he stressed. He went on to say that now Korean classical music is world-class level. "There are a lot of famous Korean musicians such as Son Yeol-Eum and Cho Sung-Jin," he said. "My favorite violinist is Zia Shin Hyun-Su and she has great talent" Shor added that Korea has become a real powerhouse in the classical music world. "If you look at the winners of the prestigious international competitions, you will find a lot of Korean names," Shor said. "As of now out of eight finalists of the InClassica Piano Competition three are Koreans"