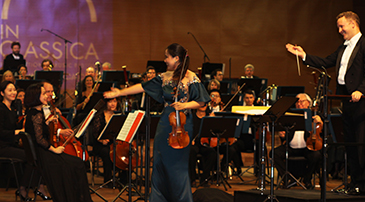 Ms. Stella Chen (center), the world's renowned American violinist, greets members of the Deutche Staatsphilharmonie Rheinland-Pfalz in InClassica 2021 Dubai International Music Festival while she performed with the German orchestra led by maestro conductor Michael Francis (right) at Coca-Cola area in downtown Dubai, UAE on Sept. 17 (Friday), 2021.
It was a night of fantasy and ecstasy for hundreds of the audience gathered at the CocaCola Arena in Dubai on the night of Sept. 17 (Friday), 2021. The American violinist of Chinese ancestry enraptured hundreds of spectators who bored mid-summer night heat of over 40 degrees C to listen to works of musical art created by Alexey Shor, composer in residence of The InClassica Music Festival held for 30-day run.The violin virtuoso fascinated the listeners with her awe-inspiring piano performance in collaboration with Deutche Staatsphilharmonie Rheinland-Pfalz conducted by its chief conductor Michael Francis, one of the most esteemed master conductors of today. Chen played Shor's "Phantasms" — "Dance of the Grace," "Elegy," and "Flight of a Falcon." "Chen's violin playing is very natural like water flow," said one local music critique. "Yet her energetic and powerful technique was highly impressive." The critique went on to say that Chen's facial expressions and her bodily movements were graceful and passionate. "Chen's performance was just flawless and perfect," the critique added.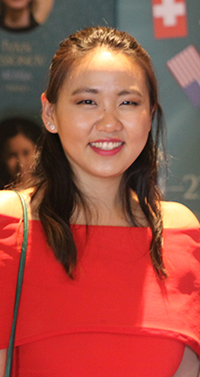 Ms. Stella Chen, the world's renowned American violinist
The German orchestra amazed and captivated the audience as each musician played their part in such perfect harmony. They played "J. Brahms' Variations on a Hayden's Theme, Op. 56" in the first part of their performance. The great conductor Michael Francis put all attendees into ecstasy, enrapturing them with his best orchestrated symphony. Cheerful audience responded a wave after wave of thunderous applauds. His conducting was just fascinating. After a brief intermission they played the famous tune Ludwig van Beethoven's Symphony No. 5 (version of G. Mahler). Highly moved, audience refused to leave the concert hall even after the ending, shouting for "Bravos!" "It was like a miracle created by Stella Chen, Michael Francis, and Alexey Shor in the middle of desert," said another music expert. "It was just fantastic." The German orchestra is one of the seven orchestras from seven countries including Jerusalem Symphony Orchestra, Malta Symphony Orchestra, and Russian National Orchestra. Twelve world-renowned conductors and a total of 37 world-class soloists from scores of countries were invited to 2021 InClassica Dubai International Festival. The world largest classical music events was hosted by European Foundation for Support of Culture (EUFSC) established by its President Konstantin Ishkhanov. It is also supported by SAMIT (Show Art Music International Tours). Under the theme of "World's Largest Musical Observatory," the "2021 InClassica" was held from Aug. 28 till Sept. 26, 2021 for a month-long event at Opera House and CocaCola Arena in downtown Dubai, UAE.