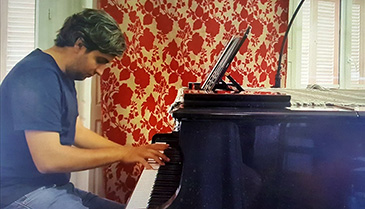 Theo Fouchenneret, pianist, from France
Under the theme "Reconnecting in Harmony" of the Korea Foundation Virtual Concert Series, three artists from Korea and France performed musical pieces from classical music on Sept. 16, 2021.Christine J. Lee, cellist, and Jaewon Kim, violinist, from Korea and Theo Fouchenneret, pianist, from France performed classical music of Alfredo Piatti, Johann Sebastian Bach, and Gabriel Faure.
Christine J. Lee
CellistPraised for her inexhaustible curiosity, Christine J. Lee is one of the most versatile artists of her generation who performs extensively as a soloist and chamber musicians.She is the first prizewinner of the International Isang Yun Competition and a top laureate of the Queen Elisabeth Competition, to name but two of her numerous competition victories.Her debut album, Voyage, was released in May 2021.Christine began playing the cello at the age of seven, and she made her debut with the Seoul Philharmonic only two years later.She was accepted to the Curtis Institute of Music at the age of 10.She is an artist-in-residence at the Chapelle Musicale Reine Elisabeth where she works closely with Gary Hoffman and Jeroen Rauling.Furthermore, she is pursuing an Advanced Performance Diploma under the guidance of Christoph Richter at the Royal Academy of Music in London.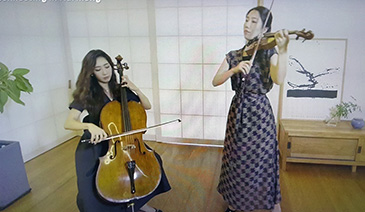 Christine J. Lee (left), cellist, and Jaewon Kim, violinist, from Korea
Jaewon Kim
ViolinistSouth Korean violinist Jaewon Kim was chosen as a 2nd Concertmaster of Tonhalle Orchester Zurich at the age of 24.She was an artist-in-residence of the Foundation of the Banque Populaire in France from 2017 to 2019, and participated in the academy program of the Radio France Philharmonic Orchestra and l'Opera de Paris during her studies in Paris.She won main awards and special prizes at many international violin competitions such as Lipizer in Italy, Brahms in Austria, Schoenfeld in Hongkong, Sofia Young Virtuoso in Bulgaria, and Kloster Schontal in Germany.She studied with NamYun Kim in Seoul at the Korea National University of Arts and completed her master's degree and artist diploma in Paris at the Conservatoire National Superrieur de Musique de Paris (CNSMDP) with Svetlin Roussev and Ronald Daugareil.She is currently the assistant artistic director of the Busan Classic Music Festival.
Theo Fouchenneret
PianistTheo Fouchenneret was awarded the 1st Prize at the Geneva International Piano Competition in November 2018.The sensibility and poetry of this young pianist, as well as the maturity of his interpretations, distinguish him from other pianists of his generation.In 2013, he was awarded the 1st Prize during the Gabriel Faure International Piano Competition, giving him the opportunity to perform repertoire that is dear to him.The year 2018 was a turning point in the young pianist's career.A few months before triumphing at the Geneva Competition, he was awarded the 1st Prize, as well as five special prizes during the Lyon International Chamber Music Competition with the Messiaen Trio.
Program
Alfredo Piatti — 12 Caprices Op. 25 for Violoncello, No. 7 in C Major
Johann Sebastian Bach — Invention No. 8 in F Major
Gabriel Faure — Apres Un ReveAll "Reconnecting in Harmony" performances will be freely available at the Korea Foundation's YouTube Channel (www.youtube.com/TheKoreaFoundation).
KF Virtual Concert Series Schedule
Sept. 7, Tuesday Brazil
Joâo Camarero & Anna Setton|Guitar & VocalsSept. 9, Thursday Belgium
Denis Sungho|GuitarSept. 14, Tuesday Paraguay
TROVABOHEMIA |Traditional MusicSept. 16, Thursday Korea & France
Christine J. Lee & Jaewon Kim & Théo Fouchenneret|Cello & Violin & PianoSept. 28, Tuesday Singapore
New Opera Singapore|VocalsSept. 30, Thursday Korea
Jambinai|Post RockSchedule is subject to change without prior notice.Playlist Link:
https://youtube.com/playlist?list=PLcLHEtFeespMo7qYzI57yZzMhTD8xmZDN