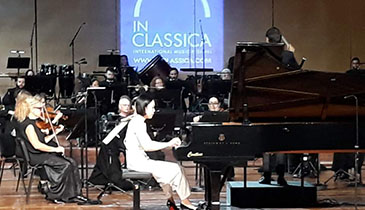 Son Yeol-Eum plays the piano at the Coca-Cola Arena in Dubai on Sept. 10, 2021.
Dubai (Sept. 15, 2021) — Korean-born world-class pianist Son Yeol-Eum caught the attention of the hundreds of the audience jam-packed the Coca-Cola Arena in downtown Dubai on them night of Sept. 10, 2021. Son played "S. Prokofiev's Piano Concerto No. 3 in C Major, Op. 26" to the tune of the Jerusalem Symphony Orchestra. Among the large audience were many local Korean residents. In particular, Consul General Moon Byung-Jun of the Korean Consulate General in Dubai took part in the concert with his embassy staff and family. He delivered a congratulatory speech prior to Son's performance. Son seemed to enrapture the breathless listeners of her concert who responded with rounds of thunderous applauses. All the composers and conductors praised Son for her energetic performance. "It's just amazing," said famed musician Alexey Shor, composer in residence of "InClassica International Music Festival." Under the slogan of "The World's Biggest Musical Observatory" InClassica International Music Festival or "InClassica 2021" has gathered hundreds of musicians to Dubai, the venue for this year. They include 37 world-renowned soloists, seven orchestras of a world-class level, and 12 leading conductors. This year is the 10th edition. Previously the annual classical music event was held on the island nation of Malta. It was hosted by the European Foundation for the Support of Culture (EUFSC). Also it was sponsored by SAMIT (Show Art Music International Tours) Event Group.
Who Is Son Yeol-Eum?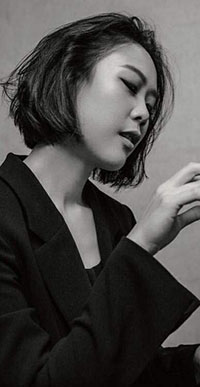 Son Yeol-Eum
South Korea's piano virtuoso Son Yeol-Eum has emerged as one of the greatest pianists of our time. A sensitive, emotional, and powerful recitalist Son never fails to captivate her fans and audience at home and abroad. She gets invited to a number of major international music festivals and competitions as frequently as any other top musician in the world. Based on her born talent and equipped with her strong will and hard practice, Son has garnered top prizes from major global music competitions. Son won the 13th Van Cliburn International Piano Competition in 2009. She was already a two time winner of the Tchaikovsky International Piano Competition in 2011. An ardent chamber musician, Son was appointed the much coveted position of artistic director of the annual PyeongChang International Music Festival. PyeongChang was the venue for the 2018 Winter Olympics. Son was born on May 2, 1986 in the provincial city of Wonju in South Korea. She grew up in the educational city. She was heavily influenced by her mother, who was a school teacher of the Korean language. Her mother was a church choir conductor. Son graduated from the prestigious Korean National University of Arts in Seoul. After graduation she went to Germany for further study in music. She was a student of Arie Vardi at the Hochschule fur Musik Theater und Medien Hannover in Germany. She now lives in the German city.Now, Son serves as goodwill ambassador of the Seoul Arts Center, South Korea's mecca of classical music. She also serves as goodwill ambassador of her native city of Wonju.