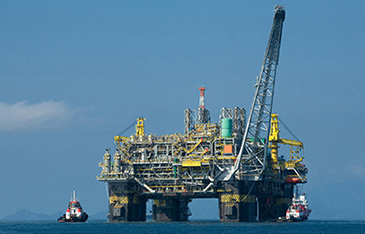 A platform operates in deepwater oil fields
China will play a definitive role in the energy transition, but its national oil companies (NOCs) face an uncertain future as the country reorients its energy strategy. China National Petroleum Corporation (CNPC), China Petroleum & Chemical Corporation (Sinopec), and China National Offshore Oil Corporation (CNOOC) are central actors in the energy sector, and their investments abroad reinforce China's geopolitical and trade ambitions. But their evolution depends on policy signals from the government as China fleshes out its longer-term climate goals. As the Chinese NOCs confront the long-term transition away from fossil fuels, their strategic direction will matter for both the global oil and gas industry and for geopolitics.The Chinese NOCs are economic giants. Last year CNPC, Sinopec, and CNOOC produced a combined 4.4 million barrels per day in liquids — equivalent to about 32 percent of China's oil demand — and 16.1 billion cubic feet per day of gas. Collectively they generated $643 billion in revenue in 2020 (but only $11.8 billion in combined net income, in a calamitous year for the oil industry). The NOCs are among the largest investors in China, with combined capital expenditures of $80 billion in 2019 and $66 billion in 2020. They are also some of the world's largest employers. The combined workforce of CNPC and Sinopec alone, at about 816,000, is larger than the populations of four U.S. states and the District of Columbia.Yet the Chinese NOCs will face growing challenges in fulfilling their core mandate as domestic resources gradually decline, and the energy transition poses new threats. As China pursues its newly established goal of peak carbon emissions by 2030 and net-zero status by 2060, policymakers will set the parameters of state investment for years to come. China will not necessarily lean on the NOCs to realize the government's broader energy transition goals, but the companies will have to meet new demands and accelerate their moves into lower-carbon energy. Early Strategies Seek to Build on Core StrengthsTo date, the Chinese NOCs have not announced dramatic changes in strategy but are taking steps to align with state goals, including improved disclosures, new climate and net-zero commitments, and new investments in low-carbon energy.The Chinese NOCs offer more emissions data than most state oil companies, but their disclosures are still limited. Sinopec shares slightly more data, including its Scope 1 and 2 greenhouse gas emissions, methane emissions, and emissions from flaring and venting (see table below). CNOOC discloses Scope 1 and 2 emissions as well as its emissions intensity. CNPC publishes only its Scope 1 and 2 greenhouse gas emissions but aims to peak its carbon emissions by 2025 as opposed to the 2030 target for Sinopec and CNOOC. The NOCs' absolute emissions-reduction targets are modest and could suggest a trajectory that will simply follow declining output at some of China's largest oil fields. On the other hand, the decline of China's mega-fields could arguably shift more of the NOCs' production to less carbon-intensive fields.In terms of net-zero targets, unlike many of their NOC peers, all three companies have medium- and long-term targets to curb emissions. CNPC and Sinopec are aiming for net-zero status by 2050 and CNOOC by 2060 (the latter in line with China's national targets). The companies have offered little guidance on interim targets, suggesting that there is work to be done in mapping out the long-term strategy for the road to net-zero. For now, the Chinese NOCs — like other state oil companies — are seeking to decarbonize their production but not to curtail output.The broad outlines of low-carbon investment strategies for the NOCs are becoming clearer, although they are still at a nascent stage. Generally, the companies are seeking to build on core strengths. CNPC and Sinopec are focusing on carbon capture, utilization, and storage (CCUS) projects and are banking on hydrogen, which is not surprising given their extensive infrastructure footprint and their long experience in supplying industrial consumers. CNOOC, befitting its status as China's key offshore energy producer, has stakes in two large offshore wind power projects in Jiangsu and Guangdong Provinces. Renewable energy still accounts for a tiny share of overall spending. CNOOC plans to spend just 5 percent of its capital expenditures on "new energy" between 2021 and 2025.Some Trends Apparent, but Policy Guidance Still to ComeAs governments respond to the energy transition, they will reshape NOC mandates. For CNPC, Sinopec, and CNOOC, much will depend on the policies laid out in China's nationally determined contribution (NDC) ahead of the 26th UN Climate Change Conference of the Parties (COP26), as well as the next sector-specific five-year plan expected in late 2021 or early 2022, which will set out long-term targets for 2035. Already it seems likely that the NOCs will focus on hydrocarbons-adjacent technologies and industries such as hydrogen and CCUS. But rather than speculate over their long-term energy transition strategy, it may be more useful to identify some open questions.First, what role will the NOCs play in renewable energy, relative to other state-owned enterprises and private investors? Even in their core business, for several years the state has chipped away at the dominance of the NOCs. Concerned over China's growing import dependence, the government has sought to raise domestic oil and gas production by encouraging more private investment. In 2017, a state plan called for a greater diversity of investors, and two years later the government lifted a requirement that private players partner with one of the big three NOCs in the upstream. Under President Xi Jinping, the government has also facilitated the rise of private companies that are now significant players in the downstream sector. More recently, in December 2019 China created a national oil and gas pipeline company commonly referred to as PipeChina, seeking to open access to pipeline capacity for third parties. These liberalization efforts have supported the growth of numerous private players, including second-tier gas companies and new entrants in refining and petrochemicals.These policy changes do not suggest the state will support dramatic moves by the NOCs away from their core business. China could encourage them to invest in renewable energy, the electricity sector, or battery technology — common targets for diversification by oil and gas companies charting a new course in the energy transition. But there are many incumbents in these industries, including state-owned enterprises. The NOCs have many strengths including scale, large balance sheets, a presence in all the key demand centers, and enormous human resources. But future policy guidance will indicate whether they will enjoy the strong state support required to pivot toward becoming more diversified energy players.Second, how will the government recalibrate the NOCs' oil and gas investment priorities? A limited resource base and relatively high production costs at home suggest that the NOCs will have to look abroad again. As other companies sell assets to meet investor demands and climate commitments, the Chinese NOCs could be well positioned to expand production, marking a long-awaited return to major overseas investment. But even if China encourages its NOCs to pursue mergers and acquisitions, the geopolitical context has changed. More governments are wary of Chinese purchases of strategic assets, and a return to the overseas investment spree of 2009–2013 seems unlikely due to external conditions and domestic political constraints. Instead, the NOCs may look for new competitive advantages, such as the potential to develop new technology as well as trade linkages around hydrogen.Third, what role will non-state investors play in shaping energy transition strategies? To be sure, the state holds a controlling share in the NOCs and ultimately determines their strategic priorities. The companies are also able to leverage finance from supportive state banks and other institutions. The NOCs are not at the mercy of international investors, and their potential partners could perceive this as a strategic advantage that could help to secure financing for oil and gas projects. Still, the NOCs cannot ignore industry-wide challenges in accessing capital. NOCs seeking to issue international bonds, access project finance, or seek insurance coverage will encounter environmental, social, and governance (ESG) pressures. The Chinese NOCs will have to engage with shareholders and lenders on these issues, suggesting another channel that will influence their behavior. None of these questions will be resolved neatly or quickly. But given China's status as the world's largest oil importer, it is worth paying attention to how its government reshapes its oil and gas strategy and leverages its NOCs.
Ben Cahill is a senior fellow in the Energy Security and Climate Change Program at the Center for Strategic and International Studies in Washington, DC
Commentary is produced by the Center for Strategic and International Studies (CSIS), a private, tax-exempt institution focusing on international public policy issues. Its research is nonpartisan and nonproprietary. CSIS does not take specific policy positions. Accordingly, all views, positions, and conclusions expressed in this publication should be understood to be solely those of the author(s).