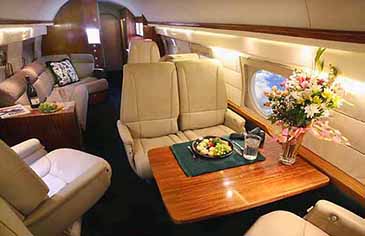 Interior of Gulfstream G2. The Gulfstream II (G-II) is an American twin engine business jet designed and built by Grumman.
It definitely is and isn't what you may have thought."The first billionaire I worked for had 57 people on their staff. I was hired on as house manager $95,000 per year to take care of the kids. It was a different world. For example, the school day would end, we'd get on a jet fly down to Kentucky, go horseback riding and then fly home afterward. Everyone was on their payroll. We decided to go to Florida in the morning, we fly down to Palm Beach, a hangout for a couple of days, and fly home," said the handler of one of the world's super-rich."A handler," the handler said, isn't a nanny, nor a governess. "I was between a nanny and a governess, kind of like a fixer."A governess is a step above a nanny. They are paid very well. Governesses curate the children to be well-mannered and well-educated. They are there to lay down the rules, teach manners, sit them down for tutoring. They are very well educated and polished.A nanny is more of a babysitter of sorts. But even they can have a personal driver.The life of a billionaire might not be exactly what you thought. You might be like me, imagining a life of leisure and adventure, every day doing whatever you want and not having a care in the world. With a billion dollars life could be like that, but if you lived like that, you probably wouldn't have made a billion dollars in the first place. That is because to be a billionaire you essentially need to be a workaholic. At least the billionaire she worked for was, he was
nonstop.It looks very desirable to be a billionaire and it is great to have that much money. But like anything, there is a yang to the yin. Some stipulations come with having that much money.There are always people around. All the time. And the reality is, 'more money, more problems.' "I think it really is subjective. To make that much money you have to work very hard. But the wife, for example, is in a very watched-on role. She gets a lot of help. More than the average wife could fathom. The children live a different life, they don't get breaks. One big deal is that they have to go to the best schools and do a ton of activities. The moment they wake up they are on the clock. It is all day long, with multiple tutors, tennis, horseback riding, golf lessons; after which is dinner, and then homework and then sleep. The next day, do it all over again. It is a considerably hectic life.Summer vacations involve homeschooling, every single day. There, was never one day that there wasn't education or extra-curricular. They needed a team of people to accomplish it. She isn't even a dance mom; she didn't have to take the child from place to place. Children are so much effort. But the super-rich can just buy a staff to take care of them and, raise them. One of my friends that lives a normal life out in the country has three children and the toddler just plays outside with the chickens and in the mud.The thirteen-year-old is never by herself. There are constantly people around you. The family that I was with, was full of love, but life can seem suffocating at times. These people didn't come from that money, they earned it. You can see the difference between people that have always had money, they brag and show it off, and those who earned it, they don't flaunt it. The housekeepers brought on the level of the echelon. There were moments that the family lived a very normal life. They heat their food in the microwave. But that is after the food is prepared by a world-class chef. "I'm not sure if the mother would remember how to prepare a meal.""The dad is the simplest, person I have ever met. He literally just needs to be fed," she said with a laugh. But obviously, it is more than that. If he wants to travel, he and the family take private jets, and they pay a lot of money for things that they could get cheaper if they were so inclined. A $300,000 vacation as opposed to a $2,000. But who doesn't love a little bit of pampering now and then? "Sometimes you do eat lobster on the jet. And I liked that," she said.At the end of the day, a billionaire is a person, a human being just like the nurse, salesman, or journalist, or so they say. We all breathe the same air. The one big difference is how much they have to be involved. Constant attention and learning. There is no downtime (this is a reoccurring theme and thus is repetitively announced). It is very taxing. Did I mention that there are always people around? Chefs, flight attendants, house managers, groundskeepers, you name it. Every task or action has another person or team of people involved.Out in the Hamptons at 6 am you are woken up by lawnmowers. "Why does there need to be 7 people on your property at all times? Even in your own private bedroom, there is someone coming in to take care of it," she said. The glitz and glamour for some might start to fade just about now. You wake up on a Saturday morning and just want to sit alone in the kitchen with a coffee and a good book. But that isn't the way it is in this life.When someone is taking care of you all the time. When it comes to taking care of yourself it becomes stressful when you have to do anything.It's glamorous and lovely and they have exposure to so much. It is always delicious, beautiful food around, pastries, fruit, Mediterranean dinners. We went to so many beautiful places. The only real difference is that there are people doing things for you.When we went to Madrid, we had the entire corner of a hotel. It was four rooms. We walk through the vestibule and we had the whole corridor. It most likely cost $400,000. But it was just a hotel room.
A square room with a bed and a TV and the breakfast was good but an omelet is just an omelet. It can be described as a sterile life. For some that might seem attractive, at least from a distance."I would rather go out in the town, eat street food and drink a coffee and see the city on my own. You get on the jet, people waiting, two big black Suburbans, one for luggage one for people. You are never left on your own. You have five strangers around you on your vacation."You pay $170 every half hour for a tennis instructor that teaches you the same thing a teenager can for $20 an hour. It also depends on your zip code. At a market in South Hampton, for example, a watermelon costs $32. Four towns over it is $4, and both probably came from the same farm. "I refused to spend $32 on a watermelon even if it wasn't my money. Even if it was for a billionaire. I wouldn't spend that kind of money on a watermelon."The only thing I would note between the billionaire's kids and regular kids is that the billionaire's kids don't stop moving. They have to be doing something. At all times. One of the kids I watched once stated, "I just want a day to do nothing."Behind closed doors, they are a normal family. They still snuggle on your laps and get sick and need to be comforted. They open presents on Christmas and love going to malls. They love going to the grocery stores. Disney World was their favorite. But again, going to Disney is different for the super-wealthy. Everyone has their own handler. We get taken up back alleyways and if we liked a ride, we could ride it as many times as we wanted. Escorted to secret locations to have special lunches and characters would show up for pictures. "I went to Disney world like 12 times.""Why aren't we in Nevis right now? Why aren't we in Paris!? Not Disney World again!" I used to wonder she said with a laugh. Exclusive events, most wealthy of the wealthiest dressed from head to toe in diamonds, Chanel, etc. Very clear distinction between old money and new money. The way that they flaunt it, the amount of help they have. The way they carry themselves. Everyone carries themselves very well. Usually, the grandparents are there, and they are dripping in diamonds too. Old money, the entire family is there. New money is just the nanny and the babies.One big difference from traveling with them on vacation as opposed to being by myself, and the one person I liked around, was the handler, but not 24/7. I liked the handler in terms of being a tour guide. They would always be ours and they were a benefit. They filled you with a wealth of knowledge. They knew all the secrets and great locations. "This family was seriously treated like royalty. When they wanted to meet some soccer players, it was arranged. It was remarkable," she said.There is more responsibility when you have that much money. People expect things out of you. "My life is simple in comparison. I feel very fortunate the people I worked for were graceful and humble
because the reality is that life is hard when you get that wealthy."People reading this might scoff and think to themselves, "If I had all that money, I wouldn't have to worry about anything!""We were in California during the pandemic, like month three. I was with the little boy who was about 5 years old. I went up to the mom, 'his behavior was unacceptable, and I asked permission if he can be punished.' I made him sit in timeout for the first time. After that he respected me because I didn't cave in when he was trying to rebel."In the home of the billionaire, the mother is the only caregiver and isn't necessarily the disciplinarian. But who is then? How does the child learn right from wrong? If a nanny is primarily raising the child, who do they listen to?In a world where both you and your neighbors all have the same toys, cars, and clothes, etc. There are other ways to show your status amongst the billionaires.What school you're getting into, which summer camps they are being sent to. How well are they doing at the extracurriculars? Not always can you get into the school? That chess teacher coming to their house for private tutoring, is it the best in the country? Then you have the wild parties. Huge soccer blowup, swimming, fire throwers, circus people around the pool. The Great Gatsby is real."And they super-rich own a lot of properties and they are always going from house to house. It is exhausting. Every weekend we are in a car, or on a plane, and then in a car.""At the end of the day, in my opinion, all that matters is that people are kind, with or without tons of money. Once the curtains are closed everyone is just in sweatpants," the handler said.