Middle East & Africa
Letters from America
Inside Africa — A Missionary's Work in Africa and Search for Family History
By Greg Evans
Special Correspondent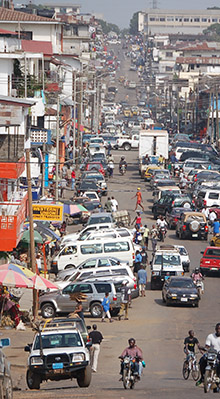 Downtown Monrovia, Liberia
It was a blank space on the map, commonly referred to as "the Dark Continent," synonymous with traveling into the unknown, a land rife with man-eating beasts and bloodthirsty savages. But what is a savage? Those who attack strangers upon their land, or the strangers that invade a land that isn't theirs, find residents whom they then attack, torture, kidnap and force into enslavement? The "blank space" on the map was obviously an erroneous misconception, and the supposition that a spear is more savage than a bullet is fallacious. History has proven that the bullet is far more superior than the spear as an all-around vehicle for death, and those nations that used inferior firepower were at the mercy of their oppressors. And it was this inability to fight on an equal field of battle that left the African people vulnerable and thus inadequate during combat. For 400 years Africans were transported across the Atlantic Ocean on horrific journeys, wrenched from their homes and families and lives so strangers thousands of miles away could accumulate wealth for themselves without having to pay labor costs. With the emancipation of the enslaved Africans in America, the country of Liberia was established through annexation. It was created by the Quakers who figured the newly freed Africans needed someplace in Africa where they could return. The Quakers believed that the Africans would be better off being allowed to return to their homeland and avoid the oppressive conditions in America at that time. A society called the American Colonization Society was established and began repatriating the emancipated, sending free Africans and African Americans to the Pepper Coast to begin new lives. From the early 1820s through the early 1840s, the Pepper Coast was inundated with 4,500 people. More than half of these initial emigrants would die from tropical diseases. But despite the mortality rate, thousands more would follow and return to Africa. Today the idea that humans could be owned by other humans is hard to conceptualize. But it was not very long ago that this was occurring. Freed slaves as well as descendants of slaves, had always been interested in tracing their roots and bloodlines and finding out where they came from. But it wasn't until around the 1960s that they were able to start actively searching and building their family trees, said a missionary from Tennessee, Addae. He says it has been eye-opening to conduct this research but troubling as well. An aspect of the search that has been difficult is that before 1870, slaves within a homestead were listed simply as "slaves." Sometimes it would give their age and description, but usually, they were just a number. Those that were lucky enough to be recorded for posterity can trace their ancestry somewhat by way of a "master's" last name. Those born in Africa and transported to the Americas, their original names, given to them at birth by their parents, are lost to history. Addae had been searching for his ancestral lineage but wasn't able to trace it back very far. One thing that helped to pinpoint at least in Africa where his descendants came from was through an ancestry DNA test. The results indicated that the bloodline was somewhere in Western Africa, most likely near the coast. Countries identified in the test included Liberia, Ghana, Ivory Coast, and Nigeria. During the Transatlantic Slave Trade, about 40 percent of enslaved Africans brought into the country passed through Charleston Harbor. Charleston, formerly Charles Town was first established by English settlers in 1670. A significant number of those remained in South Carolina due to the need for labor on the rice plantations that were prevalent in the area and required more labor than harvesting cotton. And one fact that people probably aren't aware of is that many of the Africans shipped in horrific conditions from across the Atlantic were familiar with rice farming in Africa and were proficient on the plantations. Their families over there had been farming rice for over a thousand years. Generation after generation. By 1860 there were approximately 4 million slaves in the United States. By the late 1960s and early 1970s, people of African descent started to have more opportunities to investigate their roots. Though spotty record-keeping posed considerable challenges. And locating persons of African descent before 1870 is difficult since before the Census of 1870 enslaved African Americans were not included by name. But once the options for the census were expired and no further avenues of information were becoming available people had to turn to different methods. Some, with the small amount of data they had, traveled back to Africa in hopes of locating more information, and just to see, feel, absorb, and experience the land of their ancestors. It is a powerful, spiritually invigorating moment that is felt for some taking that first step out of the airport and onto that soil. "My first African experience was Kenya, Nairobi. It is a sense of pride, the pilots, the stewardess, the people working in the airport, people driving the taxi, security, they are all African. The President is African. A modern-day Wacanda. "People are making me feel welcome, they look like me. It brought me to tears. I felt like I was home. I felt like I belonged," Addae said. But one thing they weren't prepared for is that Africans see African Americans differently. "They call African Americans from America 'White Man.'" They have a different mindset. "I didn't understand it since I look like them," Addae recalls. For African Americans visiting there for the first time, such behaviors are unexpected, and they are taken aback. And as beautiful and romantic as Africa is, with friendly people on the streets, excellent food, and incredible cultures, the reality is that much of it is impoverished, wrought with political corruption and unpredictable episodes of violence. For travelers, even those of African descent, coming from America or other first world countries requires security detail the entire time. When Addae went to Africa he realized that there were pockets of Africa, especially out in the rural communities that could use assistance. And so, he began traveling to Africa every year doing mission work, helping people that need it the most, and spreading the word of God. Addae thinks back to his first trip to Liberia and how he felt as if he was living better than the native Africans, that he was treated better by foreign companies and it made him feel uncomfortable. As a pastor and a missionary, he saw himself as one of the people and didn't want to be viewed as being "better" than them. It is this selfless and humble mindset that makes Addae such a powerful component of his mission work. "The first time I went, I stayed on the campus of Firestone. They put me into one of the houses of the employees. The electricity would come at certain times of the day and then turn off. They would conserve energy for the plant. All cars are checked, all vehicles are known. The grocery stores are run by Indians from India. The roads are constructed by the Chinese." But Addae couldn't understand why those enterprises weren't contracted to local Africans. The church is well respected, and he hopes part of their work will include having Africans in the area employed by foreign companies to run the businesses and fix the roads like they do in the African cities. Employment was very limited. Even for men and women of God traveling as missionaries, they have to be careful. Not everyone agrees with their ideologies and teachings. In Nigeria, there is a religious war going on. Radical Muslims will attack local Christians and murder them solely over their beliefs. Addae says that those committing acts of violence will usually avoid people in power, and the missions are secured by the governments, but still, it can be exceedingly dangerous. Addae's mission work primarily in Liberia has been both rewarding and difficult. "The flag that flies in Liberia looks similar to America," he says. The local people whose bloodline has never left the continent of Africa see even descendants that have lived in Africa for multiple generations after their relatives returned as different. This peculiarity stunned Addae. Anyone with an American bloodline was not seen as African, but guests to Africa despite being born and raised there with a mixed bloodline. The local population though have been very helpful and very receptive to the mission work. One interesting factoid is that anyone of African descent that travels back to Liberia can apply for citizenship even if they weren't born there. You can have dual citizenship. And having dual citizenship allows for them to send their children from Africa to schools in the United States. But with all the struggles that Africa has, Addae said that what you see on TV and in magazines isn't overstated. "We get to see the pictures from the Americanized view. You see the bad stuff, but it is only a small portion of what exists," he says. He sees that with the missions and the close-knit family atmospheres that exist, especially in the rural villages. Addae believes the mission work going on in Africa and the spreading of the gospel has been and continues to be successful but part of mission work requires training the people to be self-sufficient so that they will be able to function independently and maintain their infrastructure. The tricky part for them is not having the money disappear in the abyss of corruption. Addae's hard work, devotion to service, and dedication to spreading the Gospel represent the type of person and leader that attends King and who goes on to be a successful member of the community and the human race.

Related Articles
I Could Tell by the Way Lalisa Looked at Me ...
Great Art of Suffering -- Degenerate Life of ...
The Dreaded Slump
An Evening in Savannah
A Successful Life Is There for the Taking!
The Millennial's Guide to a Successful ...
The Zen of Blackpink
The Mayan Predictions Were Spot On!
Confessions of a Single Dad -- I Lost the ...
Blurred Highway
How You Too Can Overcome Depression and ...
Ghost Sightings Around Mooresville Predate ...
No Place Better to Spend Autumn Evenings than ...
Poking a Hornets Nest -- A Carolina Beach ...
First-Ever Filipino Restaurant Experience, And ...
Pfizer Vaccine Approved by FDA in America
The Blurred Highway
The Speed Trap -- A Cash Register for Small ...
What Glitters Truly Is Gold -- Through the ...
There Is Buzz with Elon Musk -- Will Dogecoin ...
A Night of Celebration -- 4th of July and a ...
Miami Building Collapse -- Possible Flaw in ...
Building Collapses in Miami, Florida, Leaving ...
Color Blindness in a Colorful World
Lake Norman, the Great Energy Vortex
The Great Hostage Hoax
A Little Bit of Laos -- A Culinary Adventure
Anti-Asian Attacks an Ongoing Problem
By the Grace of God -- The Cylk Cozart Story
Eli Broad, Billionaire Philanthropist, Dies at ...
Clutch Coffee Bar Expanding to Florida
Ten Years Later: Chris Hondros Honored by ...
Local Charlotte Boutique Is Turning Heads
Sailing on Lake Norman without a Rudder
Zen and the Art of Ziplining at Lake Norman
The Proper Etiquette for Street Fighting in ...
The Silent Voices -- A Look inside the Work ...
A Yankee in Dixie
First Hiking Experience, Lake Norman -- Where ...
Who Is the Bigger Band, the Beatles or BTS?
Misogynism Within the Gaming Community
When Has It Gone Too Far -- the Illicit Affair!
The Camping Experience! Well Eventually ...
Taken from Jurassic Park and Put into ...
10 Most Irritating Bad Driver Behaviors
Throw Me a Bone -- What in the World Is a ...
Charlotte, North Carolina's South End ...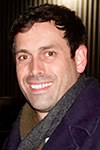 Greg Evans, associate director of communications of King University in Bristol TN, in the US, serves as a special correspondent for The Seoul Times. The seasoned journalist has been writing for such papers as the Mooresville Tribune, Lake Norman Citizen, the Bristol Herald Courier, and the Sentinel-Progress (Easley, SC). He can be reached at gaevans1@king.edu