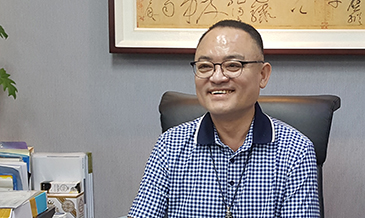 Cho Jae-Hyun, CEO & chairman of "GeoYoung DNT Co.," interviewed by The Seoul Times in his office at Kolon Science Valley II, Digital-ro 34-gil 55, Guro-gu, Seoul on July 27, 2021.
Chairman Cho Jae-Hyun, a middle-aged businessman in Seoul, now minds more about donations and sharings for the needy and poor than making profits as a businessperon.Cho, who runs his own company "GeoYoung DNT Co." as its CEO and chairman, tells of his philosophy "Beautiful minds make a warm world" at his recent interview with The Seoul Times at his office in Seoul's Guro-dong area.Once a big businessman with yearly earnings up to several hundred billion won he now plans to share the proceeds from his lucrative business projects with the society,Cho said that in the past he failed in his business as many as 18 times, paying the costly prices in learning and realizing how the society works.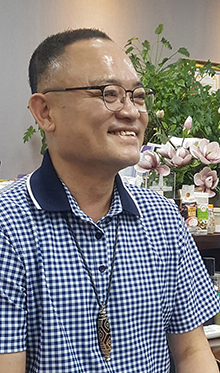 Cho Jae-Hyun, CEO & chairman of "GeoYoung DNT Co.," in his office in Seoul, South Korea
One of his business projects includes "block chain business," his cash cow business. He has already secured some 30,000 investors, according to Cho.
"Dona Cash" is the name of cryptocurrency platform of Cho's company. Cho said that Dona Cash will be available to change into the real cash within a couple of months from now.Another business item Cho is taking care of is drinking water business. One of the water brands is premium brand "Vajra Water," for which he has water factory in Hongcheon in South Korea's Gangwon Province. The Sanskrit word Vajra means lightning."Vajra Water" is the brainchild of Cho and Dr. Kim Bu-Yeol, local researcher. They developed the water over the last 10 years."Vajra Water," highly healthful and functional water, is expected to his the nation's premium water market, Cho explained.Cho wants to advance into the world with his expanding business. For this he set up an overseas branch in Cambodia on April 9, 2021. Through the Cambodian branch Cho wants to trade business throughout Southeast Asia.
Named "CMC Global" his Cambodian branch will be the epicenter for Cho's global donation activities and for other charity activities.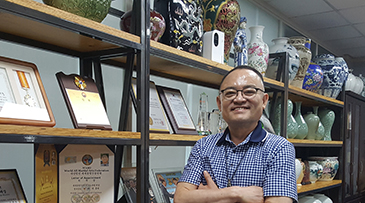 Chairman Cho Jae-Hyun's office in Seoul is filled with expensive and rare paintings and curios as he collects works of art.
It is through "CMC Global" in Cambodia that Cho also wants to train the Cambodian youths to become a global leader. Cho wants to help the Cambodian economy for creating jobs.A self-made businessman Cho has endured a number of hardships in the past, always rising up again as a successful business leader.For other social activities, Cho serves as president the Korea Kumdo (Swordsmanship) Association, contributing to its development.As part of his last social services, Cho plans to launch a project for the local Christians to make pilgrimage to Jerusalem under the catchphrase "Light of the East, Kingdom of the God"
A devout Christian Cho has been decorated and awarded a lot. In September of 2018 he became the recipient of the covetous "Korean Grand Prize for Social Development."