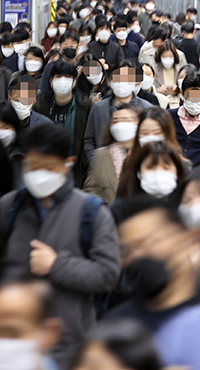 A crowd of S. Koreans pour out of subway in Seoul. They are required to wear a face mask due to the prolonged COVID-19 pandemic.
Men can live for 10 days without eating food and can survive for as many as 100 days without drinking water. However, it is difficult that they can not live their life even for a moment without hopes for the future.My favorite musician, Enrico Caruso (1873-1921), the Italian operatic tenor, overcame disadvantages and hardships to become one of the best opera singers in the world.As a boy he was extremely frustrated and dejected when he heard his teacher say "You cannot become a singer with such a poor voice."But it was his mother who encouraged the boy, trusting him and praying for him. She gave him the hope that he will be successful as a singer.When Caruso was young and nameless, he was barely make both ends meet by singing at a restaurant. The restaurant owner fired Caruso for his insufficient performance as a singer.Undaunted he persevered, holding on to his goal of becoming a opera singer. He made tremendous amount of efforts and changed his voice from low-key baritone to tenor.
Eventually Caruso became the world's greatest tenor. Hope and confidence made the country boy Italy's greatest musician.It was also hope that made Abraham Lincoln and Franklin Delano Roosevelt (FDR) the greatest presidents of the United States. Lincoln was as poor as a church mouse, unable to go to school. But the self-taught man became a lawyer and the 16th US president. He freed the enslaved blacks in America, leading the country during the American Civil War. It was his strong will and hope that made Lincoln as the emancipator.FDR was paralyzed from the waist down at the age of 39. When he was stricken by the polio he never lost hope but showed strength and encouragement.He became 32nd US president at the age of 51, serving four terms for the frist time in the history of the United States.The unprecedented FDR saved his nation from the Great Depression and save the world from the aggressions of NAZI Germany and Imperial Japan during World War II.Now, coronavirus "the COVID-19" has been hitting the world for nearly two years. Throughout the world a countless number of business and people are going out of business due to the impacts of the global plague. Globally a total of over 4 million people perished because of the pandemic. In Korea more than 2,000 people died out of over 184,000 confirmed patients. On the day of July 21, 2021 a total of 1,800 new South Koreans were found to be confirmed patients of the coronavirus. Experts predict that this pandemic will last into next year without any sign of decrease, making the whole situation from bad to worse.
There is not likely to be a ray of light at the end of this long tunnel created by the COVID-19 pandemic.
However, we should not lose a ray of hope about our future no matter how difficult the current situation is. This pandemic will also end eventually. History teaches us this.Let us buckle up and persevere for our goal of rebuilding our household economy, businesses, and national economy as well as out own health. Hope will enable us make success again!