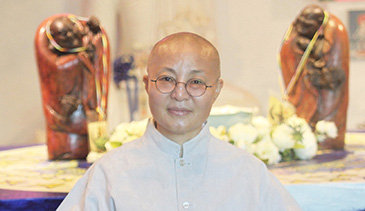 Ven. Donghwi at her Yeoraesa Temple in S. Korea's Hongcheon
Ven. Donghwi is ambitious female monk whose nickname is "Picasso of Korean Buddhism." She majored in fine art at a major university in Seoul before she worked as a magazine journalist.At age 62 Ven. Donghwi she is still very active with her plans to disseminate the teachings and compassion of Buddha not only to the country but to the rest of the world.At her own Yeoraesa (åýÕÎÞÑ: 033-434-7232) temple in Hongcheon in Gwangwon Provice some three hours drive from Seoul, she has some 1,000 works of art painted by herself.
| | |
| --- | --- |
| | Ven. Donghwi as Special Advisor — Ven. Donghwi (left) poses for camera with Mr. Joseph Joh, publisher of The Seoul Times at her Yeoraesa Temple in Hongcheon, S. Korea's Gangwon Province after she received a certificate of appointment as special advisor from the publisher in a brief ceremony held on June 9, 2021. With the appointment she will represents the cultural field as the special advisor for The Seoul Times. |
"I am turning this temple into art temple," Dongwhi told The Seoul Times recently. "I want to make this temple into a factory manufacturing Buddhas and a Sun"In actuality Donghwi has been putting years of efforts to make Yeoraesa Temple as the center of the unverse."I want my followers to receive a universe energy here at our temple," Donghwi said. "That is why I am revering Happy Mandala seated at my temple"For Donghwi "Happy Mandala" or "Diamond Mandala" is the very source of the universe energy.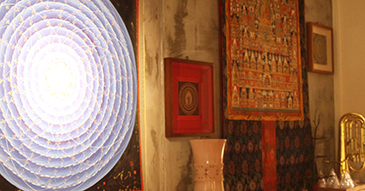 Ven. Donghwi's Yeoraesa Temple is full of her paintings and decorations on Buddhism, showing her philosophy on the universe.
She said that "Happy Mandala" is the root or womb of the universe. She argued that she wants to make her followers to be awakened at the light of enlightenment at her temple.Donghwi predicted that South Korea will be the center of the world and her Yeoraesa Temple will be epicenter of the universe as the medication center."I am spending lots of time and energy in painting "Princess RAEDIA," my own creation of six or seven years ago," she went on. "RAEDIA is like the Bodhisattva of Wisdom (Ùþâ¨ÜÌß±)"
| | |
| --- | --- |
| | Ven. Donghwi & "Princess RAEDIA" — Ven. Dongwhi's rendition of "Princess RAEDIA," the most favorite theme of her Buddhism paintings. Ven. Donghwi thinks of the princess as " the Bodhisattva of Wisdom (Ùþâ¨ÜÌß±)." Donghwi argues that "Princess RAEDIA" will save the world eventually in the capacity of national daughter of Korea. |
Donghwi argued that "Princess RAEDIA" will be the national daughter of South Korea for its growth and progress."Princess RAEDIA" will take care of South Korea, saving the whole world, according to Dongwhi.Eleven years ago in 2010 Dongwhi purchased a large chunk of land to establish the sacred Happy Mandala temple of Yeoraesa.Now on the spacious land of 10,000 pyeong (one pyeong equals 3.3 square meters), Yeoraesa Temple or Happy Mandala Temple is becoming the center of the universe, according to Dongwhi. It has main hall, meditation hall, gallery, and cafe for rest.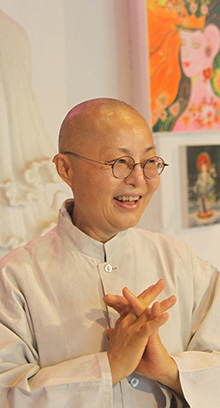 Ven. Donghwi spends lots of time , painting works of Buddhistic art at her Yeoraesa Temple. She is called "Picasso of the Korean Buddhism."
From there Donghwi brought two real pieces of Sarira (Þì××) to keep them at Yeoraesa Temple. Sarira is the relics of the Buddha's true-body remains after cremation.A huge structure of "Golden Mandala" is being built to house the names of both living and the dead. She said it will be as big as 45 meters in diameter. a name plague of pure gold will be placed at the structure.As part of the Esoteric Buddhism (ÚËÎç), Yeoraesa Temple is being turned into an Art Temple where Dongwhi paints "Princess RAEDIA" and other Buddhist works of art.Before she founded Yeoraesa Temple Donghwi went to Tibet, paying frequent visits to its Tibetan Buddhist temples including Swayambhunath Monkey Temple in Katmandu.So, her Yeoraesa Temple is considered as the Shrine for Sakyamuni Buddha's Sarira, sice hers keeps two pieces of it.Soon Donghwi will openn a medication center called "Happy Mandala School" in Anguk-dong in towntowm Seoul for shed light of trugh on the blessings of Buddha."I want my temple to be the center of Happy Mandala, the right source of the true light of the world," she added.
Gallery of Ven. Donghwi & Yeoraesa Temple