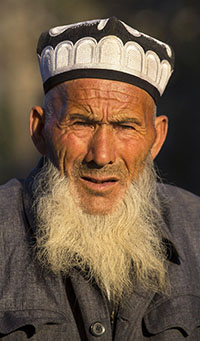 An old Uyghur man in Kashgar, Xinjiang, China
1.The Uighurs (also spelled "Uyghur") are a Turkic ethnic group who have now become a minority in their own homeland. There are about 12 million Uighurs according to the Chinese government. They are mostly Muslims and culturally close to other Central Asian nations. Uighur language is written in an Arabic script.
2.Uighur live in historical East Turkestan which was the name of their country before China occupied it in 1949. Uighur people call their homeland Doğu Türkistan. After the Chinese occupation the Chinese communists they renamed East Turkestan to Xinjiang which literally means "new colony" in Chinese. The formal Chinese name of this area is the "Xinjiang Uighur Autonomous Region".
3.Xinjiang is located northwest of China and is China's largest administrative division. It borders Mongolia, Russia, Kazakhstan, Kyrgyzstan, Tajikistan, Afghanistan, Pakistan, and Kashmir. The ancient Silk Road trade route, which connected China and the Middle East, passed through Xinjiang.
4.Xinjiang holds China's highest concentration of fossil fuel reserves in the country, and the oil and gas extraction industry there is booming, accounting for 60 percent of the region's economy.
5.Since 2009, the Chinese government has stepped up its decades-long persecution of the Uighur community in Xinjiang under the pretext of fighting terrorism and extremism.
6.This persecution of Uighurs covers every facet of an observant Muslim's life:
- Individuals caught praying, fasting, growing a beard, or wearing a hijab face the threat of arrest
- More than 5,000 mosques have been banned or demolished
- The word "Halal" on food products is considered extremism. Eating pork on the other hand is considered moderation
7.More recently, according to the United Nations, over one million Uighur Muslims are estimated to be held in internment camps where they are forced to denounce Islam and pledge allegiance to the officially atheist ruling Communist Party. The US State Department puts numbers to 2 million and a Chinese Human Rights organization consider the actual numbers to be 3 million.
8.This persecution is spilling over to other parts of China as well. In January 2019, Chinese authorities closed mosques for 'illegal religious education' in the province of Yunnan. This was just weeks after officials were sent to Xinjiang to 'study' the campaign there, and state-media outlets, like the Global Times, wrote editorials in praise of Xinjiang's example.
9.In Xinjiang, forced Chinese guests monitor Uighur homes 24/7. Chinese Communist officials are regularly imposing themselves on families in Xinjiang in "home stays." Almost a million Chinese communists are involved in this forced "guest" or "relative" exercise. They also take part in determining which Uighurs should be sent to the concentration camps.
10.Uighur Muslims must install a spyware application on their devices –Jingwang Weishi (Web Cleansing Guard) that permits the government to monitor their activity. If one installs the spyware but stops using the mobile, it is a sure way to the concentration camp.