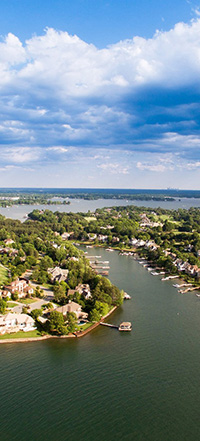 Lake Norman, the Great Energy Vortex
Editor's Note: This piece discusses the power energy vortex that exists at Lake Norman, analogous to other "magical," places in the world like Lough Neagh, Es Vedra, Ibiza, Spain, Machu Picchu, etc.
Statistics indicate that at least 100 million Americans take a boat out onto water every year. And judging from the view while driving over multiple bridges on I-77, going north or south at varying rates of speed, I'd ascertain that at least a 1/3 of those turn up on Lake Norman on any given weekend. Big boats and small boats, white ones, and black, fast ones and the painfully slow, striped ones and checkered, some skinny and others round, it is a site that you can only make sense of if you can see it in real life. And sometimes driving over Lake Norman, floating upon it, or sitting and sipping a bloody Mary enjoying its miraculous view doesn't much seem like real life at all. It is leaving and heading home for the ten-minute drive that you think, "back to the real world;" whatever that really means.But it is not just about floating on the surface that makes Lake Norman such an attractive place to go, especially when the days are warm and lazy, and the nights are mild and romantic, the glittering lights of the lakefront homes enticing the eye and indulging the mind. The beauty of the place is bewitching. I pull over sometimes on the bridge, the longer of the two. Cars are whipping past, threatening to send me plummeting from the structure into the dark waters below. I stand there and feel the wind through my hair and get lost in the lights, the ambiance, the stars above, and the distant rumbling of the nocturnal boaters, some of them creatively adorning their flotations with magical light configurations. I stand and take it all in before a different kind of light configuration, the blue and white blinking ones that require me to "move along buddy."There is no lake on the planet analogous to Lake Norman especially in terms of its energy. Not Lough Neagh, Tanganyika, Superior, or even Lake Baikal. All are beautiful and enigmatic, but they pale in comparison with the complexity of the energy, plus, they don't have Normie; and hot springs, and the perfectly placed bridges where you can stand at night or drive across and feel like you are flying, and the peach blossom jellyfish, the prevalence of UFO sightings, nor the ambiance or prominence of Hollywood actors dangling their feet in the green waters. Why does it seem like everything involving this lake is a step into some 4th dimension? Coming to this Lake isn't just about adventure, or rest and relaxation, it is therapeutic. That may come off as presumptuous to some, but in this edgy world of chaotic work schedules, incessant afterschool events, endless traffic jams, unhappy marriages, the soaring cost of living, and acute depression, there has to be someplace one can go to unburden. The world is full of such places. There is an energy around Lake Norman that is extraordinary, it is engaging and powerfully inspirational. Travelers to Lake Norman will experience significant healing both mentally and physically, and enhanced creativity. They will feel at peace as if through mediation or yoga.Certain places around the world have incredible concentrations of energy. Scientifically and mathematically, we are not yet able to quantify it, but maybe one day. Stonehenge and Machu Picchu are good examples; so is the Pyramid of Giza and Es Vedra, Ibiza, Spain.I don't get to see the lake every day. And because of that I truly see it and feel it when I am there. The first night I ever crossed the bridge I felt the energy and was put at ease. Sometimes when I am out on the road, somewhere in the mountains, hours to the west, I think about it. I tell people about it. A random waitress delivering me a plate of scrambled eggs, I will tell her about it, its energy, the view from my favorite spot on the bridge, the UFOs, and paranormal activity that goes on. I always leave people with more questions than answers. Because that is what I have. And that is ok with me.