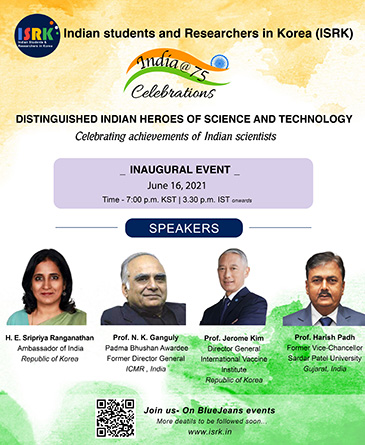 Indian Students & Researchers in Korea (ISRK)
First and foremost, during these unprecedented times, Indian Students & Researchers in Korea (ISRK) hopes that you and everyone connected to you are safe and healthy.ISRK is a non-profit voluntary organization in South Korea that aims to connect all the Indian origin students and researchers residing in South Korea and provide them with educational, research, social, recreational, job, and community support.As 2022 will mark 75 years of independent India, ISRK has taken an initiative to celebrate the achievements and contributions of Indian scientists in the area of Science & Technology during the last 75 years. The event will be celebrated as the Distinguished Indian Heroes of Science and Technology. For 75 weeks from the date of inauguration (June 16), ISRK will showcase the work of Indian Nobel Laureates, Padma Vibhushan, Padma Bhushan, and Padma Shri awardees in the field of Science, Engineering, and Technology through infographics, videos, and selected interactive sessions. ISRK believes that it will empower young students, researchers, and scientists to pursue their research with zeal and enthusiasm.Please find the inauguration event details below:Date: Wednesday, June 16, 2021.
Timing: 19:00 -20:30 pm KST | 15:30 -17:00 pm ISTJoin us at BlueJeans events:
Register on this link: https://primetime.bluejeans.com/a2m/register/eyjgzeqc
It would be our utmost honor to have your virtual presence at the event and let's celebrate together the achievements and contributions of Indian scientists who made a mark worldwide. We would be very grateful if you could help us spread the word among the Indian diaspora and the local community in South Korea. May we also please request you to share our event details on your official social media pages of Facebook, Twitter, and Instagram.We are also enclosing the background of ISRK and the event poster for your reference. Looking forward to your kind response.Dr. Lailesh Kumar
President,
Indian Students & Researchers in Korea (ISRK),
Email- president@isrk.in,
Contact: +82-10-9532-3152ISRK website: www.isrk.in
ISRK Facebook: https://www.facebook.com/groups/joinisrk/
About Indian Students and Researchers in Korea (ISRK)
ISRK is a non-profit voluntary organization to support Indian origin researchers and students in South Korea started in 2019. The idea was to bring all Indian students and researchers in Korea under a single platform promoting unity among the community as a whole and to support and help the community in academic and professional areas. Our key objectives include • Education & research: Assisting and guiding through opportunities in higher studies and research in Korea. We have conducted six webinars in last one year to help Indian students specially from smaller towns to learn about Ph.D. and Post Docs programs in South Korea
• Job opportunities: Assisting researchers in finding job opportunities in academia and industries in Korea. More than 40 researchers were able to find jobs in Korea on our efforts.
• Community support during Covid-19: Assisting students in various situations during Covid-19. We have supported researchers to travel from India to Korea through five chartered flights and assisting them in getting visas and quarantine places during their travel. We have distributed facemasks and sanitizers to various researchers in Korea. More than 2000 people till now benefited from our efforts
• Indian culture and events: Creating a 'Home away from Home' for Indian students and the researcher's community in Korea by celebrating the rich range of Indian culture and festivals through events, workshops, and activities. We have partnered with SPICMACAY to promote Indian Culture in South Korea