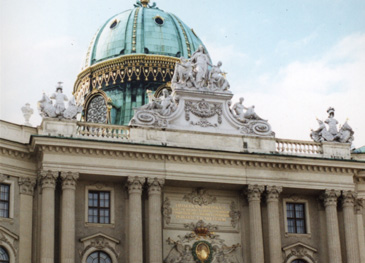 The Hofburg –- the Imperial Palace
So what if it is the city of Mozart, Strauss, Haydn, Beethoven, Klimt, the majestic Schonbrunn Palace, the exquisite baroque Belvedere, and all the glories of Hapsburg indulgence! Call me a lowbrow, a philistine if you like, but I wasnt lured to Vienna by any of these. For me, Vienna will always be the city of Harry Lime and The Third Man. Graham Greenes screenplay, made into one of my favourite films, tells how Holly Martins (played by Joseph Cotten), a writer of cheap westerns, arrives in post-war, black-market Vienna, to see his old pal Harry Lime (Orson Welles). But Harry appears to have met with an accident ... or has he?First stop Hotel Sacher. This is where Martins took up lodgings on arrival, and where former MI6 agent Greene stayed in 1948 and wrote part of the story. It was in Sachers that Greene learned, courtesy of British Intelligence, about the black-market trade in penicillin, and of the underground police who patrolled the labyrinth of sewers beneath the war ravaged city.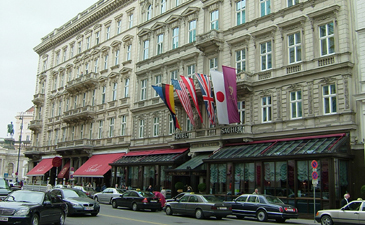 Hotel Sacher in Vienna
Opened in 1876, Sachers is unrecognizable from its post-war film image, and I doubt if Martins would have been put up in this five-star luxury establishment today. It is located in the heart of Viennas downtown, adjacent to the State Opera House. Its rise to prominence is associated with the legendary Anna Sacher, daughter-in-law of the founder, Franz Sacher. Anna, noted for the fat cigars she always smoked and her bevy of bulldog pups, cared attentively for her residents, about whom she knew everything and said nothing. Her passion was VIP collecting. Not only did she amass a photographic collection of her famous guests, but most of their signatures as well. On display in the coffeehouse, amongst the portraits, is a colourful silk tablecloth signed by prominent guests and embroidered by Anna. While the Kaiser (Franz Joseph) did not stay at Sachers, Anna managed to get him to sign a serviette which is incorporated into the tablecloth. Around the corner from Hotel Sacher is Cafe Mozart. This is where Martins met the Baron Kurtz, and first became suspicious about Limes possible fate. I wonder if Mozart lived or composed here. Like Beethoven, he seemed to change address when the rent fell due. Vienna is littered with his residences. Coffeehouses, such as Mozarts, are an integral part of the citys attraction and lifestyle. Apparently, while retreating from a siege on Vienna in 1683, the Turks abandoned a large supply of coffee beans. Since then the Viennese have been hooked on java.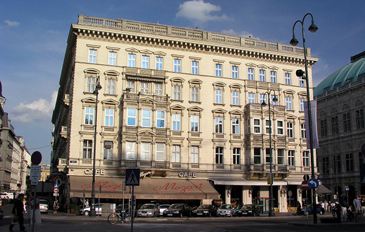 Cafe Mozart in Vienna
Unlike the establishment portrayed in the film, Mozarts today is something of a konditorei a pastry shop which sells coffee. To me it lacks the atmosphere, true smells and ritual of the traditional Viennese coffeehouse. I doubt if Martins or Lime would have felt at home in its silk-panelled walls and sugar-plum-fairy elegance.So I left it behind and tried instead to recapture something of the post-war coffeehouse atmosphere by visiting the older establishments in the cobbled streets and alleys around the city centre where the ambience is more relaxed, the surrounds not so ritzy. I feasted, less expensively, on decadent Austrian confections such as buchtelen (baked yeast pastry filled with plum jam), gugelhupf (coffeecake), not to mention an array of strudels with cream. Vienna is not a place for the weak-willed dieter.The giant ferris wheel (Riesenrad) in Prater Park (Volksprater) is one of Viennas relatively recent landmarks. Built by Walter Basset in 1897 (and reconstructed after the war in 1945), it rises strikingly above the city. It was here that Martins finally meets Lime. Look [at those people] down there , Lime tells Martins, Would you really feel any pity if one of those dots stopped moving for ever? Todays visitor to Vienna is no longer interested in the dots below, but in the wonderful panoramic vistas revealed during the 10 minute ride.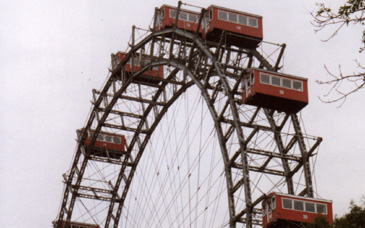 The Riesenrad in Prater Park
From a height of 65 metres, I appreciated the all the glories of the Ringstrasse (city centre), with its assemblage of restored state buildings in memoriam of Hapsburg glories and largesse. A favourite with Viennese families, the tree-canopied Park provides all the fun of the fair roundabouts, dodgems, roller coasters - and all sorts of other, more salacious, amusements. It is a good place to hire a bike to further explore the city.The Hofburg (Imperial Palace), principal residence of the Hapsburgs for over 600 years, dominates downtown Vienna. It contains, amongst other attractions, the Imperial Chapel (a favourite venue of the Vienna Boys Choir), The Imperial Apartments, the Treasury (with Crown Jewels on display), and the Imperial Burial Vault.Here, about 140 Hapsburg corpses, packed with wax, form an astounding display of mortuary art. Behind the Hofburg in expansive Josefs Platz stands the equestrian memorial statue of Emperor Josef II. This was where Harry, hurrying from an adjacent apartment, was run over and ostensibly died. Despite the fact that the cobblestones have been replaced, Josefs Platz still manages to exude something of the brooding menace captured in the film.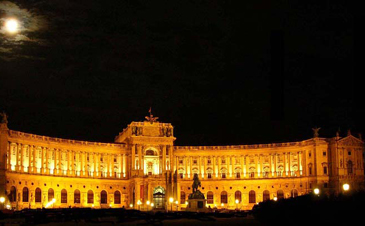 The Hofburg –- the Imperial Palace
While most of the The Third Man action takes place above ground in Viennas war ravaged streets, for many devotees like myself; it is the chase through the damp, echoing, sinister Vienna sewers, which is the films highlight. Lime, pursued by the authorities, makes a last dash for freedom, valiantly trying to push open a metal sewer grate to escape into the darkened, empty streets above.It is still possible to descend into the subterranean world beneath the modern city, to sense, and smell, those claustrophobic caverns, possibly not much changed since Limes time. Was that Anton Karass haunting zither film theme I sensed above the low thunder of water? I felt as if a portly, phantom figure in flowing overcoat and fedora was lurking just out of sight. Were those shots I heard reverberating through the dank, misty tunnel?The Third Man opens and closes with Harrys interment in the Vienna Central Cemetery. This vast necropolis of some two and half million tombs, some with fractured columns and chipped headstones, still bears witness to the ferocity of second world-war bombing raids. While most of the graves are lovingly tended, many others are overgrown, unkempt and desecrated.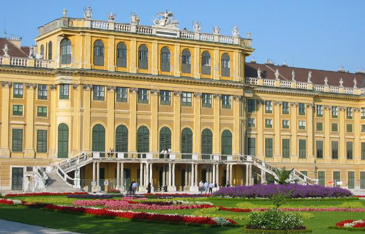 Schonbrunn Palace in Vienna
Despite this, the Cemetery remains popular with tourists who come to view the last resting place of some of Viennas favourite sons Shubert, Gluek, Beethoven, Schoenberg, Brahams, not to mention father and son Strauss. Despite the continuing visitor popularity of their memorial tombs, I am comforted by the thought that these worthies were only buried here once, whereas Harry, merited two funerals! Vale, Mr. Lime.
SIDEBAR # 1 — IF YOU GO
Currency Euro
Exchange rate —
Vienna Airport is 19km (12 miles) east of the city centre. Taxis to the CBD cost about 20 Euro. Vienna Airport Lines operate a shuttle bus from the Airport to the city centre for 6 Euros (CAD$9).Best way to get around the city is to purchase a Vienna Card for 16.90 Euro (CAD$25). This gives unlimited free travel by bus, tram and underground for 72 hours. It also provides price reductions at 170 establishments, including museums, restaurants, theatres, concerts, shops, cafes, and heurigen (wine taverns). Vienna cards are available at hotels, tourist information offices and at Vienna Airport.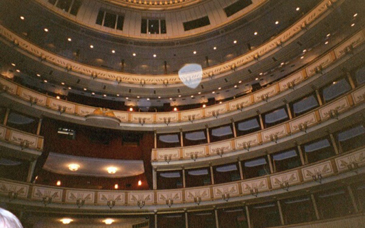 Interior of State Opera House in Vienna
For all information about hotels, tours etc. visit the Vienna Tourist Board website
www.info.wien.at
SIDEBAR # 2 — WALK THE WALK
For the uninitiated, or those wishing to refresh their memories, The Third Man continues to be screened twice a week at Burg Kino (Openring 19).For the film buff, the Vienna in the Footsteps of The Third Man is one of the many walking tours of Vienna. It lasts about two and half-hours, visiting the films principal locations, including the sewers. The tour is conducted in English and is offered once a week. The Return of the Third Man is a guided sewer tour which lasts about thirty minutes and involves a 1km walk along the sewers below Esperanto Park. It is offered daily in season. Torches and overalls are provided.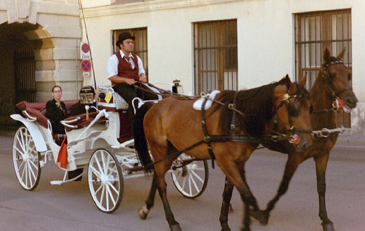 A street in Vienna
SIDEBAR # 3 — THE THIRD MAN REVISITED
One of the great film noirs, The Third Man features a battle-scarred, corrupt Vienna, in the bleak aftermath of the Second World War. Into this divided, Allied-occupied city, arrives Holly Martins (Joseph Cotton), an alcoholic American author of juvenile pulp westerns, in search of his good friend Harry Lime (Orson Welles). But Martins arrives only in time to attend Limes funeral. At the burial he meets Limes girlfriend Anna (Alida Valli), and falls hopelessly in love. Informed by Trevor Howards British Security that Lime masterminded a black-market penicillin scam, the gullible Martins sets out to clear his friends name, and discover how and why he died. A self-styled avenging figure from one of his own cheap novels, Holly plunges into Limes sinister and shadowy world where he meets the lubricious Baron Kurtz, the shifty Doctor Winkel and the wizened Popescu. For Martins there is to be no honourable western shoot-out at high noon; instead, a subterranean pursuit along the echoing, empty, cloacal sewers below a fragmented and socially decaying city.
Vienna Sunday — A view to South-West from the approximately center of the 20 km long Danube island, with a so called Millenium Tower in Vienna. Courtesy Trek Earth
The Third Man is generally considered to be Orson Welles film. As the complex and unscrupulous Lime, Welles dominates the movie though more than an hour elapses before he appears. And as screenwriter Graham Greene graciously admitted, Welles wrote that now immortal passage, In Italy for 30 years under the Borgias they had warfare, terror, murder and bloodshed, but they produced Michaelangelo, Leonardo da Vinci and the Renaissance. In Switzerland they had brotherly love, they had 500 years of democracy and peace. And what did they produce? The cuckoo clock... In truth the real genius behind this cinematic masterpiece was its British director, Carol Reed. American producer, David Selznick, wanted the film made on indoor sets, but Reed defied him and convention, filming almost entirely on location. Noel Coward was Selznicks choice for Harry Lime; Reed insisted on the American Welles. He also defied Selznicks desire for an upbeat film score, choosing instead the haunting zither of local musician, Anton Karas. (The Third Man Theme became one of the biggest hits of the 1950s).Reed, together with his Academy Award winning cinematographer, Robert Krasker, are responsible for capturing the brooding Vienna atmosphere with a stunning array of oblique clips, wide-angle shots and tilted takes. Reed even makes an on-screen appearance. The frantic fingers desperately attempting to prise open the sewer grate during the climatic underground chase, belong to Reed not Welles.