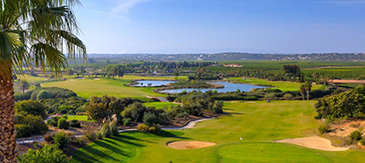 Amendoeira Golf Resort, Central Algarve, Portugal
A recent report by Blacktower Financial Management Group named Portugal as one of the best European countries for retirees in 2021. Well known as a popular region with those looking to enjoy their later years, the Algarve welcomes many retirees each year including Ann and Kevin who purchased a villa at the Amendoeira Golf Resort. Here we share their story ... "We first visited the Algarve 40 years ago, and loved it, and although we have travelled the world since, we never made it back to Portugal! A few of our friends had already bought property in the Algarve, and after listening to their stories, we decided to check it out once we retired.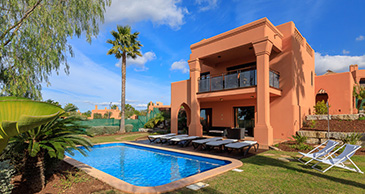 Amendoeira Golf Resort, Central Algarve, Portugal
We retired in February 2020 and so came back to the Algarve to look at properties. We knew we wanted to live on a golf resort, and after visiting a few other resorts, we ended up here in Amendoeira. We were really well looked after and made to feel very welcome by all of the staff. We loved both golf courses and found everyone very friendly. So, before we left, we put down a deposit and bought the apartment we were staying in.We returned in July, but quickly decided we loved it here so much we would like something bigger, with our own swimming pool, so we did a swap with the apartment, and bought a 3-bedroom villa. We have fabulous views of the golf course and surrounding areas and love our new home. The transition and move were very smooth, and easy. We have properties in Canada and in Florida, but we follow the sun to the golf and will probably stay at Amendoeira until the summer.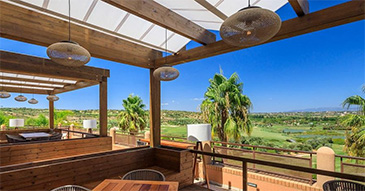 Amendoeira Golf Resort, Central Algarve, Portugal
We would highly recommend Amendoeira to anyone looking for another home abroad. It has great golf courses, the facilities are wonderful, it's close to lovely beaches, restaurants, and shopping, it's perfect for retirees or a holiday home.We did all of this during Covid, there were obviously some restrictions, but with Kronos's amazing help, we managed very well under the circumstances."Amendoeira Golf Resort, Central Algarve, PortugalSpread out over 270 hectares in the sun-kissed area of Silves in Portugal's Central Algarve, Amendoeira Golf Resort is home to a mix of apartments and villas set in beautifully landscaped gardens. Each property offers exceptional interior design and all modern amenities.Available properties (fully furnished and equipped) include:•Two-bedroom apartments from EUR 285,000
•2 + 1 bed duplex apartment from EUR 330,000
•3 bed villa with pool from EUR 540,000
•4 bed superior villa with pool EUR 1.2mAmendoeira Golf Resort is set within an area of outstanding natural beauty. The low-density construction fits perfectly within this idyllic setting. The resort includes the award-winning Faldo Course, designed by Sir Nick Faldo, the challenging O'Connor Jnr. Course and the only illuminated nine-hole golf course in Portugal, allowing players to take to the fairways day and night. For those who prefer to stretch their legs at a faster pace, the resort offers a number of scenic jogging paths, in addition to its exceptional landscaped gardens.
A natural grass football field for professional teams, two AstroTurf five-a-side football fields, six tennis courts and two communal swimming pools are all available for owners' enjoyment, along with gym facilities and the on-site golf, for which owners have a 40% discount. 24-hour security, a 16-hour reception service and maid and laundry services support an easy contemporary lifestyle in the 'World's Leading Beach Destination 2020' (World Travel Awards).An extensive revamp carried out by Spanish developer Kronos Homes has provided this family-friendly development with a new clubhouse, reception, restaurant and sports bar. The local area has everything families could wish for, from stunning beaches and waterparks to an international school just ten minutes away.Homes at Amendoeira Golf Resort are available for buyers looking to live on-site, while a full rental and management service is available for those who prefer to invest.
For full details of Amendoeira Golf Resort, please email realestate@amendoeiraresort.com, call (+351) 282 320 820 or visit https://www.amendoeiraresort.com/en/
For more information please contact:
Charlotte Ashton: charlotte@abpropertymarketing.co.uk
Tel: 07968 779 663