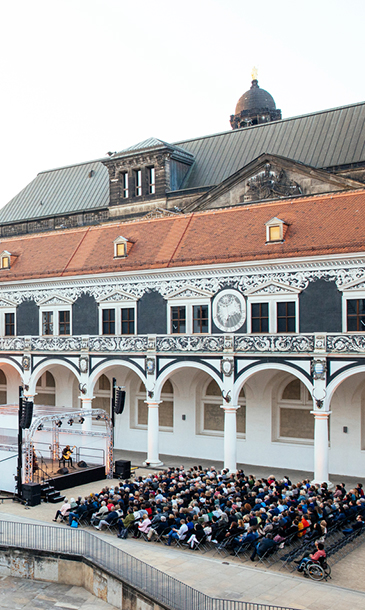 Dresden Music Festival takes place in June.
Not according to plan and yet full of energy, the Dresden Music Festival starts its 44th season to the motto "DIALOGUES" on May 24, 2021. Director Jan Vogler aims to renew the musical dialogue with the audience in the coming weeks after more than one year of pandemic.The kickoff takes place digitally: With a Streaming Festival, the Dresden Music Festival wants to thank its audience for their loyalty and will broadcast selected highlights from the May program to the world free of charge via its website and social media platforms.As opening concert, the Dresden Festival Orchestra under the baton of Daniele Gatti will present a cycle of all of Schumann's symphonies on May 24 and 25 on historical instruments of the Schumann period. The concert will also be broadcast on MDR Klassik at 8.05 pm (CET) on May 25.As part of a second festival phase, a total of ten live concerts in the Kulturpalast and, open air, in the Stallhof are planned from June 4 to June 13, 2021. The June Festival promises unforgettable live music encounters in the heart of Dresden with artists such as pianist Arcadi Volodos, Max Mutzke, the Vision String Quartet, Gisela João, and the Dresden Festival Orchestra under Ivor Bolton, guitarist Pablo Sáinz-Villegas & Jan Vogler or Rudolf Buchbinder and the Chamber Orchestra Vienna-Berlin.As part of the Dresden summer program, Eric Clapton's insider tip Pape Diouf will celebrate his Germany debut with an "African Night" in the Junge Garde on Aug. 25, 2021.
Streaming Festival
May 24 8 pm (CET) Dresden Festival Orchestra & Daniele Gatti "Schumann Symphony Cycle"May 25 8 pm (CET) Dresden Festival Orchestra & Daniele Gatti "Schumann Symphony Cycle II"May 26 8 pm (CET) Brentano String Quartet & Jan VoglerFranz Schubert Quintet C Major; Felix Mendelssohn Bartholdy String Quartet No. 6 F Minor Op. 80May 27 8 pm (CET) Hamburg Philharmonic State Orchestra; Kent Nagano, conductor; Mira Wang, violin; Jan Vogler, cello; Daniel Ottensamer, clarinetWorld Premiere of William Blank's "Alisma," Johannes Brahms Symphony No. 3May 8 pm (CET) Katja Riemann & Sebastian Knauer Bettina von Arnim and Ludwig van Beethoven "On an Ocean of Harmony"May 29 8 pm (CET) Concertgebouw Orchestra, Fabio Luisi, conductor; Peter Mattei, baritonRick van Veldhuizen "mais le corps taché d'ombres"; Gustav Mahler "Kindertotenlieder," Symphony No. 5May 30 8 pm (CET) "Glashütte Original MusicFestival Award" for John Adams The Knights; Eric Jacobsen, conductor; Gil Shaham, violin; Timo Andres, pianoJohn Adams "Shaker Loops" and "I still play," works by Johann Sebastian BachJune 3 7.30 pm (CET) Sound & Science "Artificial Intelligence and Music"
(This stream is available via https://www.youtube.com/user/TUDresdenTV )
June Festival
June 4 8 pm Piano Recital Arcadi Volodos KulturpalastJune 5 11 am/7.30 pm Dresden Festival Orchestra & Ivor Bolton KulturpalastJune 6 5 pm/8 pm Kirchschlager — Dorfer — Drake StallhofJune 7 5 pm/ 8 pm Max Mutzke & Marialy Pacheco StallhofJune 8 5 pm/ 8 pm Albrecht Mayer & Boris Giltburg StallhofJune 9 5 pm/ 8 pm Vision String Quartet StallhofJune 10 5 pm/ 8 pm New York Gypsy All-Stars StallhofJune 11 5 pm/ 8 pm Gisela João StallhofJune 12 11 am/ 3 pm Rudolf Buchbinder & Chamber Orchestra Vienna-Berlin KulturpalastJune 13 5 pm/ 8 pm Pablo Sáinz-Villegas & Jan Vogler StallhofAugust 25 8 pm African Night wiht Pape Diouf Junge Gardewww.musikfestspiele.comFor further information, please contact:
Nicole Czerwinka
Press and Public Relations
Tel. +49 (0)351 478 56-43
czerwinka@musikfestspiele.com