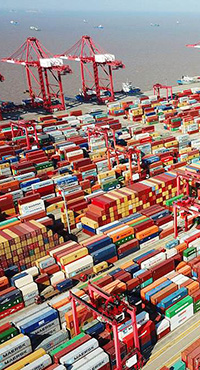 Port of Shanghai (上海港) is the world's busiest port in terms of cargo tonnage. Shanghai, the economic capital of China, is the world's best-connected port.
Decades of economic growth and government prioritization have enabled China to position itself at the nexus of global maritime trade. Enhanced maritime connectivity has generated considerable economic benefits for China and offered Beijing greater influence over the flow of goods around the world. Chinese leaders are pushing to leverage the nation's resources to further strengthen connectivity, with a key emphasis on enhancing port infrastructure.China's World-Leading PortsThe rapid rise of China's economy on the world stage has largely been fueled by decades of surging exports. With roughly 80 percent of global trade moving by sea, tapping into maritime shipping networks has been central to China's strategy of export-led economic development.To facilitate the flow of goods in and out of the country, China has developed some of the world's largest and busiest ports. According to the Liner Shipping Connectivity Index (LSCI), which scores countries and their respective container ports based on their level of integration into established liner shipping routes, several of China's container ports rank among the most connected in the world.As of the first quarter (Q1) of 2021, China possesses 10 of the top 100 ports in the LSCI. That figure rises to 11 ports when including Hong Kong. Only the United States, with nine ports in the top 100, comes close to matching China. However, China's 11 ports boast an average connectivity score of 60.6, which is significantly higher than the average score of US ports (44.5).China's lead in maritime connectivity is even more pronounced at the national level, where the LSCI assigns an overall connectivity score for each country.1 In Q1 2021, China's LSCI country score stood at 164, well ahead of other top countries, including Singapore (113), South Korea (108), the United States (106), and Malaysia (100). Notably, China's lead has grown over time. Its LSCI score surged nearly 64 percent from Q1 2006 to Q1 2021, while other top-five countries saw their scores grow at a slower clip (a collective average of 46 percent). The United States' score grew the slowest – just 33 percent, or about half as fast as China's.Critical to China's strong performance in the LSCI is its capacity to handle high container throughput, which is a measure of the amount of containerized goods processed by a port. In 2019, Chinese ports handled 242 million TEUs (twenty-foot equivalent units) worth of goods. This is considerably more than all other East Asia and Pacific countries combined (212.1 million TEUs) and more than four times higher than US throughput (55.5 million TEUs). Additionally, China's share of global throughput rose steadily from 24.3 percent in 2010 to 29.8 percent in 2019.The Port of Shanghai alone handled 16.6 percent of China's total container throughput in 2019. In addition to being China's top port, it has also reigned as the world's busiest container port since 2010, when it eclipsed the Port of Singapore. Besides Shanghai, six other Chinese ports ranked among the 10 most-active container ports in the world in 2019, including Ningbo-Zhoushan (3rd), Shenzhen (4th), Guangzhou (5th), Qingdao (7th), Hong Kong (8th), and Tianjin (9th). The only non-Chinese ports to make it into the top 10 were Singapore (2nd), Busan (6th), and Rotterdam (10th). Unsurprisingly, all of these ports score highly in the LSCI.The prominence of China's ports is not simply the result of their size. They are also more efficient than their counterparts. According to data from UNCTAD, the median time spent at Chinese ports by container vessels was 0.62 days in 2020. While that is slower than some countries, such as Japan (0.34) and Denmark (0.45), it is faster than other competitors such as Singapore (0.80) and the US (1.03). However, the size of a ship significantly determines the speed at which containers can be loaded and unloaded. Factoring in the larger size of the ships calling in China, Chinese ports are considerably more efficient than their competitors.Taken together, data on global port activity reveals that China stands a head above the rest when it comes to maritime shipping connectivity. Chinese ports are busier and more efficient than most of their competitors, and their lead over the rest of the world continues to widen year after year.China's Pursuit of Commercial Maritime PowerThe success of China's ports is founded on natural geographic advantages, but Chinese leaders have played a crucial role in developing the country's port infrastructure.Major maritime powers share one thing in common: access to the sea. At 14,500 km in length, China's ocean shoreline is the 10th longest in the world. While countries like Canada and Russia have significantly longer shorelines (202,080 km and 37,653 km, respectively), the vast majority of China's shoreline has the advantage of being accessible year-round. More importantly, many of China's largest and wealthiest population centers lie along its eastern coast, which makes it more logistically and economically feasible to construct large ports.While geography is important, the Chinese government is largely responsible for spurring the growth of Chinese ports. Leaders in Beijing have long sought to develop ports capable of feeding China's ever-growing demand for raw materials and facilitating export-led economic growth. For example, China's Sixth Five-Year Plan (FYP), launched in 1981, called for scaling up the capacity of major coastal and inland ports, with special attention paid to coal transport.
"Economic powers must be maritime powers and shipping powers" — Xi Jinping
In recent years, Chinese leaders have articulated a grander vision aimed at transforming China into a global maritime power capable of advancing the nation's military and commercial interests at sea. At the Chinese Communist Party's (CCP's) 12th Party Congress in November 2012, then-President Hu Jintao laid out the CCP's goal for China to become a "maritime power" (haiyang qiangguo), and he called for "enhancing [China's] capacity for exploiting marine resources" and "developing the marine economy." President Xi Jinping has repeatedly echoed this call, emphasizing that "economic powers must be maritime powers and shipping powers."Beijing has backed these ambitions with heavy investments. From 2012 to 2019, the Chinese government devoted an estimated RMB 1 trillion (around $153 billion) to constructing new port facilities and upgrading existing port infrastructure. By comparison, the US government spent less than $110 billion on all water transportation infrastructure over the same period.These investments, coupled with continued Chinese economic and trade growth, have contributed to skyrocketing activity at major Chinese ports. From 2000 to 2019, the combined freight processed by the top five Chinese ports increased nearly sixfold, from 613.3 million metric tons to almost 3.5 billion metric tons. The Port of Ningbo-Zhoushan experienced the most impressive growth. It eclipsed Shanghai in 2008 to become the world's busiest port in terms of total freight volume, which encompasses not just containerized goods but also bulk goods (like coal and steel), liquid natural gas, and oil.3 Since then, Ningbo-Zhoushan's freight volume more than doubled, from 520.5 million metric tons in 2008 to 1.12 billion metric tons in 2019.Yet growing freight volumes among the top ports belie the fact than many Chinese ports are underutilized due to poor planning. In the mid-1980s, the central government devolved responsibilities for constructing and managing ports to provincial and municipal governments, leading to a frenzy of disorderly development. Spurred by a desire to prop up local GDP growth, many officials eagerly pushed through large port construction projects in the absence of adequate commercial demand.These problems have put pressure on Chinese authorities to integrate ports and administer them at a regional level to reduce inefficiency and wasteful construction. China's 13th FYP, which kicked off in 2016, called for establishing "a new model of coordinated oversight over maritime affairs." In particular, the 13th FYP sought to establish "port clusters" that would be better integrated into the overall development of three critically important economic regions: the Beijing-Tianjin-Hebei area in China's northeast, the Yangtze River Delta in the east, and the Pearl River Delta in the southeast. China's 14th FYP, issued in March 2021, echoed similar calls.In February 2021, the CCP Central Committee and State Council also released the "National Comprehensive Three-Dimensional Transportation Network Plan," which outlines goals to make China's infrastructure system safer, smarter, and greener through 2035. The plan highlights the need to apply innovations like artificial intelligence and the "Internet of Things" to increase efficiency at China's ports. It ultimately sets out the goal for China to possess 27 major coastal ports and 36 major inland river ports by 2035.Scaling Up Global ConnectivityBeijing's efforts to shape global maritime connectivity do not end at China's borders. Under Xi, Chinese state-owned enterprises (SOEs) have been engaging in investment and construction projects at dozens of ports around the world. The scale of China's activities has raised questions about the potential impacts on recipient countries and the broader implications of Beijing's growing economic influence.At the center of many Chinese overseas port projects is the Maritime Silk Road (MSR). Launched in 2013, the MSR forms the maritime component of the broader Belt and Road Initiative – Beijing's ambitious agenda for shoring up its global economic and political clout by enhancing connectivity between China and other countries.According to one estimate, Chinese companies – primarily SOEs like China COSCO Shipping Corporation and China Merchants Group – invested nearly $11 billion into overseas ports between 2010 and 2019. Another study conducted by a team of Chinese researchers found that Chinese companies had signed deals on more than 80 port projects during the same period, including foreign direct investments, acquisitions, leasing, and construction contracts. The total value of these deals, including those not yet delivered, reached almost $70 billion.However, many Chinese-backed projects have not taken off as planned. In Pakistan, China hailed its ongoing investments at Gwadar Port as a key component of the China-Pakistan Economic Corridor – a flagship project of the BRI. Yet Gwadar Port remains heavily underutilized, forcing the Pakistani government to pursue desperate measures in early 2021 to revive the port and attract tourism to the surrounding area. The failure of Gwadar Port to meet lofty ambitions tracks with its performance in the LSCI, where the port's score has dropped from an already low 6.1 in Q1 2019 to 4.6 in Q1 2021.Other major projects have entirely failed to materialize. In 2013, China Merchants Holdings International signed a framework agreement with Tanzania to construct Bagamoyo Port and an accompanying special economic zone. The project, valued at $10 billion, aimed to transform Tanzania into a major East African transportation and logistics hub, but the Tanzanian government has pushed back on Chinese plans, and no construction has started as of early 2021.In Sri Lanka, the government's leasing of the Port of Hambantota to Chinese SOEs set off alarm bells around the world. Sri Lanka racked up more than $8 billion in total debt to Chinese SOEs over the years, including $1.1 billion to construct Hambantota Port. When the Sri Lankan government struggled to repay its debts, it agreed in 2017 to lease the port to China for 99 years in exchange for debt reduction. The move sparked concerns about Chinese economic influence and the potential risks for smaller countries of signing costly infrastructure development deals with China.There are also persistent concerns that Chinese-built ports such as Hambantota and Gwadar could someday house facilities to support the Chinese People's Liberation Army (PLA). That has already happened in Djibouti, where China has constructed military facilities directly adjacent to the commercial Port of Doraleh, which China is also helping to construct. The PLA Support Base in Djibouti – China's first overseas military base – has undergone significant improvements in recent years, which US military officials warn will allow Chinese aircraft carriers to dock there.Other major players are engaged in port projects in the region, offering a potential counterweight to China. In March 2021, the Sri Lankan cabinet approved a deal that will allow Indian and Japanese companies to develop and operate the West Container Terminal at Colombo Port in Sri Lanka's capital. Japan is also involved in a major project to develop new container terminals at Kenya's Mombasa Port, the second stage of which is valued at roughly $300 million and set for completion in late 2021. While these projects could help to somewhat stave off China's economic influence, the scale and breadth of China's port development abroad will continue to play a major role in shaping maritime connectivity across the Indo-Pacific region and East Africa.