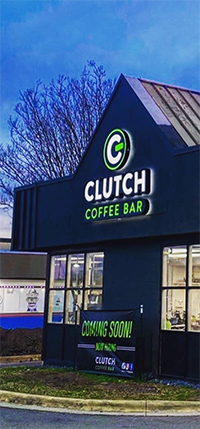 Clutch Coffee Bar in the US
Editor's Note: This article discusses a popular coffee shop in the Carolinas will be expanding to Florida beginning this month. Founded in 2018 their success has been incredible and their energy contagious.
You no longer have to plan a memorable vacation to South Florida and wonder how you will go a week without a Clutch fix. Beginning this May 2021, Clutch Coffee Bar will be opening a location in Cooper City, and this fall another one in Margate, Florida, both located in Broward County, only a short drive from both Fort Lauderdale and Miami. The idea for the Mooresville-based Clutch began in 2015 when three friends, John, Darren, and Jake each with an entrepreneurial spirit and diverse business background decided to put their talents together. "We set off on a mission to bring our dreams to fruition," they said. In 2018, after three years of hard work they successfully launched Clutch Coffee Bar. Their mission is the daily dedication to the 3 C's, Customer, Culture & Community. They have a cutting-edge business model, a benevolent mission in conjunction with a pioneering vision that provides interactive customer service with an equally impressive product and brand that promotes good vibes, and with it, they have amassed a cult-like following.This business is different from any other that you will experience, now and maybe ever. I don't think there is anything that they don't do just right. Their attention to detail is remarkable and it is satisfying to know such companies are still out there.Caffeine, before the advent of coffee, has a long history dating back some 5,000 years. Scientists aren't sure if it was the Native Americans, the Ethiopians, or the Chinese that first discovered it as a valuable commodity, but it is recorded that Chinese ruler Shennong, known as the "divine farmer," is said to have recognized its importance in China, in tea. Different cultures found a use for the stimulant in different ways including the chewing of the plant leaves. There are different stories and legends as to who first discovered actual coffee. One interesting legend involves Sheikh Omar who was exiled from Yemen to the desert. There wasn't much food available, and he stumbled upon a berry bush and ate the berries. But they were too bitter and not palatable. To make the seeds taste better he roasted them, but they became too hard to consume. In a last-ditch effort, he boiled the now hard seeds, and the water became dark and fragrant. Omar then drank the liquid, his hunger subsided, and he had "energy" for days. When word of his magical concoction reached his homeland, he was asked to return from exile and was made into a saint.The first real evidence of coffee becoming a beverage appeared in the 1400s in the records of Ahmed al-Ghaffar in Yemen. Coffee was used by Sufi to stay alert during religious rituals. Some believe that the coffee plant was brought to Yemen from the African coast during trade, but nobody knows for sure who was the first to bring it to Arabia.I imagine those early experimental drinks that had the ancient world mesmerized are not much different than us today when enjoying the Clutch experience and the delicious drinks they have created. After we pay, chat with the staff and get our coffee I always want to go back around to get the experience all over again. If I am in town for two days, I go two or three times. It is that good. Call me old-fashioned but the Clutch experience is like a blast of nostalgia. It is a sliver of society that seemed to have gone away. It is customer service that is genuine and a place where you can go where people aren't just being nice because the manager is standing nearby, but because they want to give the customer a great experience and to start their day on a high note. And mine always does.And you don't even need to be a coffee drinker, they also have amazing energy drinks including the Blue Raspberry, Coco Loco, Electric Stardust, and the Palm Beach. There is something for everyone.