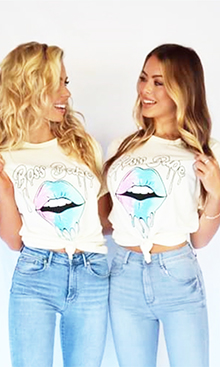 The Little Sisters Boutique in Charlotte
Editor's Note: This piece features a local boutique here in Charlotte is thriving as pandemic restrictions are lifted. It is a retail store advocating the empowerment of women, established by two siters and it is blowing up. This is definitely the kind of small businesses that we love to support.
"Chase the Dream," is the universal, enduring, and feel-good statement, impressed on a stylish, modern, chic, loose-fitting, and wholly carefree shirt that screams "be yourself, love what you do and what you are, who you have become, and where you want to go," it represents "relaxing on the screened-in back porch, sunsets on the pier, easy spring days in the city or on the lake, no worries, no problems, just a horizon, good people, good vibes and a positive direction." In a time of news broadcasts regularly making us cringe from the turmoil and trouble, there is that daisy growing quietly through the crack of the concrete. And that is the local retail boutique, The Little Sisters Boutique, established by siblings Laura and Courtney Little, a charming, affordable, and local clothing store dripping with dashing positivity, fashion intelligence, sophistication, and effervescence. Since the ages of 8 and 10, their dream had been to own a boutique together. "We are so excited to be living our dream," they say. In this world you are what you wear, it is that simple. And what you wear is often how you feel. And there is nothing wrong with feeling good about yourself, and good clothes create an upbeat, positive chi. If you look good, then you will feel good and emulate confidence, and this sanguine energy will come back tenfold. "We pride ourselves in our style and ability to curate selections that fit all kinds of women," the girls say. It is affordable, it is exciting, and it is local, you can't go wrong here. "Our mission was to sell quality clothing for affordable prices, and that's just what we are doing. These are all pieces that we wear ourselves and we hope that you enjoy styling and profiling in them just as much as we do," the girls say. Their energy is contagious and their eye for a fresh, fashionable style is hypnotizing. Go to their website https://thelittlesistersboutique.com/ and you can click on "New Arrivals," "Tops," "Bottoms," "Dresses," "Outerwear," "Shoes," "Accessories," and more. Let's scroll through a couple and get an idea together. Click the "Tops" tab and start to scroll. The Beach Top — elegant, airy, wind through the hair and mojito in your hand. Too Cool Tank — alluring, fits all shapes, and long walks along the boardwalk. Cut You Off Top — sensual, seductive yet classy, night out, sipping spritzers along Lake Norman over easy conversation. My personal favorite, Chase the Dream Top — exploring your inner calling, taking that risk, and living life to the fullest. Jump over to the "Dresses" tab. Scrolling through is just as appealing as the tops, Date Night Dress — a cheerful, rose-beige color with black flower prints, going to brunch or out shopping and not a care in the world. There is the Tied Together Dress — pretty and cute, girl-next-door mixed with a sophisticated stroll down Fashion Avenue or a Friday stop at Clutch for a pick-me-up before meeting that special someone or kicking it with friends. "Every item on our site has been "sister approved," the girls say. And should you be feeling blue and ready to just drive away forever and never return you need to just flick on The Little Sisters Boutique social media pages and your mood will elevate. The atmosphere is light, the colors a palette of cheer, the smiles and the twinkles in the eyes of the sisters makes you feel like the world makes sense. Support your local businesses! Guys if you don't know what to get your girlfriend, daughter, or wife for a great present shop online and wow them with your incredible sense of style. And for you ladies out there, shop at The Little Sisters, show your support and you will be looking good while you do so! These entrepreneurs are electric, energetic, and willing to go after their dreams with nothing to stand in their way. They are an inspiration to so many young women out there who dream of rising up and making an impact or a difference in the world.