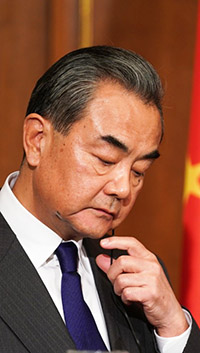 Wang Yi
Overseas visits by top officials are a critical component of diplomacy and soft power. These high-profile visits are opportunities for officials to try to shape bilateral and multilateral relationships to their country's advantage. Under President Xi Jinping, China has pursued a more active and assertive foreign policy agenda, reshaping the way that Chinese diplomats at all levels engage with the world.
China's Changing Diplomatic Footprint
The manner in which Chinese leaders engage diplomatically with countries around the world has changed significantly over time. When the Chinese Communist Party (CCP) established the People's Republic of China (PRC) in 1949, many countries did not initially accept the PRC government as the legitimate ruler of China. More countries only began to establish official ties with Beijing in the early 1970s in the wake of US-China rapprochement and the PRC government's admission to the United Nations.China has employed different diplomatic strategies to guide its actions. Amid Western political and economic sanctions after the Tiananmen Massacre, China adopted a "good neighbor diplomacy" (mulin waijiao) approach and focused on improving relations with Southeast Asian countries, Japan, and South Korea. Around the mid-1990s, China's approach shifted toward "great power diplomacy" (daguo waijiao), as exemplified by President Jiang Zemin's 1993 trip to Seattle.Both the Hu Jintao and Xi Jinping administrations embraced "multifaceted diplomacy" (quanfangwei waijiao), characterized by the slogan "great powers are key, the periphery is first, developing countries are the foundation, and multilateralism is an important platform." This was a strategic departure from Jiang's emphasis on great powers and a return to prioritizing China's neighbors.Xi Jinping has heavily emphasized the importance of engagement with neighboring countries. In 2013, China held its first-ever work forum on "periphery diplomacy" (or "neighborhood diplomacy"), during which Xi stated, "Efforts should be made to improve political relations, strengthen economic ties, deepen security cooperation, and foster closer humanitarian ties with neighboring areas."That same year, Xi Jinping launched his signature foreign policy known as the Belt and Road Initiative (BRI). Comprising numerous infrastructure projects, trade and financial deals, and people-to-people exchanges, the BRI aims to significantly enhance connectivity between China and other countries. Many of the highest priority BRI projects have been earmarked for neighbors on China's periphery, including Pakistan and several Southeast Asian countries. China is not alone in prioritizing Asia in its foreign policies. The Obama administration announced in 2011 that the US would "pivot" (or "rebalance") to Asia. Under the Trump administration, the US initiated a "Free and Open Indo-Pacific Strategy" largely aimed at countering Chinese influence in the region. Similarly, Russia declared in 2013 that it would "Pivot to the East" to establish a "Greater Eurasian Partnership." India launched a "Look East" policy in 1991 to forge greater security and economic cooperation with Southeast Asia, and in 2003 the policy was expanded to include Australia and East Asia. Other regional actors like South Korea and Taiwan have likewise launched "New Southbound Policies" aimed at bolstering ties with Southeast Asia, India, and others in the region.
Diplomacy at the Highest Levels
While countries engage with each other at many different levels, the most important foreign policy decisions are typically made at the highest political levels. Overseas visits by top officials provide unique insights into foreign policy priorities and the conduct of diplomacy.The specific officials involved in high-level diplomacy can vary by country depending on the system of government. In the United States, the president is both head of state and head of government. Together with the Secretary of State, they are the principal officials engaged in high-level diplomatic visits. In many countries, such as the United Kingdom, Russia, India, and Japan, the head of state and the head of government are two separate officials with differing responsibilities and powers. They, along with a foreign minister (or equivalent) are typically the primary officials involved in high-level visits.In China, four main officials are involved in high-level diplomacy:•Xi Jinping, General Secretary of the CCP, President of the PRC, and Chairman of the Central Military Commission•Li Keqiang, Premier of the State Council•Yang Jiechi, Director of the CCP Central Foreign Affairs Commission Office•Wang Yi, State Councilor and Minister of Foreign Affairs
The setup in China is notably different due to the dominant role of the CCP.1 Unlike most of his foreign counterparts, Foreign Minister Wang Yi is not the highest-ranking diplomat within China. That distinction instead goes to Yang Jiechi since he ranks higher than Wang within the CCP hierarchy.2China does not provide an easy way to systematically track the travels of key officials, but the Chinese Ministry of Foreign Affairs (MFA) releases press statements with details about the diplomatic itineraries of top officials. According to the MFA, the aforementioned four Chinese officials made 426 visits to 144 countries from 2014 to 2020. The MFA also provides information on the travels of other officials, which totaled 266 visits to 107 countries from 2014 to 2020. These ranged in importance from Vice Premier Liu He's multiple trips to Washington, D.C. to negotiate a US-China trade deal, to attendance at foreign presidential inauguration ceremonies by lower-level officials.In addition to physical visits, the MFA announced officials' attendance at important meetings that took place via video conference due to the Covid-19 pandemic. In 2020, China's four primary officials took part virtually in at least five bilateral meetings and 28 multilateral meetings.3 While noteworthy, these virtual meetings are not incorporated into the analysis on this page.
President Xi Jinping
As China's top leader, Xi Jinping's foreign travels are most significant. Between 2013 – when he became China's President – and 2020, Xi Jinping made 98 in-person visits to 69 foreign countries.4 This is comparable to the total number of visits made by US Presidents Barack Obama and Donald Trump throughout this period (103), but is significantly lower than the number of visits made by Russian President Vladimir Putin (144) or UK Prime Ministers (222). Notably, however, Xi has traveled to more countries than these other leaders.From 2013 to 2020, Xi made 27 trips (about 32.1 percent of the total) to just 20 peripheral countries – those that share a land or maritime border with China. Xi's most frequently visited country was Russia, one of China's closest diplomatic partners. He also made three visits each to three peripheral countries: India, Indonesia, and Kazakhstan. In total, nearly 40 percent of Xi's visits were to Asian countries. This is unsurprising given Beijing's emphasis on peripheral countries and Asia more broadly; however, Xi made noticeably fewer visits to Asian countries than Russian President Vladimir Putin. From 2013-2020, Putin made 79 trips to Asian countries, about 54.9 percent of his total.Nevertheless, Xi prioritized Asian countries more than his counterparts in the US and UK, who most frequently traveled to Europe. US Presidents Obama and Trump made 43.7 percent of their trips to Europe, where they often traveled to Germany (12 visits), the UK (6), Belgium (6) and France (4). UK Prime Ministers made an overwhelming 73.4 percent of their visits to fellow European countries, including 60 visits to Belgium (where the European Union is headquartered), 22 stops in France, and 18 trips to Germany.Besides focusing on peripheral countries, Xi has also emphasized "great power" relations. Xi's number-two destination was the United States, where he has made a total of four visits. During his first trip to the US in 2013, Xi put forward the concept of a "New Type of Great Power Relations," which sought to elevate China to "great power" status along with the US. President Obama largely ignored the framework, a sign of increasing tensions between Washington and Beijing.
Premier Li Keqiang
As Premier, Li Keqiang focuses heavily on domestic issues, but he does frequently represent China abroad. From 2014 to 2019, Li Keqiang made a total of 55 visits to 45 countries. He did not make any in-person trips in 2020. Relative to other top officials, Li has made the fewest diplomatic trips, and most of them were to attend multilateral events. Of the outgoing trips that he made from 2014 to 2020, 91.7 percent included attending at least one multilateral meeting – much higher than the rate for Xi Jinping (65.6 percent), Wang Yi (47.6 percent), and Yang Jiechi (20.8 percent).5During his travels, Li has sought to promote Chinese industry on the world stage. One notable example is his efforts to promote the export of Chinese high-speed rail technologies abroad, which has been dubbed "high-speed rail diplomacy." Li has also made efforts to promote the export of Chinese electric power, communications, engineering machinery, automobile, aircraft, electronics, and other equipment – especially in BRI partner countries.
China's Two Diplomats: Yang Jiechi and Wang Yi
As Director of the CCP Central Foreign Affairs Commission Office, Yang Jiechi is China's highest-ranking diplomat and a chief architect of Xi's foreign policy agenda. As Foreign Minister, Wang Yi runs the MFA and attends numerous bilateral and multilateral meetings with his foreign counterparts. From 2014 to 2020, Yang Jiechi made at least 80 visits to 44 countries, while Wang Yi made at least 207 visits to 113 countries. Both Yang and Wang also accompany Xi Jinping on the vast majority of his visits abroad. These are not included in their separate totals, but if counted, they would likely add more than 90 visits to their respective totals.The foreign travels of these two diplomats complement the travels of Xi Jinping and Li Keqiang. For example, only 12 percent of Xi's visits and 7 percent of Li's visits were to Africa from 2014 to 2020. Meanwhile, more than 26 percent of Yang's visits and 23 percent of Wang's visits were to African countries. Additionally, the two occasionally work in tandem. In March 2021, for instance, the pair traveled to Anchorage, Alaska to meet with Secretary of State Antony Blinken and National Security Advisor Jake Sullivan. The meeting was the first between senior US and Chinese officials since President Joe Biden took office.Even taken together, however, the pair has made significantly fewer overseas visits than US Secretaries of State. From 2013 to 2019, the US' top diplomat made a total of 501 visits to some 106 countries.6 By comparison, Yang Jiechi and Wang Yi made a total of 254 visits during the same period. Counting their travels alongside Xi Jinping would still not put their total near that of the US Secretaries of State.
China's Growing Diplomatic Assertiveness
While crucial to diplomacy, high-level visits only tell part of the story. Chinese diplomats at all levels are increasingly engaged in a broader push to advance China's soft power and promote Beijing's interests on the world stage.Advancing China's image is a key part of Xi Jinping's efforts to strengthen China's global footprint. During a major foreign affairs work conference in 2014, Xi urged officials to "raise [China's] soft power, tell China's story well, and do a good job of external propaganda." Xi has also urged officials to strongly advance China's interests abroad. In September 2019, amid rising challenges at home and abroad, Xi called for officials to have a "fighting spirit." Foreign Minister Wang Yi echoed this call to diplomats in December of that same year.Chinese diplomats have increasingly made use of social media to assert China's stances on political issues and criticize other countries like the US and Australia. MFA spokespersons Hua Chunying and Zhao Lijian have become particularly active on Twitter, racking up tens of thousands of likes on their provocative posts each week. Many have labeled this growing assertiveness "wolf warrior diplomacy" in reference to the 2017 patriotic action film portraying a Chinese soldier who rescues Chinese and other citizens from dangers in Africa.Despite efforts to promote China's soft power and foreign policy interests abroad, global views of China have deteriorated in many areas of the world. Pew surveys show that unfavorable views of China reached historic highs in many advanced economies in 2020, including Japan (86 percent unfavorable) and South Korea (75 percent unfavorable). Surveys of Southeast Asian residents also show growing distrust of China. In 2021, just 16.5 percent – down from 19.6 percent in 2019 – of respondents across the 10 ASEAN countries said that they were confident or very confident in China to "do the right thing" to contribute to global peace and security.According to Afrobarometer, survey respondents in some African countries are also increasingly wary of Chinese influence. In 2014, their survey found that 65 percent of respondents in 16 African countries had "somewhat positive" or "very positive" views of Chinese influence in their countries. In 2020, that number stood at 60 percent, down five percentage points.While these surveys provide only snapshots, they suggest that China's diplomatic efforts may not be effectively advancing Chinese soft power. Growing diplomatic assertiveness may even be contributing to worsening views in some parts of the world. It remains to be seen whether Chinese diplomats will adjust their approach or if they will double down on their sharp defenses of China going forward.