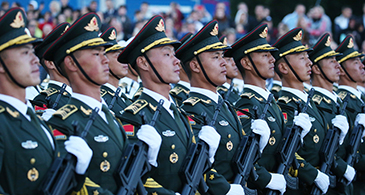 The People's Liberation Army of China
The annual meeting of the National People's Congress (NPC) began on Friday, March 5, in Beijing. Like previous years, the first day of the new NPC session was highlighted by the widely anticipated announcement of China's 2021 defense budget, which was set at 1.36 trillion yuan, a 6.8 percent increase from the 1.27 trillion yuan budget set last year. The new budget amounts to $209.16 billion based on the current exchange rate. Monitoring China's defense budget provides critical insights into the ongoing modernization of the People's Liberation Army (PLA).
Q1: What does the new defense budget tell us?
A1:
Given that China's defense budget has grown each year for decades, the increase in the 2021 defense budget is hardly surprising. What is more revealing are year-to-year fluctuations in the pace of growth. At 6.8 percent, the growth rate for 2021 stands out as only the third yearly increase during the last decade.The rate of growth in China's defense budget is closely linked to its economic development and perceived security demands. NPC spokesperson Zhang Yesui emphasized this during a press conference in the run-up to the NPC when he stated that China's defense budget was "in line with (China's) level of national development" and aimed at safeguarding national sovereignty, securing development interests, fulfilling international responsibilities, and meeting the needs of military reforms.These factors came to the forefront last year amid the economic downturn precipitated by the Covid-19 pandemic. In a delayed meeting of the NPC in May 2020, China announced a yearly defense budget of 1.27 trillion yuan ($183.5 billion), a 6.6 percent increase over the previous year. This marked the slowest growth in decades but was still relatively high given the uncertain economic conditions. China's economy is expected to rebound in 2021, with the International Monetary Fund estimating 8.1 percent growth. This optimistic forecast likely contributed to the boost in China's newest defense budget.Evaluating defense spending in relation to the overall government budget provides additional insights. While the central government budget is slated to fall slightly by 0.2 percent, total national government spending (which includes central government spending and transfers to local governments) will increase by 1.8 percent. Spending on the military as a share of overall national government spending will rise from 5.1 percent in 2020 to 5.4 percent in 2021 — the highest in several years. Similarly, spending as a percent of the central government budget will rise from 36.2 percent to 38.7 percent, well above the average of 34.7 percent seen over the last five years. These figures confirm that China's leaders continue to prioritize military modernization.
Q2: What does the new defense budget not tell us?
A2:
The announcement by the Ministry of Finance today only includes the composite figure for the entire defense budget and the increase over the last budget. This figure reveals no details about specific spending priorities and likely undercounts actual defense expenditures. Compared to many countries, especially democracies, China is far less transparent about how it allocates its defense spending.China occasionally provides more detailed breakdowns that include expenditure across three categories (personnel, training and maintenance, and equipment). The most recent defense white paper, published in July 2019, offers such a breakdown for spending across 2010-2017. Notably, it shows the share of total spending allocated to equipment rising from 33.2 percent to 41.1 percent over this period. Future white papers could provide similar breakdowns of China's spending priorities.The official defense budget does not account for all of China's military-related activities. For example, many defense-related outlays fall directly under the Central Military Commission (CMC), China's highest military authority, chaired by Xi Jinping. For instance, the People's Armed Police (PAP), a paramilitary force charged with maintaining internal security and supporting the military in times of war, is under the command of the CMC but not included in the budget. The Chinese Coast Guard, which plays a key role in asserting China's maritime claims and was placed under the control of the PAP in 2018, is likewise excluded from the official budget.Official figures also do not account for aspects of China's space program, extra-budgetary revenues from military-owned commercial enterprises, defense mobilization funds, authorized sales of land or excess food produced by some units, recruitment bonuses for college students, and provincial military base operating costs.
Q3: What does China actually spend on its military, and how does it compare to other major military powers?
A3:
Estimates released by external organizations paint a more complete picture of what China actually spends on its military by accounting for expenditure outside the official budget. The Stockholm International Peace Research Institute (SIPRI) estimated that Chinese defense-related expenditure actually reached $240 billion in 2019—nearly 40 percent higher than the official budget ($183.5 billion). Similarly, the International Institute for Strategic Studies put the 2019 figure at $234 billion. The U.S. Department of Defense has stated that China's actual spending could be higher than $200 billion.Although estimates vary, China's military spending is the second highest in the world after the United States. According to SIPRI, China's military spending far exceeds that of its neighbors and was greater than the combined expenditure of India, Russia, Japan, South Korea, and Taiwan in 2019.Cross-national comparisons are insightful, but accounting for variations in prices is difficult. For example, the current annual pay for an entry-level active-duty U.S. soldier (about $39,600) would likely cover the cost of several PLA soldiers due to price differences. When adjusted for purchasing power parity (PPP), China's 2019 defense expenditure rises by well over $100 billion. However, PPP estimates do not account for specific cost differences of many military-related items.
Q4: What is the policy significance of growing Chinese military spending?
A4:
China's substantial defense spending continues to enable the buildup of its military capabilities that pose a threat to the interests of the United States and its allies. Sustained Chinese investment in defense has shifted the military balance in the region in its favor. Moreover, the erosion of conventional deterrence vis-à-vis China has increased the risk of conflict, including the potential for a more confident and emboldened China seeking to unilaterally change the status quo through the threat or the use of force.For the past decade, the annual increase in China's official military spending has outpaced its annual GDP growth, reflecting the priority that Beijing attaches to bolstering its armed forces. At the instruction of President Joe Biden, Secretary of Defense Lloyd Austin is conducting a global posture review that will align the U.S. military footprint with the administration's prioritization of the Indo-Pacific region, strengthen deterrence, and counter threats posed by China's growing military capabilities.Please note that dollar-yuan conversion rates fluctuate over time, which can lead to variations in estimates based on when calculations are conducted. For in-depth analysis of China's official defense budget, as well as estimates of how China's military spending stacks up globally, explore our feature here.
The above writer, Bonnie S. Glaser is senior adviser for Asia and the director of the China Power Project at the Center for Strategic and International Studies (CSIS) in Washington, D.C. Co-writer Matthew P. Funaiole is a senior fellow with the CSIS China Power Project and senior fellow for data analysis with the CSIS iDeas Lab. Bonnie Chan is a fellow with the CSIS China Power Project. Another co-writer Brian Hart is a research associate with the CSIS China Power Project.
Critical Questions
is produced by the Center for Strategic and International Studies (CSIS), a private, tax-exempt institution focusing on international public policy issues. Its research is nonpartisan and nonproprietary. CSIS does not take specific policy positions. Accordingly, all views, positions, and conclusions expressed in this publication should be understood to be solely those of the author(s).