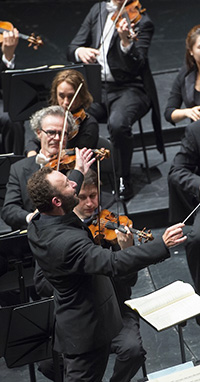 Chief Conductor Kirill Petrenko of the Berliner Philharmoniker
Berliner Philharmoniker and Kirill Petrenko to start a multi-year residency project in Shanghai in June 2022 in partnership with Wu Promotion. Together with Wu Promotion, the Berliner Philharmoniker is planning a residency project in Shanghai at two-year intervals, beginning in June 2022.The performances in June 2022 are part of the celebrations of the 50th anniversary of diplomatic relations between Germany and China.Under the baton of chief conductor Kirill Petrenko, the orchestra will give four concerts during this first residency as part of a "Festival of the Berliner Philharmoniker." Chamber music activities are also planned, as well as master classes, concert introductions and other outreach and community projects. In the course of this longer residency, the orchestra attaches great importance to a direct exchange with the musical and social life in Shanghai and encounters with local conditions.The Berliner Philharmoniker have already visited Mainland China on five occasions. It began with the orchestra's legendary first tour of China under the direction of Herbert von Karajan in the autumn
of 1979 – at that time one of the first tours of the People's Republic of China by a foreign orchestra. In 2005, 26 years later, the orchestra undertook a tour with its then chief conductor Sir Simon Rattle. This tour was brought to a worldwide audience in the film Trip to Asia. Together with Sir Simon Rattle, there were two further stays in China, in 2011 and in 2017 as part of the chief conductor's farewell tour through Asia. In 2018, Gustavo Dudamel led the orchestra on a tour of Asia which once again included China.With their new residency in Shanghai in 2022, the Berliner Philharmoniker will begin an exclusive partnership with Wu Promotion.'It is a great honour for my organization and me to become the exclusive partner for one of the world's most sought-after orchestras in the very promising region for classical music. Working with the leading performing groups of the world to initiate international cultural dialogue has always inspired Wu Promotion to continue its journey as an advocator of the arts. This new exclusive
long-term partnership with the Berliner Philharmoniker for the Greater China Area, which encloses Hong Kong, Macau and Taiwan, has laid a further milestone for the development of Wu Promotion in its 30th anniversary." Jiatong Wu, resident of Wu Promotion Co., Ltd.
About the Berliner Philharmoniker
The Berliner Philharmoniker, founded in 1882 as a self-governing body, has long been lauded as one of the world's greatest orchestras.Hans von Bülow, Arthur Nikisch and Wilhelm Furtwängler were the chief conductors who left their distinctive mark in the Berliner Philharmoniker's early decades. In 1955 Herbert von Karajan became the orchestra's artistic director and, in the ensuing years, worked with the musicians to develop a unique tonal quality and performing style that made the Berliner Philharmoniker famous all over the world. Claudio Abbado, chief conductor from 1989 to 2002, devised a new type of programming, with increased emphasis on contemporary works, expanded chamber recital series and operas in concert performance.He was followed by Sir Simon Rattle, who led the orchestra from September 2002 until the end of the 2017/2018 season. During his tenure, the Education Programme was initiated to ensure that the Berliner Philharmoniker reach a wider and, especially, younger audience. In November 2007, the orchestra and Its artistic director Sir Simon Rattle were appointed UNICEF Goodwill Ambassadors, the first artistic ensemble ever to represent the international children's organisation. The Berliner Philharmoniker Foundation is generously supported by its principal sponsor, Deutsche Bank.In 2009, the Digital Concert Hall video platform was launched, which broadcasts the orchestra's concerts live over the Internet. In 2014, the Berliner Philharmoniker founded their own label,
Berliner Philharmoniker Recordings.During an orchestra assembly on 21 June 2015 Kirill Petrenko was elected by a large majority of the members of the Berliner Philharmoniker as the chief conductor designate, succeeding Sir Simon Rattle. He took up his position beginning with the 2019/2020 season.
About Wu Promotion Co., Ltd.
Founded in 1991 by Zezhou Wu and Jiatong Wu, father and son, it was established as the first private company in China striving to enhance cultural exchange and friendship between countries by actively promoting the performing arts and capturing the beauty and diversity of the world's culture through international high level art events.It has organized events for more than 500 art groups with almost 5.000 different performances of symphony, ballet, opera, theatre, piano recital and chamber music for about 6 million people in
China and worldwide so far.Wu Promotion builds exclusive partnership with many international top orchestras and institutions, such as Wiener Philharmoniker, Staatskapelle Dresden, Mariinsky Theatre, Lucerne Festival,
Theatertreffen Berlin among many others.Celebrating its 30th anniversary in 2021, Wu Promotion has become, and currently under the leadership of Jiatong Wu, one of the largest and the leading art promoters and event organizers in
Asia and worldwide, with the purpose of encouraging the blending of cultures amongst all nations and individuals.