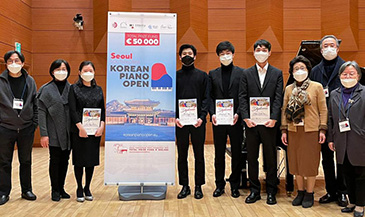 Young Korean musicians honored in "2021 Korean Piano Open" held in Seoul in early January of 2021 co-hosted by EUFSC, Korea's Chugye University for the Arts.
Earlier this month (January of 2021), the European Foundation for Support of Culture (EUFSC) together with the Chugye University for the Arts held the inaugural Korean Piano Open competition in Seoul. This important event marked the Foundation's first piano open to take place in Korea, as well as forming part of the '14 Ways to Malta' International Piano Competition, the final stage of which will be held in Malta's capital Valletta later this year. The event was held across four days, from the 5th to 8th January, and featured a total prize fund of €50,000. Talented young pianists from across Korea travelled to the capital for the competition, an event adjudicated by: Professor of Piano at Seoul National University, Hyoung-Joon Chang; Korean National Award for Culture and Arts of Korea holder, Hae Won Chang; Founder of the Seoul Spring Festival of Chamber Music and Professor of Piano at the Yonsei University School of Music in Seoul, Youngho Kim; Piano Professor and Head of Piano Department at Chugye University for the Arts, Hae-Young Kim (Artistic Director) and Professor of Piano at Chugye University for the Arts and Dean of the university's College of Music, In Mee Park. Taking place across two rounds, the competition featured a range of pieces including a selection of movements (chosen at the discretion of the candidates) from Childhood Memories, a work by the event's Composer-In-Residence, Alexey Shor. Mr Shor enjoys a prolific international career that has seen his works performed in concert venues including the Carnegie Hall, Wiener Musikverein, Berlin Philharmonie, Kennedy Center, Great Hall of Moscow Conservatory, Mariinsky Theatre and the Wigmore Hall amongst others. He has recently released a CD on the Naxos label featuring his Images from the Great Siege, a work for orchestra depicting the events of the Great Siege of Malta in 1565.
| | |
| --- | --- |
| | 2021 Korean Piano Open — South Korea's noted musicians served as the judges of the international piano competition "2021 Korean Piano Open." They are Hae-Young Kim (left in front row), Hae Won Chang (right in front row) Youngho Kim (left in second row), In Mee Park (middle in second row), and Hyoung-Joon Chang (right in second row) |
Hae-Young Kim, Artistic Director of the Korea Open Piano Competition
"I hadn't collaborated with the EUFSC before this event, but I must speak of my respect and appreciation for their initiatives. I am proud to be an ambassador of Maltese culture here in Korea, and I am confident that as the current global situation is resolved, this event will continue to grow into a truly international competition." — Hae-Young Kim, Artistic Director.Though taking place during the ongoing COVID-19 pandemic, the competition nonetheless proved to be a successful and engaging event, the participants aptly demonstrating their musicality and technical skills as they competed across two rounds for the top three prizes, as well as the chance to compete in the Classic Piano International Competition taking place in Malta across April and May later this year. In the words of jury member, Youngho Kim: "The level was very high. There was a concern that due to COVID-19, many qualified pianists would be unable to participate, especially those travelling from foreign countries, and that this might lead to a reduction in the quality of the performers. Although the coronavirus restrictions meant there were no foreign competitors, many very talented Korean pianists participated, many of whom study abroad in fact. The standard shown by those in attendance was of the highest quality." First prize was awarded to Lee Minsung (South Korea/Germany), second prize to Na Seunghyuk (South Korea) and third prize to Park Yeonmin (South Korea). They will be joined by You Hyun Sung (South Korea), Moon Seongwoo (South Korea) and Kim Seongju Noah (South Korea) — candidates in fourth, fifth and sixth places respectively — in Malta for the finals of the '14 Ways to Malta' Competition. These talented individuals from the Korean Piano Open will join similarly top-ranked competitors from other accompanying piano opens around the world for the Classic Piano International Competition, an event held across four rounds with the final two featuring the Armenian State Symphony Orchestra conducted by Gianluca Marciano. "I would like to say thank you to the people involved who worked hard for the competition. The weather was very cold and the situation difficult, but I felt warmth in my heart. Thank you sincerely." — Minsung Lee, First Prize winner of the Korean Piano Open.A truly modern city, Seoul is a metropolis with a rich history and a vibrant, diverse cultural landscape. Aside from serving as modern-day South Korea's economic and cultural powerhouse, Seoul has a long and established history of cultural notability and serves as home to no less than five UNESCO World Heritage sites. When asked about Seoul's value as a source of inspiration for visiting artists, In Mee Park elaborates: "Like other Asian cities, Seoul has ancient palaces from the Chosun dynasty, and traditional houses as well as modern skyscrapers. The circumstances of Seoul shows the cultural heritage and the vitality of high technology as well. This mix of oriental and western culture in one city provided inspiration and a special experience for the competitors."
Konstantin Ishkhanov, President of the EUFSC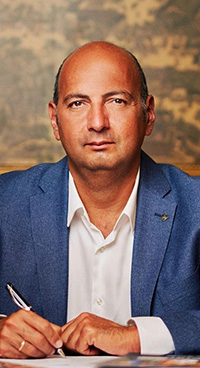 Mr. Konstantin Ishkhanov, president of the EUFSC (the European Foundation for Support of Culture)
"On behalf of myself and everyone at the EUFSC I would like to congratulate the participants of the Korean Piano Open on an outstanding competition, and to welcome the selected candidates to the Classic Piano International Competition taking place this April and May in Malta. It is no exaggeration to say that these piano competitions as part of the '14 Ways to Malta' competition represent a global excellence in piano performance, and I am confident that Classic Piano will prove its effectiveness as a platform for celebrating the talent and hard work of the next generation of leading piano players." — Konstantin IshkhanovFor the first round of the competition, participants were asked to perform a diverse repertoire ranging from Bach to a post-Romantic piece of the candidate's choice (with the year of the composition not exceeding 1932). For the second round, candidates were tasked with performing a complete sonata by either Haydn, Mozart, Schubert or Beethoven, as well as a selection of three movements (at the discretion of the candidate) from Childhood Memories by the event's Composer-In-Residence, Alexey Shor
In Mee Park
Reflecting on the range of repertoire performed in the Korean Piano Open, jury member In Mee Park commented: "The diversity of the periods of music represented in the competition tested the competitors' capacity for expressing different styles of music through factors such as the articulation, musical sensibility and production of sound." Indeed, when considering the matter of repertoire, it is important to take into account the varying requirements with regard to technique, musical understanding and programming, with performers required to present a nuanced and adaptive approach to the varying works they present.
Hyoung-Joon Chang
Commenting on the programming, particularly its inclusion of a mandatory work by the event's Composer-In-Residence, Hyoung Joon Chang said: "Alexey Shor's piece not only has musical depth with lyrical singing-lines, but also is technically demanding. Moreover, allowing the competitors to choose three pieces from Shor's work, Childhood Memories, was a brilliant idea, in that it provided them an opportunity to express their own personality." Reflecting on his choice of repertoire for the competition, First Prize winner, Minsung Lee, said: "I wanted to feel various things in my program. I did a lot of research for a variety of factors, including the musical part." When discussing his reading of Alexey Shor's works, Lee noted: "This work was very interesting. It was an opportunity to fully feel the composer's music. It was an interesting time for the composer, ideas I tried to communicate while playing this piece."This last year has of course been immensely challenging for arts and culture round the world, the sector facing the combined challenges of a lack of public performance opportunities and periods of prolonged isolation, hampering the development of collaborative creative projects and other similar endeavors.
Youngho Kim
As Youngho Kim states: "This is a challenging time for all, but especially for artists due to the lack of public performances. Making this event come true — even with the various limitations — was a big inspiration for many aspiring pianists. It gave many of them the motivation to work and improve their artistic skills." Indeed, the competition's winner, Minsung Lee, noted that despite his initial concerns concerning the ongoing COVID-19 measures, he was "...glad and thankful that the competition was safely completed. I was grateful to feel hope in this difficult situation."
Hae Won Chang
"I very much appreciate the European Foundation for Support of Culture and its President, Konstantin Ishkhanov, in organizing this competition. They gave a big chance and much encouragement to these promising pianists." — Hae Won Chang, jury member.The Korean Open was organized by the European Foundation for Support of Culture, an internationally-active organization which aims to promote and support the continued performance and development of classical music and other artistic disciplines. In pursuance of this aim, each year the Foundation organizes a series of concerts, festivals, competitions and masterclasses, with the organization's calendar of events culminating in its annual InClassica International Music Festival, this year taking place in Malta from April 17 to May 11.
For more information about the Korean Piano Open, please visit www.koreanpianoopen.eu and for details regarding the final stage of the competition in Malta, visit https://classicpiano.eu/