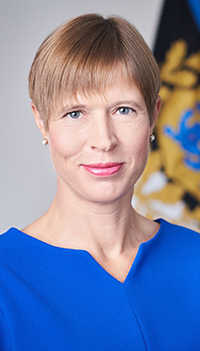 Estonian President Kersti Kaljulaid
Estonian President Kersti Kaljulaid will run for the position of the secretary general OECD (Organization for Economic Co-operation and Development), the Estonian Embassy in Seoul announced on Oct. 5, (Monday), 2020.The Estonian envoy, Chargé d'Affaires Marti Mätas, said in an official news release sent to The Seoul Times that there will be the online live broadcast where President Kaljulaid will introduce her vision on the development of the OECD at noon on Oct. 5 EET at https://kerstikaljulaid.com/At the end of the broadcast there will also be a press conference, where journalists can ask questions. The presentation will be given in English.The following is the official news release sent to The Seoul Times by the Estonian envoy.
President Kaljulaid is a global leader being 5th President of the Republic of Estonia. She is a desired speaker at most prominent summits and conferences.As a firm believer in multilateralism she has spectacular experiences in the global affairs, in economy and energy as well as in public sector, European institutions, etc. Estonia has been member of the OECD since 2010 and we are ready to commit more to this organization.Proposing highest possible level candidate to this position shows our ambitions and demonstrates the importance of this organization for us.Estonia regained its independence in 1991 and with 30 years we have gone through comprehensive, rapid and successful reforms, we have built the first truly digital society and developed one of the best education systems in the world according to OECD.These are the experiences Estonia and our candidate, President Kersti Kaljulaid, want to bring to the OECD, in order to be prepared for the challenges we will face in the next decades.President Kaljulaid has said in her initial brief comments, that in 2020, we are living the period of Great Transition.Transition from industrial to digital economy, and from fossil to clean energy. As a firm believer in multilateralism, Madame president sees OECD as an enabler for its global community of developed nations taking an active role in bringing together the best knowledge globally to help the governments coping with these changes. You will find a brief overview about president Kaljulaid's positions attached to this e-mail as well as a visionary statement how she sees the challenges OECD and global economy are facing in the next decades.More information can be found herehttps://vm.ee/et/estonias-campaign-position-secretary-general-oecd
arti MÄTAS (Mr.)
Chargé d'Affaires a.i.
Estonian Embassy in Seoul
Marti.Matas@mfa.ee