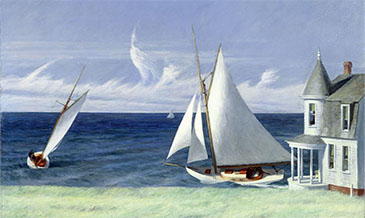 Exhibition "Edward Hopper" at Fondation Beyeler in Riehen near Basel, Switzerland closes on Sept. 20, 2020.
The successful "Edward Hopper" exhibition at the Fondation Beyeler in Riehen near Basel, Switzerland is drawing to a close. More than 200,000 visitors were able to enjoy the paintings of this major American artist, whose work was given unexpected topicality by the coronavirus crisis – in the press and on social media, Hopper was repeatedly referred to as "a painter for our times."His iconic landscapes dating from 1909 to 1965 are on view at the Fondation Beyeler until Sept. 20, 2020. The Fondation Beyeler will celebrate the last evening of its popular "Edward Hopper" exhibition on Sunday Sept. 20 with extended opening hours until 9pm, a drinks bar and live music in the Berower Park Pavilion.Edward Hopper (1882–1967) is widely acknowledged as one of the most significant artists of the 20th century. In Europe, he is known mainly for his oil paintings of urban life scenes, some of which have become highly popular images. Less attention has so far been paid to his landscapes.Surprisingly, no exhibition to date has dealt comprehensively with Hopper's approach to the American landscape. This will also be the first time Hopper's works are shown in an exhibition in German-speaking Switzerland. Originally planned until 17 May and then extended through 20 September, the Fondation Beyeler's extensive exhibition presents Hopper's iconic landscape paintings as well as a selection of watercolours and drawings.
Last chance also for film fans
The short film Two or Three Things I Know about Edward Hopper, shot by renowned filmmaker and photographer Wim Wenders, is on exclusive view at the museum in compelling 3D quality until 20 September. The film is Wenders' personal tribute to Edward Hopper, who made a lasting impression on him and influenced his cinematic work.
Hopper closing night
Sunday 20 September 2020, 6-9 pm
The Fondation Beyeler will celebrate the last evening of its successful "Edward Hopper" exhibition on Sunday 20 September with extended opening hours until 9pm, a drinks bar and live music in the Berower Park Pavilion.
Price: CHF 25.- incl. 1 drink at the bar
More information and tickets: https://shop.fondationbeyeler.ch/de/kategorie/events
Collection display "Silent Vision – Images of Calm and Quiet" extended through 15 November
The current collection display, which focuses on works of modern and contemporary art dealing with various aspects of calm and quiet, has been extended once more. With still lifes, contemplative landscapes, images of sleep and final rest, the exhibition showcases more than 100 works by Claude Monet, Paul Cézanne, Pablo Picasso, Fernand Léger, Piet Mondrian, Hans Arp, Alberto Giacometti, Mark Rothko, Andy Warhol, Richard Serra, Gerhard Richter, Marlene Dumas and many others.
Safety measures to protect our visitors and staff
The safety of our visitors and employees remains our priority. The Fondation Beyeler has therefore drawn up a comprehensive safety plan, implementing the Covid-19 Ordinances of the Swiss Federal Council and the Canton of Basel-Stadt and introducing further measures to optimise visitor experience.This includes:— Online tickets: Visitor numbers are limited through online tickets with time slots, which can be booked on www.fondationbeyeler.ch/tickets. This also applies to all valid tickets already purchased as well as to holders of vouchers, various memberships, the BaselCard and press accreditation. More information is available on our website.— Modified visitor flow in the park and in the museum with separate entry and exit points— New welcome desk and cloakroom in museum outbuildings— Hand sanitiser dispensers for visitors and employees in several key locations within the museum and the restaurant— Additional cleaning and hygiene measures for the museum's infrastructures— Minimum distance requirements and mandatory masks for staff in the museum and the «Beyeler Restaurant im Park»— In Switzerland, there is no obligation to wear a mask when visiting the museum. However, we do recommend that you wear one. In the museum store and in the BEY, both employees and visitors are obliged to wear a mask in accordance with the official regulations of the Canton Basel City of August 21, 2020. If you do not have a mask with you, you are welcome to pick one up free of charge at the reception area or at the Art Shop.
The "Edward Hopper" exhibition is organised by the Fondation Beyeler in cooperation with the Whitney Museum of American Art, New York, the worldwide major repository of Hopper's work.
The exhibition is generously supported by:
Beyeler-Stiftung
Hansjörg Wyss, Wyss FoundationFondation BNP Paribas Suisse
LUMA Foundation
Terra Foundation for American ArtIllustration: Edward Hopper, The Lee Shore, 1941, oil on canvas, 71.7 x 109.2 cm, The Middleton Family Collection; © Heirs of Josephine Hopper / 2019, ProLitteris, Zurich; Photo: © 2019. Photo Art Resource/Scala, FlorenceFurther information:
Silke Kellner-Mergenthaler
Head of PR & Media Relations
Tel. + 41 (0)61 645 97 21, presse@fondationbeyeler.ch, www.fondationbeyeler.ch
Fondation Beyeler, Beyeler Museum AG, Baselstrasse 77, CH-4125 Riehen
Fondation Beyeler opening hours: 10 am to 6 pm daily, Wednesday 10am to 8pm