America
Op-Ed Special
Stop Blaming Russia, China for US Disarmament Failures
Special Contribution
By Thomas L. Knapp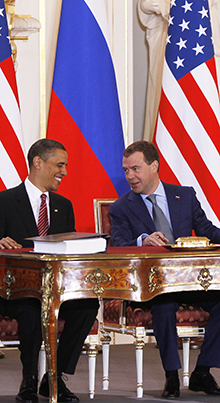 US President Barack Obama (left) and Russian President Dmitry Medvedev after signing the "New START" treaty in Prague on April 8, 2010.
On June 22 and 23, 2020 Russian and American diplomats met in Vienna to discuss New START, a nuclear arms reduction treaty which expires next year. The treaty provides for an optional five-year extension. Alternatively, the parties could negotiate a new agreement as has happened several times in the past.A third possibility involves one or both parties playing silly games like insisting that China be brought into the negotiations despite Beijing's complete lack of interest in participating. Which is exactly what happened. US negotiator Marshall Billingslea tweeted a photo of empty seats with People's Republic flag placeholders in Vienna, calling China a "no-show" and accusing it of a "crash nuclear build-up."It would take quite a build-up indeed for the Chinese nuclear arsenal to get competitive with that of the US or Russia. The latter two regimes boast thousands of bombs and warheads. Most estimates of China's collection are in the hundreds.And, given the US government's record of treaty violations, why would Beijing's diplomats be inclined to trust their Washington counterparts anyway?Negotiations with other nuclear powers — not to mention its attempt to both withdraw from, AND remain recognized as party to, the "Iran Nuclear Deal" — aside, the US government continues to flout its obligation under the Non-Proliferation Treaty to "pursue nuclear disarmament aimed at the ultimate elimination of" its arsenal.Instead of decommissioning and destroying nuclear weapons as should be happening, the Obama and Trump regimes have committed to spending a whopping $1.7 trillion over 30 years (a number anyone familiar with government spending knows will mysteriously multiply) on "modernizing" them.The purpose of arms control talks is to reduce the likelihood that nuclear weapons will be used. The purpose of "modernizing" those weapons is to make those weapons easier to use. The US government needs to commit to the former goal and renounce the latter possibility.Even accepting the exceedingly weak case for continuing to possess nuclear weapons as a deterrent to first strikes, the numbers needed for that use would be a fraction of, not a multiple of, China's or Russia's arsenals.A serious approach to arms control would consist of the US government announcing a unilateral and verifiable reduction to an arsenal of, say, no more than 100 nuclear weapons, challenging the Russian and Chinese governments to match that reduction, and committing to complete elimination if, and as, other nuclear powers agree. Anything less is just potentially deadly politicking.

Related Articles
US Congress Tries to Wish Away Israeli Racism ...
International Criminal Court: Sauce for the ...
Contra Hobbes: Peace and Political Government ...
So Long as There Are Nukes, We Had Better Hope ...
Imperial Delusion Is the Enemy of Peace and ...
Electric Cars: Great Idea, But Not a Panacea
Mariupol: Let's Talk About "Chemical Weapons" ...
Circumcision: Pope Francis States the Obvious, ...
Powell Lied, People Died: Justice Delayed Was ...
"No First Use": An Empty Gesture That Would ...
Facebook Gives the Most Dangerous Extremists a ...
Wuhan Lab Leak: It's Not a "Theory"
About That "Rules-Based International Order"
A Biden-Putin Summit: Jaw-Jaw is Better than ...
Joe Biden Reaffirms Washington's Message to ...
"Vaccine Passports" and the Holocaust: An ...
Same as the Old Boss, Julian Assange Edition
Biden's Iran Dilemma: Serve Obama's Third Term ...
COVID-19: The Way the Music Died?
How Joe Biden Can Score a Major Foreign Policy ...
Trump Regime vs. the ICC: The Wrong Side of ...
NATO is a Brain Dead, Obsolete, Rabid Dog! ...
North Korea Nuclear Freeze? Finally, a ...
US War on Iran: Evil, Stupid, Self-Damaging
US Should Stop Meddling in Spratly Dispute
John Bolton Vs. International Criminal Court: ...
Syria: Is Trump Finally Putting America First?
Some Questions from the Edge of Immortality
More Korean War Is "Worth It?" To Whom?
A Korean Spring after the Winter Olympics Is ...
Microsoft Corp. vs. United States: Jeff ...
August 1945: Let's Talk About Terrorism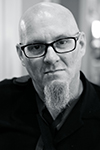 The above writer, Thomas L. Knapp, (Twitter: @thomaslknapp), is director and senior news analyst at the William Lloyd Garrison Center for Libertarian Advocacy Journalism (thegarrisoncenter.org). He lives and works in north central Florida.