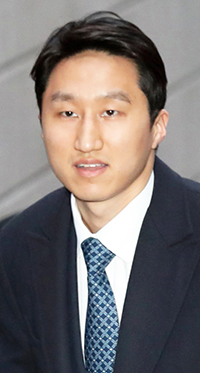 Chung Ki-Sun
Chung Ki-Sun, vice president of Hyundai Heavy Industries Co., South Korea's largest shipping giant, will get married in Seoul on July 4, 2020, vernacular daily Chosun Ilbo reported on June 19, 2020.The name of the future bride of the 38-year-old Chung remains unidentified so far. And the wedding venue is also not specified.But the mass circulation daily revealed that she is fresh from a renowned private university in Seoul. The daily also said that she is from a respected education family.Chung is the son of business tycoon and politician Chung Mong-Joon, the largest shareholder of the Hyundai Heavy Industries Co., owner of the Asan Institute for Policy Studies, South Korea's leading independent policy think tank. Chung Mong-Joon is the sixth son of the late Chung Ju-Yung, founder of Hyundai Business Group, the second-largest South Korean chaebol in South Korea.
Who Is Chung Ki-Sun?
Chung Ki-Sun is vice president of South Korea's shipping giant Hyundai Heavy Industries. He also holds many titles of its related companies.Chung serves as president of both Hyundai Heavy Industries' Group Ship/Offshore Marketing Division and Hyundai Global Service. Chung is vice president of Hyundai Heavy Industries Holdings.Chung was born in Seoul on May 3, 1982 as the oldest son of the famous business tycoon and celebrity politician Chung Mong-Jun, the largest shareholder of Hyundai Heavy Industries, the largest shipbuilder in South Korea.After finishing Daeil Foreign language High School in Seoul Chung entered Yonsei University. He majored economics at Yonsei.After graduation Chung went on to Stanford University in the United States, winning his MBA degree from Stanford.Chung started his social career with Hyundai Heavy Industries. However he had to work at the Korean branch of Boston Consulting Group after his study at Stanford. He had to reenter Hyundai Heavy Industries as a manager.Soon, Chung was promoted to executive director. Then he took charge of Hyundai Global Service as its CEO.This was the signal of within Hyundai Heavy Industries that the corporation was being rearranged by the owners getting in charge of the top management in 30 years.Hyundai Heavy Industries has long been a leader of the Big Three shipping builders in South Korea along with Hyundai Mipo Dockyard and Hyundai Samho Heavy Industries.Now at the hem of Hyundai Global Service Chung is leading the whole group including Hyundai Heavy Industries.As a young and ambitious CEO, he is trying his exert to expand and bolster the business activities of Hyundai Heavy Industries and its sister companies.Although blue blood and high brow, Chung is known as a humble CEO who hobnobs well with ordinary people. He is also recognized to respect his elder colleagues.