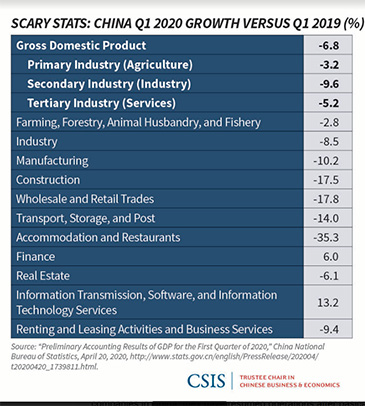 CSIS
China's economic performance in the first quarter (Q1) of 2020 was truly something to write home about, but for all the wrong reasons. One could quibble with the specific figures— China's statisticians have a history of underreporting bad news and smoothing out volatility—but the picture presented at the end of last week seems reasonable: a horrific February followed by initial recovery in March. One might think that such a devastating economic freezing up in the dead of winter might propel China's leaders to finally embrace thoroughgoing reform—marketization at home and liberalization abroad—but that does not appear to be the case. Instead, most signs point toward further entrenchment of statism.
Believable DataChinese data deserves skepticism, but the Q1 official data should not be dismissed out of hand. First, China did admit to a massive contraction of its economy. As Table 1 shows, agriculture, industry, and services all fell. Hotel and restaurant activity dropped by over 35 percent. At a press conference, National Bureau of Statistics (NBS) officials mentioned without challenge the IMF's latest estimate of only 1.2 percent growth for the year and did not even offer an alternative, suggesting they are resigned to not reaching their "double centennial" growth target (which would require almost 6 percent for this year). Second, these were year-on-year figures, measuring Q1 of 2020 against Q1 of 2019; had the yardstick been against the fourth quarter of 2019, the numbers would have been even worse. (The quarter-on-quarter GDP drop was -9.8 percent.)And third, the quarterly figures include March. Aside from the NBS's own statistics, a variety of other data points, including electricity usage, city traffic patterns, interprovincial travel, air pollution, and shopping, all point to a tentative but real stabilization. In addition, according to recent surveys of U.S. companies in China, they have resumed operations after basically coming to a standstill in February.From Survival to Renewing DevelopmentThe pandemic has exacerbated China's core economic development challenges. In the past three months, hundreds of thousands of small- and medium-sized enterprises (SME), firms that are most responsible for China's success, either have gone under or have come close to it, while larger private firms and state-owned enterprises (SOE) have hung on and avoided a liquidity crunch only by accessing cheap credit. (Central SOE profits dropped almost 60 percent in the first quarter.) China typically has to create 10 million new jobs per year just to keep pace with young adults and graduates entering the workforce, but unemployment rolls jumped by 4.5 million in the first quarter. The expansion of inequality took a pause only because urbanites' real income fell. Chinese households luckily have maintained record savings for "rainy day" crises like this one, but those funds are no consolation for a patient-unfriendly health care system and a broader social safety full of holes. Despite the massive growth of personal consumption, construction and commercial real estate are still deeply woven throughout the economy. With telework likely to expand dramatically, the real estate sector is going to suffer. This can't but raise the debt burden of corporates, financial institutions, and local governments.These are mighty headwinds for an economy whose average annual growth rate fell by half over the past decade. There is more pressure than ever to find ways to raise productivity by making more efficient use of capital, raising the skill level of workers, and employing technology across sectors, all while also moving up the value-added chain across industries. Even more concerning, these demands come at a time of intense international competition in which countries are moving to both restrict transfer of technology and skills to China and reduce Chinese access to their own markets.Time to Embrace Reform?Given this set of dire challenges, one might expect—or hope—that China's leaders finally see the wisdom of embracing full-scale market reform. In the wake of the global financial crisis, which witnessed a massive 4 trillion yuan ($570 billion) stimulus package, China gave strong hints it agreed that the market "should have a decisive role in resource allocation." Yet in deed and then word, the state struck back, and interventionism has ruled the day. Made in China 2025 and the 13th Five-Year Plan (2016-2020), now in its final year, while seeking to transform the economy, have only made the state more, not less, central in every aspect of the country's life.But in the past few weeks, Chinese officials have once again started to tout the language of market reform. On April 9, the Communist Party and State Council issued a proposal calling for the marketization of factor prices, including for land, labor, technology, and capital. It even called for making economic data better integrated nationally and more widely available. On April 17, on the same day as Q1 data release, the Politburo met and stressed the importance of protecting firms, especially (private SMEs) and workers, and marketizing the allocation of resources.Despite such language, no one should expect a great leap in market reform any time soon. All of these calls for marketization are accompanied by direct or indirect references to using the power of the Chinese Communist Party and the state to carry out policies and achieve economic targets. Such a balance existed in the 2013 document from the 3rd plenum of the 18th Party Congress, but most of us focused on the marketization angle. As economist Arthur Kroeber pointed out in a 2016 CSIS report, the 3rd plenum made no call for privatization or a relinquishing the dominant role of SOEs.The recent proposal is long on sentiment and short on specifics. It contains no call for allowing land ownership, instituting property taxes, privatizing SOEs, popularizing firm bankruptcies and credit defaults, eliminating housing residency requirements, or cutting industrial and agricultural subsidies. There will be two more big chances this year to measure China's intent. The first will be when the National People's Congress (NPC) finally convenes and the leadership issues their verdict on their handling of the pandemic and their economic goals for the remainder of the year. The second will be in the fall, when the Communist Party issues the outline of the 14th Five-Year Plan (2021-2026). This will be the most appropriate moment to modify their language and overall economic strategy.But I wouldn't count on it. Waiting for Chinese market liberalization under Xi Jinping is akin to the fruitless task of characters in the Samuel Beckett play, "Waiting for Godot." Instead, I would expect a tripling down on their current approach, with even larger investments in infrastructure, more expansive goals in high-tech (to achieve success in the fundamental building blocks of industries, not just commercial applications), greater support for SOEs and politically pliant private firms, and a more assertive effort to expand China's international economic dominance—all under the close guidance of the Communist Party.No More Black SwansThis bleak forecast will hold as long as Xi Jinping is in power or unless China's economy suffers a full-blown financial crisis (and he is either removed or genuinely has no choice but to change) or the United States and the West come up with a more effective strategy to push China in a more market-oriented direction. This has been the year of the black swan, but none of these scenarios seems remotely possible during the remainder of the year, and perhaps for many years to come.
The above writer, Scott Kennedy, is senior adviser and Trustee Chair in Chinese Business and Economics at the Center for Strategic and International Studies.