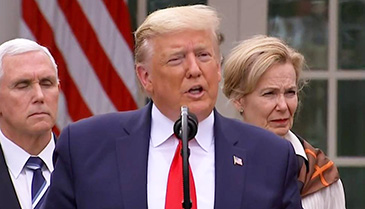 US President Donald Trump recently said that he would most likely be tested for COVID-19.
What You Need to KnowThese important questions below provide information about food security during the coronavirus pandemic. We focus these questions on the United States; given the global reach of COVID-19, we hope the information below will be useful to individuals and policymakers beyond our borders. If you have questions you'd like us to address, please contact us at foodsecurity@csis.orgFood Safety & HealthWhat are some safe ways to shop for groceries right now? Should I wash and prepare foods differently once I get them home? Although it is possible for a person to contract coronavirus from touching a surface or object and then touching their face or mouth, this is not the main source of infection. More often, the virus is spread by person-to-person contact through respiratory droplets.In order to stay safe while shopping, experts recommend avoiding close contact with others and keeping six feet of distance with other shoppers. Tips to avoid close contact while shopping include shopping at off-peak hours, wiping down the cart before and after use, and using debit or credit cards to avoid hand-to-hand cash transfers. There is currently no evidence that supports the idea that the virus can be spread through food or food packaging. However, since COVID-19 can survive on hard surfaces for up to 72 hours, shoppers may consider disinfecting food packaging after bringing it home from the store, in addition to common-sense measures like washing hands with soap and water before and after preparing food, and following the Food and Drug Administration's (FDA) four food safety steps: clean, separate, cook, and chill.Are there particular foods I should avoid purchasing, like foods imported from certain countries? Most coronavirus infections originate with the respiratory system, not the digestive system, so food itself is not a principal concern, according to the infectious disease expert Daniel Kuritzke. Nor have authorities recommended avoiding foods from any particular countries.The good news is that, at the time of publication, the FDA reports "no evidence to support transmission of COVID-19 associated with imported goods and there are no reported cases of COVID-19 in the United States associated with imported goods." If you cannot avoid buying perishable foods, then it is best to default to the aforementioned four steps for food safety from the FDA: clean, separate, cook, and chill. However, you may consider avoiding perishable imports. Russ Webster, president of Food Enterprise Solutions, an international food safety firm, told CSIS, "In general, the more perishable the food, the more complex—and thus susceptible—is its supply chain." Shelf-stable alternatives to perishable imports are fruits, vegetables, and meats that are canned, dried, frozen, or preserved.What food should I eat to help boost my immune system?Although there is no way to fully prevent illness in the case of exposure to the coronavirus, there are steps you can take to boost your body's immune system. The best fortification for a well-functioning immune system is a balanced, healthy lifestyle. Eating a diet high in fruits and vegetables and getting enough quality sleep helps safeguard your system against infection and disease. There is no "quick fix" for boosting your immune system, but nutrition is crucial for immune defense and resistance to pathogens.Disruptions to nutritional status can impede immune response and lead to increased susceptibility to infection during nutrient deficiency. Studies suggest that five core micronutrients—vitamin B6, vitamin C, vitamin E, magnesium, and zinc—play roles in maintaining immune function. The best way to get vitamins and minerals is from a well-rounded diet, with plenty of fruits and vegetables (fresh or frozen are fine), legumes, whole grains, and lean sources of protein, along with healthy fats, such as nuts and olive oil. Should I eat at restaurants right now? What about ordering delivery and takeout food? In some areas across the country, restaurants and bars have been ordered to close to patrons, but some offer takeout and delivery options. Private companies, like Uber Eats, have waived delivery fees for small, independent food businesses—a vital step in supporting access to food for people who can't cook for themselves due to disability or illness. Furthermore, announced in a presidential press conference on March 17, large fast food companies are keeping their driveway and delivery services operational during the federally recommended 15-day period of postponing travel, limiting social gatherings, and working from home, if possible.In areas where restaurants and bars are still operating, official guidance from the Centers for Disease Control (CDC) and the White House includes limiting group exposure to 10 individuals or less; maintaining a distance of approximately six feet between you and anyone you do not know; and using drive-thru, pickups, or delivery options to avoid eating and drinking in restaurants, bars, and food courts.Should I invite my friends or neighbors over for dinner right now? Though closeness to loved ones and community is one of the most basic pleasures in life, slowing the spread of COVID-19 requires individuals to take precautions to keep themselves safe. In all social interactions, the official CDC guidance states higher risk individuals (over 60 and immunosuppressed) should implement the most conservative social distancing practices possible.On March 16, the Trump administration released strict guidelines to slow the spread of the coronavirus, including avoiding groups of 10 or more people. Although sharing meals is common to nearly every food culture, people should be mindful of how and with whom they are dining. If you do dine with others who are not living under your roof, consider sharing meals only with individuals who belong to low-risk demographic groups and aren't themselves exhibiting flu-like symptoms.Dr. Anthony Fauci, director of the National Institute of Allergy and Infectious Diseases at the National Institutes of Health, has suggested that if you enjoyed a meal with someone who has exhibited symptoms for the coronavirus and discover that they are positive for COVID-19, then you are considered a higher risk individual and should call your health care provider. In the event that you were in the same space as someone that was infected and asymptomatic, your risk is much lower, but you should follow strict social distancing practices.Food SystemsFor what period of time should I stock my pantry?At this point, the CDC's guidance is two weeks. This is consistent with advice from experts at Johns Hopkins University as well as with general advice on emergency preparedness from the Federal Emergency Management Agency.Although "pantry loading" for items like dried beans, powdered milk, and canned meat is on the rise in light of COVID-19 concerns, the good news is that grocery store supply chains remain intact. Grocers have reassured U.S. consumers that their inventories are adequate to meet the surging demand. "For the long term, H-E-B is in a good in-stock position on many of the items our customers need, and we are working around the clock to restock our shelves," the company said in a statement recently. Grocery stores are handling the uptick in demand in a number of ways. H-E-B and Wegmans are limiting purchases on popular items like bread, eggs, and milk. Kroger is hiring more workers. Walmart is reducing its hours to allow for consistent restocking. Whole Foods is temporarily closing its hot bars, salad bars, soup bars, and self-serve pizza stations.What are some tips for stocking my pantry on a budget?For many Americans, the coronavirus is leading to smaller paychecks as retail and service industry employers temporarily shut their doors. But we all have to eat healthily despite tight budgets. Here are six practical ways to stretch your dollars at the grocery store.Make Your Menu: Time permitting, write out a basic meal plan for the week and the groceries you'll need for it.Respect the Freezer : frozen fruits and vegetables are a cost-effective source of nutrition.Play the Sale: Look for discounts, coupons, and sales, especially on store brands, which usually cost less.Go Big: Buy in bulk when you can (e.g., purchase a whole chicken instead of just chicken breasts). Freeze what you don't immediately need.Go Home: If you have time, prepare food yourself instead of buying prepared or frozen meals. Thirty minutes will give you enough time to bring together simple, tasty meals.Read the Fine Print: Compare unit prices (dollars per pound or per ounce) listed on price tags to find the cheapest brand.Hold the Steak: Because meat can be a relatively expensive source of protein, look to supplement it with plant-based sources of protein like beans, quinoa, and whole-wheat pasta.Shop the Season: Off-season produce is almost always more expensive and of inferior quality. Look for what's in season in your area. For example, in many parts of the country, apples, carrots, onions, and leafy greens are good bets right now. Find the Department of Agriculture's guidance on seasonal produce here.Are we at risk of food shortages or price spikes?Reuters reports that in the United States, food prices jumped 0.5 percent in February—the most since May 2014. That is likely driven by Americans stocking their pantries amid coronavirus concerns rather than by supply shortfalls.The upshot, however, is that we still don't know what the medium- and long-term impacts of COVID-19 will be on global food supply chains. For now, there are two issues to keep in mind.First, global food prices have been on the increase in general. The Food and Agriculture Organization reports that, in February 2020, prices were 8.1 percent higher than they were in February 2019. This means that further increases may not be directly attributable to the coronavirus pandemic.Second, as Chase Sova of World Food Program USA points out, food supply and food security impacts from global crises differ greatly by region. During the 2014 Ebola crisis, for example, food prices rose dramatically in West Africa. A key dynamic to watch will be crop production in affected areas.VulnerabilityThere are people in my community who are especially susceptible to food insecurity right now. How can I help? Official guidance encourages households to procure food supplies for two-week periods, but this poses extreme challenges for many families. Moreover, studies find that those who live in lower income communities are more vulnerable to chronic health conditions—the same conditions that can make the coronavirus up to 10 times more deadly.However, there are a number of organizations that are working tirelessly through the COVID-19 outbreak to help meet the needs of the most vulnerable. If you're not able to lend your time or financial resources to these organizations, consider buying only what you need at the grocery store so that others in the community can access supplies they need. If you do have financial resources to contribute to the COVID-19 response, consider donating to food bank networks.U.S. Government ResponseWhat kind of help can we expect from the federal government? On March 18, 2020 the Senate passed the Families First Coronavirus Response Act, and President Trump signed it into law later that day. This emergency aid package increases funding for participants in The Special Nutrition Program for Women, Infants, and Children (WIC) who lose their jobs due to COVID-19; local food banks; emergency Supplemental Nutrition Assistance Program (SNAP) assistance for students who receive free or reduced-price meals; and home-delivered and pre-packaged meals to the Senior Nutrition Program. Additionally, the new law suspends work and work training requirements for SNAP, which means more people will have access to food.For the full list of benefits and appropriations, see: HR 6201 I am a public official. Where can I get guidance on food and nutrition for my community in the midst of the coronavirus pandemic? Below is a roundup of guidance from different federal agencies:White House U.S. Department of Agriculture Centers for Disease Control (CDC): Guidance for Businesses and Employers Small Business Administration (SBA): Guidance for Business and Employers Occupational Safety and Health Administration (OSHA)
Who Is Caitlin Welsh?
Director, Global Food Security Program
Ms. Caitlin Welsh is the director of the Global Food Security Program at the Center for Strategic and International Studies (CSIS),
Expertise: Africa, Economics, Europe, Food and Agriculture, Global Economic Governance, International Development, Middle East, North Africa, Private Sector Development, Sub-Saharan Africa, U.S. Development PolicyAssociated Programs: Global Food Security Program
Ms. Caitlin Welsh
is the director of the Global Food Security Program at the Center for Strategic and International Studies (CSIS), where she provides insights and policy solutions to global food security challenges. She brings over a decade of U.S. government experience to this role.She served most recently in the National Security Council and National Economic Council as director of global economic engagement, where she coordinated U.S. policy in the G7 and G20 across multiple summits.Prior to the White House, Ms. Welsh spent over seven years in the Department of State's Office of Global Food Security, including as acting director, offering guidance to the secretary of state on global food security and its relationship to urbanization, climate change, and conflict. As a presidential management fellow, Ms. Welsh oversaw a portfolio of agriculture-related grants at the U.S. African Development Foundation. Ms. Welsh also lived and worked in Morocco's breadbasket region as a Peace Corps volunteer, witnessing the complex causes and effects of food insecurity and working to improve lives through education.Ms. Welsh received her B.A. from the University of Virginia and M.P.A. from Columbia University's School of International Public Affairs. She hails from Erie, Pennsylvania and speaks Moroccan Arabic and French.She can be reached at
cwelsh@csis.org