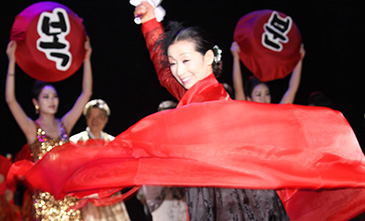 Madame Park Kyung-Rang performs at Seoul Namsan Gukakdang in Seoul, S. Korea on Feb. 7, 2020 as a Lunar New Year's event.
Senior dancer of the traditional Korean dance, Madame Park Kyung-Rang, and her followers braced the danger of coronavirus for her latest performance in downtown Seoul on the occasion of Lunar New Year's Holidays.In the evening of the day Madame Park and a dozen of her follower dancers and singers of Korean traditional music mesmerized hundreds of both foreign and local audiences gathered at the Crown Haitai Hall of Seoul Namsan Gukakdang located in village of traditional Korean houses called "Namsan Hanok Village."Many of the audience were wearing face masks for fear of the wide spread of "coronavirus" originated from China.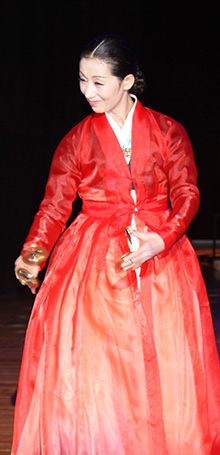 Madame Park Kyung-Rang
As a friendly gesture, Madame Park parceled out to each spectator a real ticket of Korean Lottery to wish them a good luck. At age 60, Madame Park is widely received as the highly seasoned dancer who represents nation's traditional Korean dance.Titled "Bokbunja (ÜØÝÂí­)," literally means a "person who gives good luck," was an occasion in which Madame Park demonstrated the essence of original Korean dance.Beautiful and elegant in a rather small physique Madame Park presented to her fans authentic and original costumes of traditional types unseen in her performances of other dancers."Madame Park was like a butterfly when she enraptured her audience in such a beautiful movement," one audience said. "Her traditional cloths were also very impressive"Her hour-long performance received a couple times of wild standing ovations. Madam Park also teaches her students at Traditional Performing Art Academy within National Gukak Center next to Seoul Arts Center in Seocho-dong in southern part of Seoul.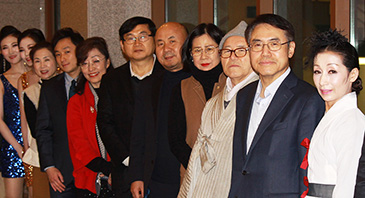 Madame Park Kyung-Rang (right) poses with her guests at Seoul Namsan Gukakdang in Seoul, South Korea on Feb. 7, 2020 as a Lunar New Year's event. At her left is lawyer Dr. Oh Byoung-Joo.
The modern-version of "Bukcheong Saja (ÝÁôìÞâí­) Noreum" or "Bukcheong Lion Mask Play" by Jung Byung-In and Lee Ho-Min added a special flavor to Madame Park's dance performance.
In particular, a famed calligrapher Lee Sang-Hyun's impromptu writing also entertained the audience.
The whole event was created and directed by Yang Hey-Jung, its artistic director."I wanted to instill the fresh air into the audience this time, Yang said. "I did not want them bored with the same hackneyed version of performance"