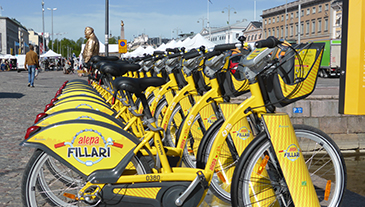 Getting around in Helsinki
Considering a trip to London or other European destinations? Why not think outside the square and amend the usual routing for a stopover in glorious Helsinki?
BEST ARRIVAL: Finnair flies daily from Seoul (Incheon) to London (and to most European capitals) via Helsinki. Break the journey, either on the outward leg, or on the return (or on both!), to sample the delights of Finland's elegant, vibrant and cultural, capital city. Finnair coaches, located just outside the airport, leave at regular intervals for city centre hotels. Depending on the season, economy flights via Helsinki to London are on offer for about ₩822,000. Visit finnair.com/au, or contact your local travel agent for details.GETTING AROUND: Helsinki offers a well developed tram system. Enjoy the city's best 37 sights by catching the 3T, or 3B, tram from Market Square. The complete trip, which lasts about an hour, comes with a language brochure. As the trams depart at 20 minute intervals it is convenient to hop off at any attraction, and hop back on a later tram. It's even possible to catch the red-liveried Sparakoff tram and sup a local beer (Koff) while this 'pub on rails' meanders the city. Given its compact nature, Helsinki is the perfect place to explore on foot. Guided walking tours (covering 15 themes such as, Helsinki's Russian past, art nouveau architecture, etc) are available in various languages. As the city is replete with cycleways and is reasonably flat, deposit-only bicycles are also a viable option. Visit the Helsinki Tourist Office in Helsinki's iconic central rail station (Kaivokatu 1), for more information. The Tourist Office also sells the Helsinki Card which provides unlimited travel on all public city transport (tram, bus, metro, ferry) as well as free entry to the top 30 Helsinki attractions.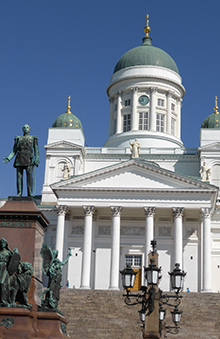 Lutheran Cathedral in Helsinki
WORK UP A SWEAT: The Finns love their saunas and in a country of 5 million people there are 3.5 million saunas, so plenty to go around. All Helsinki hotels include saunas as part of their amenities although, if a more exotic location is desired, there are an abundance of those too. The Allas Sea Pool Sauna (Katajanokanlaituri 2) sits right in the heart of Helsinki, adjacent to Market Square. Just next to it stands the city's new, 40 metre tall, Finnair Sky Wheel which also boasts a sauna. Yes, it is possible to sit in a specially constructed gondola and have a sauna while taking in spectacular views across the city. Don't worry, no one can see in! Not to be outdone, Burger King (Mannerheimintie 12) operates a fifteen person sauna where you can enjoy a whopper as flame-grilled as your skin, but be warned, the french fries might wilt in the humidity. GO TO CHURCH: Temppeliaaukio, or the 'Church in the Rock' (Lutherinkatu 3) is one of Helsinki's most popular tourist attractions. It's a unique place of worship, excavated from a rocky outcrop and roofed by a giant copper dome, with the natural, craggy, pink granite forming an unusual and atmospheric background for religious services and concerts. The Kamppi Chapel (Simonkatu 7) is built solely from spruce, alder and ash, and this 11.5 metre high, futuristic building, offers a place for contemplation and silence, as it shuts out the bustle of the city.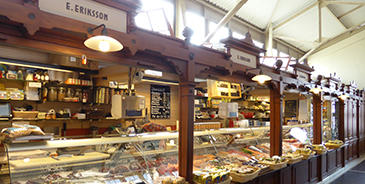 Eriksson's in Helsinki
CUISINE AND COFFEE: At Helsinki's pulsating heart, overlooking the harbour, is the old Market Square where outdoor stalls groan with meter long wild salmon, bowls of Russian caviar, wild berries and all sorts, together with fresh fruit and vegetables. There is also a brisk trade in hand-knitted sweaters, caps and mittens, and all things Lappish, including reindeer skins, antler jewelry and even smoked reindeer-meat crisps! Old Market Hall, adjacent to Market Square, is just the spot to meet the locals and enjoy a freshly made, salty, Baltic herring sandwich, or nibble on homemade crackers and cloudberry jam. For a lunch time snack my own favourite eatery in Market Hall, is the Ericksson Fish Café which serves, hearty, delicious salmon soup and fresh crusty bread. Finns certainly like their coffee and are reputed to be the world's largest imbibers per head of population. Helsinki boasts a superfluity of coffee bars and bistros. Café Ekberg (Bulevardi 9) founded in 1852, is the city's oldest and perhaps most famous coffee house. At the Café Frazer (Kluuvikatu 3), housed in an art deco building with a 'whispering wall', the array of pastries is more tempting, but it is Café Engel (Aleksanterinakatu 26), situated on stately Senate Square, which comes closest in atmosphere and ambiance to that of the classical Viennese coffee house. Choose a window seat, order a cappuccino and admire the surrounding pastel painted buildings, including the majestic green-domed Lutheran Cathedral which dominates the Square and basks in the reputation of being Helsinki's most photographed edifice. The neo-classical facades of the surrounding buildings are reminiscent of Imperial St. Petersburg, which is not surprising since the two cities share a common architect, Carl Engel, after whom the café is named.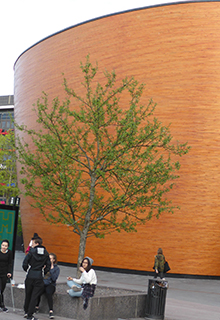 Kamppi Chapel in Helsinki
MAKING MUSIC: As befits the city of the acclaimed classical composer, Jean Sibelius, Helsinki offers plenty to interest musical lovers. It's possible to satisfy musical interests by attending the numerous free concerts staged around the city. For example, the midday organ recitals in the imposing Lutheran Cathedral on Senate Square, or listening to a choir, or musical group, performing at the 'Church in the Rock'. At weekends, the Music Centre (Mannerheimintie 13A), home of the city's symphony orchestras, presents a succession of free classical concerts and recitals by eminent musicians. Students from the Sibelius Academy, (Toolonkatu 28) also give free performances featuring jazz, folk and the classics. Helsinki Tourist Office can advise on the programming of these and other free concerts.RETAIL THERAPY: Finnish design in clothes, textiles, ceramics, jewelry, wood and glass is exquisite and found in abundance in shops along the tree lined, central, Esplanadi, and in the glitzy Kamp Galleria (33 Pohjoisesplanadi), adjacent to the renowned Kamp Hotel. On the same street is the Marimekko outlet where its world famous fashions, fabrics and gifts are sold. But don't expect too many bargains. Stockmann (Aleksanterinkatu 52) is Scandinavia's largest department store offering everything from a needle to an anchor. 'If it ain't at Stockmann, you don't need it'. An extensive souvenir section occupies the 5th floor.
For more information on Helsinki's attractions, events, activities and hotels - myhelsinki.fi
The author acknowledges the assistance of the Helsinki Tourist Office.