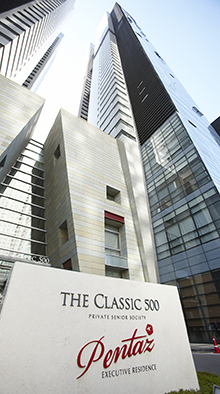 "The Classic 500" in Seoul
"The Classic 500," a Seoul-based famed silver town in South Korea, will host a special event of kimchi-making class on Nov. 20, 2019 right by the campus of Konkuk University, which operates the residence facility for senior citizens.The event will be held on the second floor of The Classic 500's Grandball Room at 2 p.m. on the day, according to a company official. The kimchi class will be led by Madame Shim Young-Soon, arguably South Korea's most famous kitchen chef. She is recognized as the most respected traditional Korean food researcher and chef.She is known as the master chef who "never uses chemical seasonings or the artificial ingredients in her cooking, but use only natural and healthful ingredients." She devoted 40 years of her life to developing her own methods and to making the traditional Korean cuisine.Kimchi, a kind of pickle, is the most representative food for Koreans among other Korean dishes.Around this time of the year Koreans make "kimjang" kimchi or winter kimchi in order for them to last throughout the entire winter season
Local media agree that kimchi made by Madame Shim is "the most refreshing and the most delectable one" among both locals and foreigners alike.
The official of the host company says that the foreign participants will learn how they make kimchi themselves.They will also taste the most delicious kimchi and boiled pork made by Madame Shim or others in a festive mood.The participants can bring home about 5-killo grams of kimchi they make free of charge.However, there will be a member due of 100,000 won. The participation fee should be paid prior to the event. The participation is the first-come first-served base. The number of attendees is limited to 40. The would-be participants can leave their Email at webmaster@theclassic500.co.krfor registration or for any inquiries.
As aforementioned The Classic 500 is one of the most updated version of so-called "silver town," offering top-quality residence in the middle of the city, tailored medical service, and a variety of cultural services.It is equipped with a fitness center, a spa, a miniature indoor golf driving range, and a library.Nearby are the Konkuk University Hospital, Star City Mall shopping center, Lotte Department Store, E-Mart, a movie theater, which make the dwellers enjoy "one-stop" life.The Classic 500 is composed of two buildings: 50-story one and 40-story one. The address is Neungdong-ro 90 (Jayang-dong 227-342), Gwangjin-gu, Seoul.