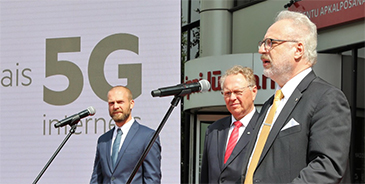 Latvian President Egils Levits (right) speaking
On July 19, 2019, the 5G communication network was officially launched by the president of Latvia, Egils Levits. Since September 2018, when the first 5G Tech Forum (5G Techritory) was held in Latvia, the 5G network has been in "test mode." It is now available to anyone with a device supporting 5G technology. The Latvian mobile operators "Latvian Mobile Telephone" (LMT) and TELE2 offer full access to the 5G network, while the third mobile operator – the BITE 5G network – remains in test mode for the time being.On the day Latvian President Levits said: "I am proud that thanks to LMT's activities and cooperation with global companies such as NOKIA and INTEL, Latvia has positioned itself in the world's avant-garde of the 5G communication network. I would like to see Latvia in the first row in many areas."At the same time, the President of Latvia acknowledged that in a "time of artificial intelligence and Big Data, ranking among the first countries that can implement 5G means that Latvia has qualified to be in the forefront of "Formula 1" racers at the cutting edge of what technology can provide. This is a signal to companies and researchers around the world."On July 19, the first 5G router produced by the Latvian company MikroTik was also presented. The router has been developed through active cooperation of LMT with the largest producer of routers and ISP systems in Latvia, MikroTik, a company with products well-known not only in Europe but also in Asia and North America.Latvia is open to cooperation with Korea on the implementation and modernization of 5G technologies. On November 27-29, 2019, the second 5G Tech Forum (5G Techritory) will be held in Latvia, bringing together more than a thousand guests including those representing the world's leading 5G technology companies.
Address by President of Latvia Egils Levits at the opening of the 5G in LMT
There is pride that, thanks to the operations and cooperation of LMT with global companies such as NOKIA and INTEL, Latvia is at the forefront of the 5G communication network development. The President of Latvia would like to see Latvia leading in many other areas as well.5G is becoming a necessary technology today because it allows transferring a huge quantum of information. During the era of artificial intelligence and Big Data, being among the first countries that can implement such technology means that Latvia ranks in the first line of technological Formula 1. It is a signal to global companies and researchers.We need to look at how high technologies coexist with human nature, the human sense of internal freedom and health today and in the future. Care should also be taken to ensure that technologies still serve humankind and not vice versa in the future.I would also encourage us all to use this new tool. 5G itself is just a tool, infrastructure. However, it should be used at work so that Latvia is among the leaders not only with a fast Internet but would be able to use it for its benefit by increasing Latvia's prosperity.I would like to thank LMT for the awareness and smart policy in the field of Latvian information policy. I appreciate it, and it is also an example for other companies.I would also like to take this opportunity to say thank you to "Mikrotīkls" as one of the major investors in various technology development projects. You have received various awards, helped to revive the VEF Quarter, and donated to the Children's Hospital.I wish you good luck in your future endeavours for the benefit of the population and prosperous, creative, and smart Latvia!