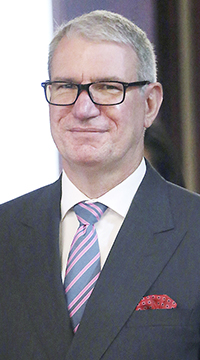 Latvian Ambassador to South Korea Peteris Vaivars
On the occasion of the first direct commercial flights scheled in May, 2019 between South Korea and Latvia, the Embassy of Latvia in Seoul hosted a press conference at its embassy building in Hannam-dong at 4 p.m. on April 24 (Wednesday), 2019.In the press conference, Latvian Ambassador to South Korea Peteris Vaivars explained to the local Korean journalists the benefits of the direct air flights between Korea and the Baltic republic. The Latvian envoy also made a lengthy presentation in front of the press gallery about the attractiveness of Latvia and the Baltic region.The conference was jointly hosted by the local Korean travel agency Hanjin Travel, according to the embassy.The embassy early announced the inaugural direct air flight will be launched in May and June. The first direct commercial charter flights between the tow countries will be operated by Korean Air.This year, the three flights have been scheduled for on May 24, May 31, and June 7, 2019, respectively.The flights will be organized by Hanjin Travel, one of the major Korean tour agencies with the support from such organizations including the Latvian Embassy in Seoul, the Tourism Department of the Investment and Development Agency of Latvia (LIAA), Riga International Airport, and Riga Tourism Development Bureau LIVE RIGA.The first direct commercial flight between the capital cities of Latvia and S. Korea is likely to carry some 700 passengers, according to the embassy.
The air travellers will have the opportunity to visit all three Baltic states by choosing between two offers, the embassy announced.The flights betweeen Riga and Seoul will be available at the cheap prices, according to the embassy.Since the opening of the Latvian Embassy in Seoul
in the late 2015, the embassy has been cooperating with the LIAA Tourism Department, LIVE RIGA and other partners to attract tourists from Korea through organizing tourism seminars, taking part in travel fairs and offering a hands-on experience of the country during exploration trips to Latvia. A brochure on Latvia has been produced in the Korean language, and Baltic maps and a Riga brochure have been translated; these publications will be made available for each passenger of the charter flights.In the late 2018 in New York, the Foreign Ministers of Latvia and South Korea signed the Air Traffic Agreement, which was ratified by the Latvian Parliament in January 2019.The air traffic agreement establishes the legal framework for launching direct flights between the two countries.During the conference the Latvian envoy said that it is through tourism that the two peoples of Latvia and Korea can get closer emotionally.