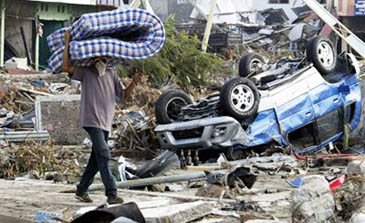 Tsunami Fury — A survivor tries to salvage whatever is left of his stall at a commercial area in Banda Aceh, the capital of Aceh province Dec. 31, 2004 in northwest Indonesia, following Sunday's devastating earthquake-triggered Tsunami that killed some 80,000 people in the country. Courtesy AP
In India, very few people have heard the word Tsunami, let alone even remotely understand what these harbour waves could do. Till that Sunday morning — Dec. 26, 2004 — hardly anybody had the vaguest of inclination of the destructive ability of the sea. Of course, one has read about the angry earth in geographic and other nature magazines. But beyond this, there was little knowledge what a tsunami could do on India's long coasts.I had been to the beach that Sunday morning, had seen a bright sun, clear blue skies and a deceptively calm ocean. The Bay of Bengal, on whose shores lie the southern Indian city of Madras, seemed so serenely calm that I could not imagine that a quarter of an hour later, waves would roar in anger and rush inland in a dance of death and destruction.I came away before the tsunami struck. Just 15 minutes before. But not many others, who lingered on feeling the sand and the breeze. After all, it was a Sunday morning and there was no pressure to get home and to get to work.Among these many others, there were children, and I distinctly remember a group of boys playing cricket on the sand. These little boys, I am told, were swallowed by the giant waves that threatened to even ravage some of the historic buildings on Madras' sea front.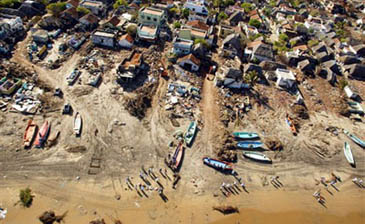 Tsunami Fury — An aerial view of houses that were destroyed by tsunami, and the fishing boats that were salvaged from the debris, at a fishermens colony at Nagappattinam, Tamil Nadu, Jan. 2, 2005. Courtesy AP
There were others, elderly couples, food vendors and fishermen, who died in Madras, adding up to the 10,000 mostly women and children who were killed in India that black Sunday. We still have about 5,000 people missing in a tragedy that has but few parallels in history.The question that now disturbs the government and angers others is whether at all the toll could have been minimized. Maybe.To begin with, tsunami may not have been a regular feature on India's shorelines, but recorded history refers to such calamities. In ancient India, a whole prosperous city, Kaveripoompatinam (in southern India) is said to have been washed away by giant waves. Today, we have the ruins of that city. There have been other instances of Tsunami striking Indian shores in the 1800s and early 1900s.In the early 1960s, a devastating cyclone/hurricane caused the sea to rise so enormously that a whole town in India's southernmost tip, Dhanushkodi, disappeared. A full train of students that was waiting just outside the station there was washed away, killing the passengers.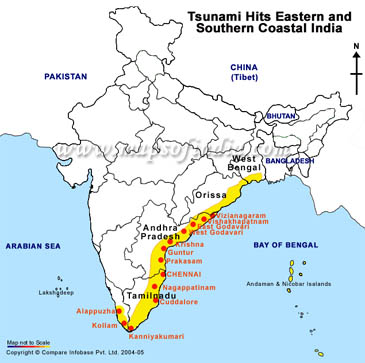 Courtesy Maps of India
So, the Indian administration knew what the sea was capable of wrecking. Yet, we now have updates on how the government chose to ignore advice and stay out of warning systems. The Director of the National Atlas and Thematic Mapping Organization in Calcutta, Dr. G.N. Saha, said that his institute had tracked seven years ago the possible epicenter of the December 26 tsunami and the probable paths the killer waves would take.He said that his team had mapped the "route" of the tsunami in the wake of the earthquake in Indonesia. "We had traced the road of the waves as they would travel to hit the Andaman and Nicobar Islands as well as the southern Indian coast,"
he remarked the other day. Yet, the Indian administration turned a blind eye to this prediction of sorts. Also, India decided to stay out of the Pacific Tsunami Warning System, which could have given adequate notice of the impending disaster. What was the reason for this? It was not technical. It was not even financial, but part of a larger ideology of self-reliance that India began to follow in the 1970s that later led to "scientific isolation."Nehru's policy of internationalism and global cooperation disappeared after the country's first prime minister died in the early 1960s. New Delhi adopted a rather inward-looking approach that bordered on self-denial. Added to this was the bogey that politicians of that day raised, the bogey of "foreign hand," which resulted in deep suspicion of anything foreign. This prevented useful collaboration in important areas such as science and technology.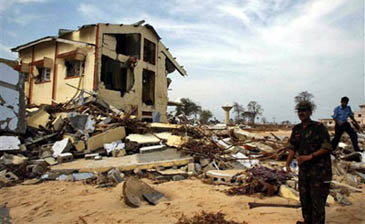 Tsunami Fury — Defence personnel walk near the debris of the Indian Air Force officer's colony which was destroyed by tsunami and killed more than 100 officers in Car Nicobar, in India's southeastern Andaman and Nicobar Islands, Jan. 2, 2005.
Courtesy AP
Thus, India did not become a member of the Pacific Tsunami Warning System. Even China, despite its problems with the world community, the U.S. in particular, was quick to join this system.Well, India paid for this foolishness with such a frightening figure of casualty. India must now realize that disaster management cannot be an isolated effort. Any warning of a natural catastrophe cannot be complete or effective without the cooperation of the international body of experts.Sadly, India has not even done much to establish a warning framework in the Indian Ocean, which New Delhi terms its own. This may well be the first step, where India can with its vast pool of scientists and scientific knowledge set up a good system to predict the fury of nature and to try and keep down the damage to life and property by timely action. The system should also be geared to manage the consequences of such a crisis.However, there is still a lingering doubt in my mind about India's intentions to accept help. New Delhi has refused aid, and one feels that this can be to prove that it is a power to reckon with. It may be, but to reject scientific tips or refuse to be part of warning systems indicates a misplaced sense of superiority. India must learn the humility of not just sharing its own scientific information, but also learning from those who know better.