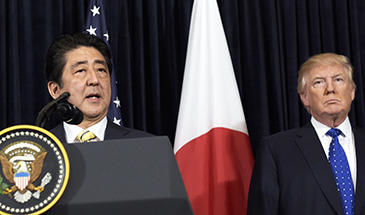 Japanese Prime Minister Shinzo Abe (left) speaks while US President Donald Trump looks on at a gathering in 2017.
Today Prime Minister Shinzo Abe of Japan won a third term as president of the ruling Liberal Democratic Party (LDP) and is on track to remain in power for another three years. Abe took a dent from party rival Shigeru Ishiba in the process but will now move to further solidify his control of the party with little pressure from a fractured opposition. He faces some political hurdles in the months ahead but could remain prime minister until 2021—ample time to further a policy agenda centered on sustainable growth, defense, and constitutional reform. Abe will now pivot quickly to diplomacy as he prepares for a critical meeting with President Trump next week focused mainly on trade and North Korea.
Q1: How convincing was Abe's victory in the party leadership race?
A1:
There were 810 votes at stake—405 from LDP parliamentarians and 405 from rank-and-file party members—and Abe won convincingly 553-254 with support from about 81 percent of parliamentarians and 55 percent of party members (Abe secured 329 and 224 votes from each group, respectively, while Ishiba garnered 73 and 181). Ishiba also challenged Abe back in 2012 and was popular with grassroots party members but failed to secure enough endorsements from his fellow Diet (parliament) members. A similar dynamic played out this time as almost all the parliamentary factions within the LDP endorsed Abe and propelled him to victory. Recent public opinion polls showed Abe's overall popularity declining relative to Ishiba and Shinjiro Koizumi, the torch bearer for the younger generation of the LDP who endorsed Ishiba and is in the spotlight for the next leadership race in 2021. But Abe's poll numbers among LDP supporters held steady despite some political scandals over the last year that threatened to damage his credentials. It is too early to tell whether Ishiba's performance and Koizumi's endorsement will affect Abe's political capital, but how Abe prepares to use this new mandate will become clear if there is a cabinet reshuffle in October where he could face pressure to include new faces in the leadership ranks.Abe's victory in this race affords him a third and final three-year term as party leader (the LDP changed party rules last year to allow three consecutive terms), positioning him to remain prime minister until 2021. Abe faces two challenges next year in the form of nationwide local elections and a poll in the Upper House of the Diet, but the opposition parties are weak and have failed to present a coherent alternative to Abe's policy agenda, which he will now pursue vigorously with his political standing secured.
Q2: What will Abe do with his fresh political capital?
A2:
Abe is expected to further implement his economic growth strategy (dubbed "Abenomics") comprised of monetary easing, fiscal stimulus, and wide-ranging structural reforms as engines for sustainable growth. The labor market and social security will likely feature most prominently during his third term, though he also will continue to champion trade liberalization as a staunch proponent of the Trans-Pacific Partnership (TPP) aimed at introducing high standards for regional economic integration. Abe will also address national defense. The government is currently drafting a fresh defense strategy and procurement budget to strengthen Japan's capabilities in new domains such as space and cyber and acquire additional missile defense and air and maritime assets in response to an array of regional security challenges. Abe also would like to revise the constitution to clarify the role of Japan's self-defense forces while preserving the war-renouncing Article 9 and could begin that quest in earnest this fall, though the bar is high as amendments require two-thirds support in both houses of the Diet and majority support in a public referendum. Domestic political stability also allows Abe to prioritize his foreign policy agenda centered on strengthening the U.S.-Japan alliance, networking with like-minded states in the Indo-Pacific region, and shaping regional and global institutions to preserve the rules-based international order. Abe will try to display his diplomatic bona fides at the UN General Assembly in New York next week where he also will meet separately with several world leaders including President Trump, with whom he enjoys close personal ties; he will use those ties to weather potential headwinds in U.S.-Japan relations over trade and North Korea policy.
Q3: Will U.S.-Japan relations remain on track?
A3:
Abe arguably navigated the U.S. political transition better than any other world leader and succeeded in establishing personal ties with President Trump to sustain the vitality of the U.S.-Japan alliance. That camaraderie was most evident on North Korea policy where the two leaders shared a common approach based on isolating and pressuring the regime; but Trump's shift to diplomacy earlier this year caught Japan by surprise and led Abe to endorse Trump's summit with Kim Jong-un in Singapore while cautioning against any concessions absent concrete evidence of denuclearization. Abe will likely do the same next week, applauding the temporary reduction in tensions while urging the president not to sign a peace declaration with North Korea. Abe also will have to walk a fine line on trade as Trump is eager to reduce the bilateral trade deficit with Japan and could threaten to impose automobile tariffs in addition to tariffs on steel and aluminum levied against Japan earlier this year. Abe could highlight Japan's contributions to the U.S. economy and suggest that a bilateral trade dialogue initiated last month serve as the vehicle for addressing any grievances. Abe and Trump met in April and June of this year and sounded a positive note about the U.S.-Japan alliance despite apparent differences on North Korea and trade, and chances are their close personal relationship will produce similar optics next week.
Q4: Does Abe's political longevity have broader strategic implications for the United States?
A4:
Extended political stability in Japan under Abe offers strategic clarity and consistency in an otherwise tumultuous period for international relations in Asia. Abe's experience and commitment to strengthening the U.S.-Japan alliance can help shape U.S. policy in the region.
The above writer, Michael J. Green, is senior vice president for Asia and Japan Chair at the Center for Strategic and International Studies (CSIS). And co-writer, Nicholas Szechenyi, is a senior fellow and deputy director of the Japan Chair at CSIS.
Critical Questions
is produced by the Center for Strategic and International Studies (CSIS), a private, tax-exempt institution focusing on international public policy issues. Its research is nonpartisan and nonproprietary. CSIS does not take specific policy positions. Accordingly, all views, positions, and conclusions expressed in this publication should be understood to be solely those of the author(s).