America
Op-Ed Special
Syria: Is Trump Finally Putting America First?
Special Contribution
By Thomas L. Knapp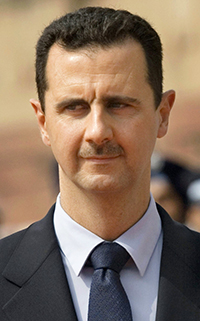 Syrian President Bashar Hafez al-Assad: The 19th and current president of Syria has been holding the office since July 17, 2000. He is also commander-in-chief of the Syrian Armed Forces, general secretary of the ruling Arab Socialist Ba'ath Party.
During a visit to Ohio to promote his infrastructure plan on March 29, 2018 US President Donald Trump dropped one of the bombshells that Americans have become accustomed to over the last year and a half: "We'll be coming out of Syria, like, very soon .... Let the other people take care of it now."If he's serious, if the more hawkish members of his administration don't dissuade him, and if he follows through, Trump will be taking a giant step in the right direction on foreign policy. The US never had any legitimate business in Syria. Its military adventurism there has been both dumb and illegal from the beginning.Yes, illegal. Congress has never declared war on, or against any force in, Syria. For that matter, it hasn't even offered the fig leaf of an extraconstitutional "Authorization for the Use of Military Force." Former president Barack Obama just decided to go to war there, did so ... and got away with it.And yes, dumb. The rise of the Islamic State in Syria was a direct consequence of the US invasion and occupation of Iraq. American military intervention in Syria using the Islamic State as an excuse simply doubled down on that previous mistake.While I carry no brief for the Ba'athist regime headed by Bashar al-Assad, that regime has never offered the US or its allies anything resembling a legitimate casus belli. US calls for "regime change" and backing for anti-Assad rebels (many of whom seem to be foreign jihadists rather than domestic dissidents) remind one, as they should, of similar calls regarding the Taliban in Afghanistan and Saddam Hussein's regime in Iraq. After nearly two decades of "war on terror," following through on those calls would just add a third quagmire to the set.Then, of course, there are the Russians. Russia and Syria have been allied since the days of Assad's late father. Syria provides Russia with its only naval base on the Mediterranean (at Tartus), and the two states have been linked by a "Treaty of Friendship and Cooperation" since 1980. Among areas where the new Cold War could turn hot in a hot minute, Syria stands out.Trump's first year and change as president has been marked by a bellicosity at odds with his sometimes non-interventionist statements on the campaign trail. Around the globe he has continued and sometimes escalated the war policies of his predecessors. But between a prospective summit with North Korea's Kim Jong Un and now talk of withdrawal from Syria, perhaps those of us who have considered him "business as usual" on foreign policy, and his remaining non-interventionist supporters naive, will get a big plate of crow to eat. If so, I'll gladly have seconds.
The above writer, Thomas L. Knapp (Twitter: @thomaslknapp), is director and senior news analyst at the William Lloyd Garrison Center for Libertarian Advocacy Journalism (thegarrisoncenter.org). He lives and works in north central Florida.
He can be reached at media@thegarrisoncenter.org

Related Articles
Murder Most Foul: Thoughts on Moral ...
US Congress Tries to Wish Away Israeli Racism ...
International Criminal Court: Sauce for the ...
Contra Hobbes: Peace and Political Government ...
So Long as There Are Nukes, We Had Better Hope ...
Imperial Delusion Is the Enemy of Peace and ...
Electric Cars: Great Idea, But Not a Panacea
Mariupol: Let's Talk About "Chemical Weapons" ...
Circumcision: Pope Francis States the Obvious, ...
Powell Lied, People Died: Justice Delayed Was ...
"No First Use": An Empty Gesture That Would ...
Facebook Gives the Most Dangerous Extremists a ...
Wuhan Lab Leak: It's Not a "Theory"
About That "Rules-Based International Order"
A Biden-Putin Summit: Jaw-Jaw is Better than ...
Joe Biden Reaffirms Washington's Message to ...
"Vaccine Passports" and the Holocaust: An ...
Same as the Old Boss, Julian Assange Edition
Biden's Iran Dilemma: Serve Obama's Third Term ...
COVID-19: The Way the Music Died?
How Joe Biden Can Score a Major Foreign Policy ...
Trump Regime vs. the ICC: The Wrong Side of ...
Stop Blaming Russia, China for US Disarmament ...
NATO is a Brain Dead, Obsolete, Rabid Dog! ...
North Korea Nuclear Freeze? Finally, a ...
US War on Iran: Evil, Stupid, Self-Damaging
US Should Stop Meddling in Spratly Dispute
John Bolton Vs. International Criminal Court: ...
Some Questions from the Edge of Immortality
More Korean War Is "Worth It?" To Whom?
A Korean Spring after the Winter Olympics Is ...
Microsoft Corp. vs. United States: Jeff ...
August 1945: Let's Talk About Terrorism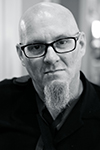 The above writer, Thomas L. Knapp, (Twitter: @thomaslknapp), is director and senior news analyst at the William Lloyd Garrison Center for Libertarian Advocacy Journalism (thegarrisoncenter.org). He lives and works in north central Florida.