National
Op-Ed Special
A Korean Spring after the Winter Olympics Is Unlikely
Special Contribution
By Thomas L. Knapp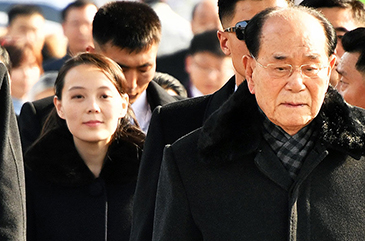 Kim Yo-Jong (left), younger sister of North Korean leader Kim Jong-Un and the elderly Kim Young-Nam seen visiting Pyeongchang Winter Olympics in South Korea. Kim Young-Nam is the president of the Presidium of the Supreme People's Assembly of North Korea.
Peace between the Republic of Korea (South Korea) and the Democratic People's Republic of Korea (North Korea) suddenly seems closer than ever as the 2018 Winter Olympics open in Pyeongchang in South Korea's Gangwon Province on Feb. 9, 2018.The North is contributing athletes to a bi-national team with the South, and also sending a delegation that includes its head of state (Kim Yong-Nam) and the first ever official visitor to the South from its ruling dynasty (Kim Yo-Jong, sister of Kim Jong-Un).The two Koreas have been in "ceasefire," but still formally at war and with occasional outbreaks of violence, since 1953. Could this Olympic thaw result in permanently improved relations, a peace treaty, perhaps even reunification?Don't get your hopes up. Many powerful forces are predisposed against such an outcome. All of those forces can be summed up in one word: Inertia. After seven decades, any status quo is difficult to shatter.In the North, continued rule by the Kim family and its Workers' Party depends largely on positioning the regime as guardians against an external threat posed by the South and by the US military presence along the ceasefire line. Reunification under any circumstance, peaceful or otherwise, would result in the end of that regime, because ...The South's population is twice that of the North, its GDP 50 times as large. They're not going to peacefully submit to rule by the North's government. Even if the North could militarily conquer the South's territory, it would be assimilated by, not assimilate, that larger and wealthier population.The South's government, on the other hand, has seen what happens when a larger, wealthier state welcomes back a still comparatively large, but much poorer, population. Reunified Germany (West Germany's population as of reunification in 1990 was 78 million, East Germany's 16 million) is still dealing with the economic, cultural, and political fallout nearly two decades later.And like the North's, the South's government has a vested interest in maintaining the status quo, because tens of thousands of US troops, and lots and lots of money, subsidize the South's defense costs and artificially boost its economy.The US government, in turn, is happy with that situation because it's part of American government's raisson d'etre since World War Two, which is to perpetually funnel wealth from the pockets of American workers into the bank accounts and budgets of the military industrial complex in the name of "defense."As for the Chinese government, it regards North Korea as a "buffer zone" keeping those US troops far away from its border (the last time US forces neared the Yalu River, China intervened and drove them back to the 38th Parallel, resulting in the current stalemate).Some of those players are going to have to make bigger moves to break the ice.A good start would be for the US to notify South Korea's Moon Jae-In of a date certain — say, five years — for complete US military withdrawal from the Korean peninsula. But that would threaten the bloated US "defense" budget. So don't bet on it.
The above writer, Thomas L. Knapp, (Twitter: @thomaslknapp), is director and senior news analyst at the William Lloyd Garrison Center for Libertarian Advocacy Journalism (thegarrisoncenter.org). He lives and works in north central Florida.

Related Articles
Electric Cars: Great Idea, But Not a Panacea
Mariupol: Let's Talk About "Chemical Weapons" ...
Circumcision: Pope Francis States the Obvious, ...
Powell Lied, People Died: Justice Delayed Was ...
"No First Use": An Empty Gesture That Would ...
Facebook Gives the Most Dangerous Extremists a ...
Wuhan Lab Leak: It's Not a "Theory"
About That "Rules-Based International Order"
A Biden-Putin Summit: Jaw-Jaw is Better than ...
Joe Biden Reaffirms Washington's Message to ...
"Vaccine Passports" and the Holocaust: An ...
Same as the Old Boss, Julian Assange Edition
Biden's Iran Dilemma: Serve Obama's Third Term ...
COVID-19: The Way the Music Died?
How Joe Biden Can Score a Major Foreign Policy ...
Trump Regime vs. the ICC: The Wrong Side of ...
Stop Blaming Russia, China for US Disarmament ...
NATO is a Brain Dead, Obsolete, Rabid Dog! ...
North Korea Nuclear Freeze? Finally, a ...
US War on Iran: Evil, Stupid, Self-Damaging
US Should Stop Meddling in Spratly Dispute
John Bolton Vs. International Criminal Court: ...
Syria: Is Trump Finally Putting America First?
Some Questions from the Edge of Immortality
More Korean War Is "Worth It?" To Whom?
Microsoft Corp. vs. United States: Jeff ...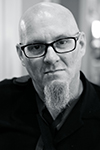 The above writer, Thomas L. Knapp, (Twitter: @thomaslknapp), is director and senior news analyst at the William Lloyd Garrison Center for Libertarian Advocacy Journalism (thegarrisoncenter.org). He lives and works in north central Florida