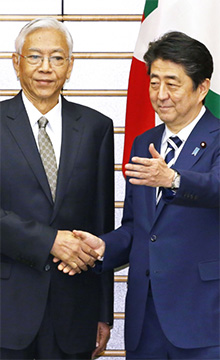 Japanese Prime Minister Shinzo Abe (right) with Myanmar President Htin Kyaw in Tokyo in December of 2017
The nation of Myanmar is multi-ethnic and multi-religious, with Buddhism being the dominant faith. In Japan, despite secularism being a reality, the faiths of Buddhism and Shintoism are interwoven into the fabric of society. Therefore, culturally, a certain natural understanding flows.Also, with democracy being in its infancy in Myanmar, then Japan is a role model for nations that aspire to develop rapidly while maintaining indigenous values and ethics. This is a far cry from America, France, and the United Kingdom who have a sense of "false morality," that is switched on and off depending on each nation they trade with. In other words, the nations of China, India, Japan, Singapore, and other nations throughout the Asia Pacific and South Asia, don't seek to impose political and geopolitical aggrandizement based on moralizing – not that America, France, and the United Kingdom have much to write home about. After all, when it comes to conquest, war, and dominating the natural resources of other nations then America, France, and the United Kingdom have sinister histories.Indeed, from a Japanese point of view, then Japan's economic, political, and investment interests are more moderate than China. For example, China and the Russian Federation are two powerful nations within the United Nations that don't follow the Western and Islamic narrative of events in the Rakhine region of Myanmar. Despite this, it is clear that the Middle Kingdom (China) hopes to become the epicenter of trade throughout the region and this is tied to energy and geopolitical policies that sometimes infringe on other nations. Therefore, tensions exist in the South China Sea with several nations including Vietnam based on China's increasing encroachment and demands over several small islands and islets.Also, from the point of view of Myanmar, then it is in the interest of this nation to foster close ties with China, India, and Japan respectively. Of course, the same applies to all Mekong Delta states and modern economic powers like Singapore throughout the Asia Pacific. Hence, with Myanmar being blessed with being in a very strategic region – and with the flowing footsteps of democracy taking place – then this nation offers huge potential to an array of nations that should boost internal and external investments. Alongside this you have the flows of modernization and high technology from China, Japan, India, Singapore, and other nations, to boost development and growth in Myanmar.In the last few decades, it goes without saying that China is a very important trading partner for Myanmar. Equally, in recent times this trade isn't overly favorable to China but instead highlights the huge potential of this nation. Hence, in the first six months of 2017, it is reported that the value of Myanmar's exports to China is roughly $2.5 billion – in contrast, the value is $3 billion in the other direction.Another important statistic is that Singapore even overtook China in terms of investment in the first half of 2017. Meanwhile, for Japan, roughly twenty companies will invest in the Thilawa Special Economic Zone. At the same time, three potent trading house from Japan are involved in other projects throughout the country. Therefore, Japan is boosting ties with Myanmar in areas that include agriculture, bio-resources, communications, information technology, investment, and trade.Overall, despite the one-sided narrative of many major Western and Islamic media groups – and the "fake moralizing" of alien Western and Islamic concepts that spread throughout Asia by ill means; it is clear that Myanmar is far from isolated. Indeed, the alternative is happening in relation to major economic and political powers throughout the Asia Pacific and South Asia. Given this reality, the nations of China, India, Japan, Singapore, and others, seek to foster and develop greater ties with Myanmar based on various factors. Hence, the "soft power" of Japan and its high technology is of great interest to Myanmar just like this nation is of strategic importance to the land of the rising sun that seeks to cement ties throughout the Mekong Delta.
The above story was written by Sawako Utsumi and Lee Jay Walker.