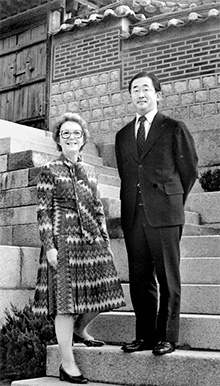 The Korea's Royal Couple of Happy Moment: Julia Mullock (left) poses for camera with his ex-husband,
the Last Crown Prince Yi Gu or Lee Gu (×Ýϸ) of Korea's Jeoseon Dynasty at Nakseonjae Hall of Changdeok Palace in Seoul. The American lady of Ukrainian was forced by royal family to divorce him only because she is a foreigner and because of her iability to produce an heir.
Former Princess Julia Mullock, the American ex-wife of the Last Crown Prince Yi Gu or Lee Gu (×Ýϸ) of Korea's Jeoseon Dynasty, died of old age in Hawaii on Nov. 26, 2017. She was 94 years of age.Her death was known to South Korean people five days after her lonely death at a hospital in Hawaii by her South Korean acquaintance. Former Prof. Lee Namju of Sungshin Women's University in Seoul recently told the local South Korean media that the Princess Julia Mullock passed away at a nursing hospital in Hawaii on Nov. 26, 2017.Prof. Lee, a close friend of Mullock is also a distant niece of the late last Crown Prince Yi (Lee) Gu, and a member of the Korean Imperial Household.Prof. Lee said that Mullock's remains were strewn away to the seas of the Pacific Ocean, even though the last princess wanted to be buried on the soil of Korea."Mullock died so lonely on the hospital bed," Prof. Lee said. "She was so and weak sick that she was not able to use her mobile phone before she died""Mullock play the role of a mother figure for the late Last Prince Yi Gu, who was wandering lonely overseas, Prof. Lee added. "She was comforting Yi Gu a lot"Mullock, also know as Julia Yi, was the a German-American woman eight years senior to the last crown prince.
Mullock met the last prince in New York in late 1950s while both were working New-York-based "IM Pei" architectural company. They soon fell in love each other. Yi Gu was fresh out of MIT with an architecture degree.She married the last crown prince of Korea's last Dynasty of Jeonseon (1392-1910) at Ukrainian St. George's Church in New York City on Oct. 25, 1959. She was 35 and Yi was 27 at the time of their marriage.Now Mullock became a member of the Korean Imperial Household with the title Her Imperial Highness Princess Julia Lee (Yi) of Korea. Mullock adopted her new name of Julia Yi and sticked to using her new royal name until her death.
According to the Prov. Lee, the happiest time of Mullock's life was when the newly weds were spending time together on the island of Hawaii in early 1960s.He parents-in-law, the late Crown Prince Yi Eun and his Japanese wife Princess Yi Bangja, were also living nearby on the island.Mullock and Y royal couple return to South Korea and started living in Nakseon Hall within Changdeok Palace in Seoul.Kind-hearted and talented in many ways, her life in palace as a royal family was not easy as many royal family members refused to recognize the blue-eyed Western woman as their new member.Mullock was forced by them to divorce Lee Gu as she turned out to be unable to produce a heir. Her husband opted to live in a hotel instead of the royal place.Finally she was faced with divorcing her husband in 1982. Even after her divorce Mullock kept living in Seoul, involving herself in various charity events. She also preferred to keeping her name of Julia Lee."Mullock fulfilled her duty as the princess of Korea's last royal family, helping the needy and poor, particularly the handicapped people," Prof. Lee commented. "Even though she was uneasy in her relations with her mother in law"
"The orphans and crippled Koreans who she helped highly respected Mullock even calling her as their 'mother,'" Prof. Lee added. "Mullock opened a clothing shop to help finance her charity activities even after her divorce"Alone and no help from other people Mullock left Seoul for Hawaii in 1995 where she lived until her death. Only her adopted daughter Lee Eun-Sook (Gina Lee) kept her lone death bed.Prof. Lee went on to say that Mullock missed her former husband a lot, always waiting for a letter or contact from him throughout her remailing life.Mullock visited Seoul in September of 2000, staying in the nation for one month. She visited her former father-in-law King Youngchin's royal tomb, meeting with old friends. She also attended various religious ceremonies at the Royal Ancestors' Shrine called Jomngmyo Jerye. She donated 450 pieces photos and other items of royal Jeoseon Dynasty to Deoksu Palace Museum.However, her long wish to meet with her ex-husband was never realized. She was not invited to the funeral of her beloved husband either.
Her ex-husband Yi Gu (ì°Ï¸), also known as Lee Gu, the "Last Crown Prince" of Joseon Dynasty (1392-1910), died of heart attack at the age of 74 on July 16, 2005, in a room of the Akasaka Prince Hotel in Tokyo, Japan.Yi Gu was the only son of Korea's official last crown prince and as grandson of Jeoseon's Last Emperor Gojong. He was the last most legitimate son of Joseon Dynasty, heir apparent to the throne if the dynasty were to be restored. As an uninvited guest she only had to watch the procession of her husband from the distance. After the funeral she visited her husband's tomb alone, making a big bow.Julia Mullock (1928-2017) was born in state of Pennsylvania in the US into a American family of Ukrainian origin on March 18, 1928.