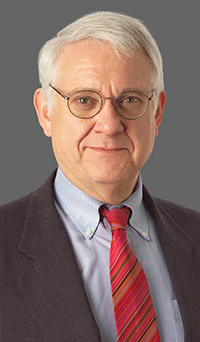 Dr. John J. Hamre, CSIS President and CEO
Dear Mr. Joseph Joh (Managing Editor)
I am writing to share the news that CSIS has partnered with the Maxwell School of Citizenship and Public Affairs at Syracuse University to offer an Executive Master's in International Relations (EMIR) degree in Washington, D.C. This first-of-its-kind program will leverage the academic strengths of the nation's #1-ranked graduate school in public affairs and the practical policy applications of CSIS as a leading global think tank. Classes will start in 2018 with enrollment options for spring, summer, and fall semesters available now.
More than ever, we need professionals who have an interdisciplinary understanding of the threats and challenges facing the international community. I believe CSIS has an important role to play when it comes to fostering the next generation of leaders and strategic thinkers. The EMIR experience is designed to do this by providing a uniquely practical education for mid-career professionals, with a range of specializations in Global Security & Intelligence, Foreign Policy, Global Markets, Global Development, and Public Diplomacy.
Master's candidates will have an opportunity to learn from Maxwell faculty, CSIS scholars, and guest lecturers drawn from the senior ranks of government and business communities. During their final semester, students will work alongside CSIS policy experts to complete a capstone project aimed at addressing a current international policy challenge.Students will also participate in tailored workshops to hone professional skills needed in today's competitive global landscape, including data analysis, visualization, and presentation skills. Lastly, they will have an opportunity to work with CSIS's award-winning production studio, the iDeas Lab, to develop a multimedia product that showcases their research findings and policy solutions in innovative new ways.
This is an exciting new phase for us. We are eager to contribute our scholarly expertise to the strong academic foundation that Maxwell offers, and are looking for ambitious minds to join us. We welcome your input and invite you to share this opportunity with anyone in your network who is seeking to advance their education in a practical way.
Maxwell is now accepting applications on a rolling basis for 2018 spring, summer, and fall semesters. For more information on the Executive Master's in International Relations, please visit the Maxwell website for admissions instructions, the CSIS website for information on the capstone experience, or contact Nahmyo Thomas, CSIS Director of Executive Education, at nthomas@csis.org.Sincerely,John J. Hamre
CSIS President and CEO
Editor's Note: Dr. John J. Hamre, CSIS president and CEO, can be reached at AILA@csis.org